Pinarello FP Team/Shimano Ultegra 6700 Complete Bike - 2012 $0.00
Item # PIN0109
Description
The team in the name of the Pinarello FP Team/Shimano Ultegra 6700 Complete Bike is in reference to our team, the Competitive Cyclist Professional Racing Team. This
bike is finished to replicate our team's Dogma 2 framesets, and it's produced exclusively for us by Pinarello. In our biased opinion, it's a handsome bike, and you can't find it anywhere but here.
The FP Team is molded primarily from Toray 30HM12k. That means it's a 30-ton High Modulus carbon-fiber cloth with a 12k weave. It has a slightly sloping top tube, an aero down tube for speed, and Onda (wavy) seat stays for shock absorption. As with the team Dogma 2 frames, the head tube sports a slightly bulbous lower end. It's a sporty touch that hides the tapered steerer tube and lower 1-1/4in headset race. The larger bearing and steerer tube used here add to the steering precision and overall fork stiffness along with the elongated fork blades. The fork also has the trademark Onda curves to help smooth out the ride on coarse pavement. The FP Team rides much like the swanky Dogma 2, just a little more stable, with relaxed geometry that suits all day rides and unpredictable road conditions.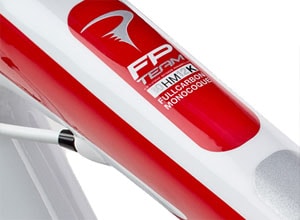 The parts build on the bike is the ideal group for the self-sponsored rider. The shifting and drive train is almost entirely Shimano Ultegra, with a Shimano 105 12-25t cassette. The rest of the build is comprised of team-finished parts from MOst, Pinarello's in-house component label. It's all stuff that rides well, looks Pro, and saves a bundle. The MOst's Wildcat wheelset is a dependable, everyday wheelset that is aero enough for racing. The rims are 24mm deep with machined braking surfaces and wear indicators. The spokes are radial in front and grouped in sets of three in the rear, with two-cross on the drive side and radial on the non-drive. If they look familiar, it's because these are re-labeled Campagnolo Khamsin wheels, along with Campagnolo quick releases. They're topped off with Pinarello-branded Continental Ultra-Sport tires.
The Pinarello FP Team/Shimano Ultegra 6700 Complete Bike comes in White with Black and Red. It is available in six sizes.

Tech Specs
Frame Material:
carbon fiber
Steer Tube Type:
carbon fiber
Fork Material:
carbon fiber
Front Derailleur:
Shimano Ultegra 6700
Front Derailleur Mount:
braze-on
Rear Derailleur:
Shimano Ultegra 6700
Shifters:
Shimano Ultegra 6700
Crankset:
Shimano Ultegra 6700
Headset:
1.125 - 1.25 in Pinarello
Brake Calipers:
MOst B-Max Force
Chain:
Shimano Ultegra 6701
Cassette:
12 - 25 T Shimano 105
Recommended Use:
cycling, training, racing
Manufacturer Warranty:
3 years on frame
View more Pre-Configured Road Bikes
Geometry chart
Pinarello
Geometry Chart
FP Team

Seat Tube

(c-t)

Top Tube

(TT)

Stack

(S)

Reach

(R)

Set Back

(SB)

Head Tube

(HT)

Head Tube Angle

(HTo)

Seat Tube Angle

(STo)

Chainstay

(CS)

49
49.0cm
50.5cm
51.0cm
35.1cm
11.8cm
12.0cm
70.0o
74.0o
40.6cm
52
52.0cm
53.0cm
52.9cm
37.4cm
12.7cm
13.5cm
71.5o
74.0o
40.6cm
55
55.0cm
54.2cm
55.2cm
37.7cm
14.9cm
15.0cm
72.5o
73.5o
40.6cm
57
57.0cm
55.5cm
56.6cm
38.1cm
14.9cm
16.5cm
73.0o
72.5o
40.8cm
59
59.0cm
57.0cm
58.7cm
38.6cm
15.9cm
18.5cm
73.0o
72.5o
40.8cm
61
61.0cm
59.0cm
61.1cm
39.8cm
16.5cm
21.5cm
73.0o
72.5o
40.8cm
Community & Reviews
What do you think of the
Pinarello
FP Team/Shimano Ultegra 6700 Complete Bike - 2012
? Share a...