Compiling options for this bike.
It'll be just a moment...
Pinarello F4:13 $0.00
Item # PIN0103
Description
The Giro d'Italia makes May the most important month of the year for the Italian cycling industry, so it made perfect sense that it was in the days prior to the '05 Giro Prologue that Pinarello announced the production of their first-ever carbon fiber frame. It's known as the F4:13, and to us it looks like a million bucks. One glance confirms critical details: You'll get a monocoque carbon fiber main triangle bonded to an Onda fork and Onda seatstay identical in design to those found on the Dogma FPX and the Paris Carbon. Many Dogma owners believe that it's the Onda combo -- not necessarily the magnesium tubeset -- that gives their bikes such a magical ride quality. And the F4:13's monocoque design with its nicely oversized tubes is sure to provide you with some serious "snap" when you power the bike in a sprint or on a climb.
The F4:13 comes in at sub-$3000 for frame, fork, headset, and seatpost -- a bargain price for a Pinarello, and one that makes it as affordable as the best-selling carbon frames you recognize from the professional peloton, such as the Look 595, the Scott CR-1, the Orbea Orca, the Cannondale SystemSix, to name a few. It provides Pinarello aficionados with a value-intense carbon option -- it's as light as the magnesium Dogma FPX; it shares a nice bit of the Dogma's Pereiro-approved stiffness; and its Onda fork/stay combo is sure to keep the ride smooth on lousy road surfaces while providing loads of resistance to torsional frame flex. In short, you'll get the lightness, the crisp ride, and the undeniable sex appeal of carbon, but it's unlike any other similarly priced carbon frame on the market thanks to its Onda combo and the impeccable beauty and manufacturing quality of Pinarello.
What's the story behind the name of the frame? A good question, and it was one we asked early on. Especially given the success Cannondale has had with their Six-13 carbon frame, the name F4:13 seemed a bit too similar for our taste.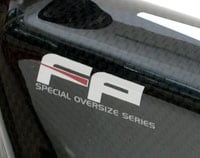 The answer we got from the Pinarello importer was a bit cryptic, and not at all what we expected. Apparently, a fad with professional Italian soccer players is to display an abbreviated version of a bible verse on their uniforms, and apparently "F4:13" is related to that trend. While we're fortunate enough to have Direct TV here at Competitive Cyclist, our preference (habits die hard, we suppose) is for the English Premiere League over Serie A -- so we've never seen a pro soccer player wearing biblical shorthand. So we did the only logical thing: We Googled "soccer bible verse 4 13" to get a fuller answer to our question and holy smokes we got over 47,000 pages worth of soccer players across the globe all emulating their heroes from AC Milan and Juventus by quoting the same passage on their websites: It's Philippians 4:13, which reads "I can do all things through Christ who gives me strength." We never thought in the past about whether Fausto Pinarello was a religious man or not -- every time we've ever seen him, in fact, he's dressed for the cover of GQ and his hair is the envy of any man who has ever owned a comb, and such exquisite style is something we wouldn't ordinarily associate with an intensely religious person. But, then again, we don't judge people here based on the frequency with which they attend mass. Instead, the news behind the origin of the F4:13's name got us thinking about how interesting it is that as religious as Italians have the reputation for being, they never seem to combine their religiousness with the business of building bikes and bike gear. Perhaps it's simply because Catholicism has very little of the evangelical component you get from, say, the Southern Baptist tradition. But the utter absence of the connection -- except, perhaps, for Ernesto Colnago famously giving Pope John Paul a Arabesque frameset with a Campy 50th Anniversary gruppo in the late 70's -- is pretty interesting. If anyone has any ideas about this silence, we're all ears. We're at a loss for an answer.
The F4:13 is available in a Team Caisse d'Epargne replica, in Carbon/Blue, Carbon/Red, and Carbon/Pink. It comes in 8 sizes, and given the tall, tapered shape of the top tube where it meets the seat tube, our recommendation is that from a sizing perspective you focus on your ideal top tube length. The c-t seat tubes are a bit on the short side for a given top tube, so please don't be distracted by this. Again, your best bet is to first match the frame that provides the ideal top tube length, then consider seat tube and head tube lengths to make sure you're choosing the best size. One other side note: Pinarello has decaled the F4:13 with an "FP" sticker -- typically a designation from Pinarello that a frame will use a MOst bottom bracket, such as the Dogma FP and the Paris. But in fact, the F4:13 will use a standard bottom bracket -- you'll thread your Campy, Shimano, SRAM, or FSA BB right in the frame.