Compiling options for this bike.
It'll be just a moment...

Pinarello Dogma 2 Road Bike Frameset - 2012 $6,100.00
Item # PIN0080
It's not bragging if it's true.
At the same moment in the 2011 Tour de France when Thomas Voeckler veered from the tarmac into a vacant driveway near the bottom of the descent into Pinerolo, Edvald Boasson Hagen joyously threw up his hands in victory. It was a redemptive stage for Team Sky as their early tour hopes were shattered when team leader Bradley Wiggins DNF'd after breaking his collarbone and Juan Antonio Flecha lost his chance for a possible stage win after being side-swiped by a France 2/3 TV car. Boasson Hagen's win was notable for one additional reason: It was the first professional win for the Dogma 2 Road Bike Frame earned after Pinarello officially unveiled it to the world. (The irony, of course, is that the Dogma 2 was ridden to two stage victories in the 2011 Tour prior to Pinarello's introduction. What is it they say about the best laid plans?)
The Dogma 2 retains all the asymmetrical shaping of its predecessor. In fact, Pinarello pushes the envelope a bit farther with the Dogma 2 to create the most responsive Pinarello race bike ever. In comparison to the Dogma it's stiffer, lighter, and more aerodynamic.
During the two years in which the original Dogma sat atop the Pinarello family of frames, the company studied and restudied the forces in action as a rider sprints on the pedals, pulls on the handlebars, and muscles the bike through corners. FEA (finite element analysis) confirmed that the Dogma's asymmetrical design was beneficial in leveling the variances in frame deflection from one side to the other. However, Pinarello knew that they could take the asymmetry to new levels with the Dogma 2. One big change is in the top tube of the Dogma 2. It's been moved slightly off-center towards the right side of the bike to further this effort towards equilibrium.
In addition to this, Pinarello addressed another area for potential improvement -- the aerodynamics and stiffness of the front end of the bike. The Dogma 2 gets an upgrade to a 1.5" lower headset bearing.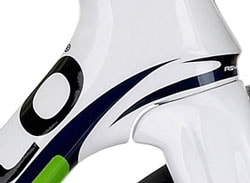 This allows a larger diameter steerer tube at the fork crown. The resulting benefit for you is a 19% boost in front end stiffness to give you more predictable braking and a more precise steering feel. Another part of the fork re-design includes smoother, more aero fork legs and a sculpted crown that integrates seamlessly into the re-shaped down tube. The Dogma 2 also loses most of the curvaceous ribbing that swept around the tube junctures on the front triangle and stays of the Dogma. All of the cables are now routed internally as well. These changes make for a 6% improvement in the aerodynamic efficiency of the frame.
With this much attention to the asymmetrical design aspects of the Dogma 2, you could easily overlook it from a distance. Only when you're close enough to touch it will you really be able to discern the subtle differences. The left and right sides of the bike bear different tube shapes as well as general section sizes. You can see these differences in the top tube, the fork legs, and both seatstays and chainstays.
The Dogma 2 relies on the same advanced carbon fiber that is used in the dogma. It's called 60HM1K -- meaning that it's built to withstand 60 tons per square cm, the strongest-ever carbon seen on a Pinarello. This material is manufactured by Torayca -- the Japanese composites behemoth with whom Pinarello has had a long collaboration. Stronger carbon, of course, allows for the use of less material as a whole, which results in the weight savings of the Dogma over the Prince. With the refinement of the design, the Dogma 2 saves 30 grams over its predecessor.
One added bonus exclusive to 60HM1K is Torayca's Nanoalloy technology. Alloy nano-particles are embedded into the carbon itself. Upon significant impact (i.e. a final turn crash at the State Crit Championship), these particles "explode" -- in other words, they absorb the kinetic energy of impact forces so the carbon itself won't have to. According to Pinarello testing, the net result is that the Dogma 2 is 23% more impact-resistant than the Prince Carbon. Less weight hand-in-hand with added durability is a rare combination, but it's one provided by the Dogma 2.
The other advancement of note is the actual manufacturing process used for the Dogma 2. Pinarello employs a polystyrene form as a base for the initial lay-up of material during its construction. This enables a more precise method; each layer is placed exactly where it's designed to be according to the FEA testing. In this regard, it's a more reliable and consistent method than molding with an internal bladder. The use of polystyrene also results in even compaction of the laminate, with less wrinkling of the carbon material or trapped gas/resin that could cause structural weak spots over time. The form is removed with a recoverable solvent. What you'll find on the inside of the Dogma 2 is a smooth finish that nearly matches the outside.
The Pinarello Dogma 2 Road Bike Frame is available in 12 sizes in a wide array of colors. The frame comes standard with an Onda 2 asymetrical carbon fiber fork, a Pinarello integrated 1-1/8" to 1.5" headset, and a Dogma 2 carbon fiber seatpost. It requires an Italian bottom bracket and a braze-on front derailleur. One detail of interest is that the head tube on all sizes is 5mm taller than a comparable Dogma Carbon. Please Note: the Dogma 2 is built in two distinct versions -- one for mechanical derailleurs (which we have here) and one specifically designed for electronic systems. This mechanical Dogma 2 is ready for your standard cable-operated shifting systems. Of course it can be used with electronic systems as well, although it won't be configured for internal wire routing.
Upgraded 1.5in lower headset bearing for a larger diameter steerer tube at the fork crown for excellent braking and unmatched steering
Internally routed cables cut wind resistance and add a clean look to an already beautiful bike
sizing chart
Dogma size by rider height
|
Geometry chart
Pinarello
Geometry Chart
Dogma 2

Seat Tube

(c-t)

Effective Top Tube

(eTT)

Stack

(S)

Reach

(R)

Set Back

(SB)

Head Tube

(HT)

Head Tube Angle

(HTo)

Seat Tube Angle

(STo)

Bottom Bracket Drop

(BBD)

Chainstay

(CS)

42cm
43.5cm
49.8cm
49.3cm
35.1cm
11.3cm
11.5cm
69.150
74.4o
6.7cm
40.6cm
44cm
45.5cm
50.3cm
50.1cm
35.7cm
11.8cm
11.0cm
70.00
74.4o
6.7cm
40.6cm
46.5cm
48.0cm
51.5cm
51.2cm
36.7cm
12.5cm
11.5cm
70.50
74.4o
7.2cm
40.6cm
50cm
51.5cm
52.5cm
52.0cm
37.4cm
13.8cm
12.0cm
71.40
74.0o
7.2cm
40.6cm
51.5cm
53.0cm
53.5cm
52.7cm
38.0cm
14.5cm
12.5cm
72.00
73.7o
7.2cm
40.6cm
53cm
54.5cm
54.5cm
54.2cm
38.6cm
14.9cm
13.9cm
72.50
73.7o
7.2cm
40.6cm
54cm
55.5cm
55.0cm
55.0cm
38.6cm
15.4cm
14.7cm
72.80
73.4o
7.2cm
40.6cm
55cm
56.5cm
55.7cm
56.1cm
38.9cm
15.7cm
15.8cm
72.80
73.4o
7.2cm
40.8cm
56cm
57.5cm
56.5cm
56.9cm
39.1cm
16.4cm
16.5cm
73.20
73.0o
7.2cm
40.8cm
57.5cm
59.0cm
57.5cm
58.4cm
39.7cm
16.8cm
17.9cm
73.70
73.0o
7.2cm
40.8cm
59.5cm
61.0cm
58.7cm
61.2cm
39.4cm
18.0cm
21.5cm
73.40
72.4o
6.7cm
40.8cm
62cm
63.5cm
62.0cm
65.1cm
41.0cm
19.2cm
25.5cm
73.40
72.0o
6.7cm
41.1cm
Community & Reviews
What do you think of the
Pinarello
Dogma 2 Road Bike Frameset - 2012
? Share a...