Pinarello Dogma 2 Campagnolo EPS Super Record 11 Complete Road Bike - 2012 $16,500.00
Item # PIN0110
It doesn't get any better.
For all the flash and zoot that accompanies this high-profile Italian pairing, there's something about the Pinarello Dogma 2/Campagnolo EPS Super Record 11 Complete Road Bike that is stealth. It's a bike that hides its bona fides in plain sight. It's a looker, with sumptuous curves, a lustrous finish, and electronic shifting. The Black on Black finish gets more interesting as you study it, and it has an intriguing red ring around the lower end of the head tube, as if the bike is glowing in standby mode. This color concept doesn't call attention to itself like the Movistar or Team Sky versions do. Instead this highly-refined finish speaks with a quiet, muscular confidence even when standing still. And when you stomp over a short rise, shift effortlessly across the cassette, and carve the descent like your bike is on rails, people will take notice and you'll have an ear-to-ear grin as those behind you scrabble to keep up.
Aside from the color, this is the same Dogma 2 frameset that the sponsored ProTour teams use. And it's similar to the Dogma 2 that our own Competitive Cyclist pro team uses; the difference is that this frame is configured for internal electronic wiring rather than mechanical cables. There is a custom mount between the down tube water bottle bosses and the seat tube so that the battery/brain of the Campy system can sit on the bike without a bulky and unattractive mounting plate.
We eyeballed this frame aplenty, even before the bike had been finished with Campagnolo EPS. There have always been plenty of reasons to want one. There's the asymmetry of the frame that ably resists the forces you put on the bike and directs your power from the crankset to the wheel. There's the redesigned front end that tracks better, thanks to a new leg design and 1.5" lower head tube bearing that increases in front end stiffness by 19%. There's the wind-tunnel-shaped tubes of the bike that give you a 6% improvement in aerodynamic efficiency. The Dogma 2 is light, stiff, and designed to hide from the wind, all of which translate into riding faster.
Now that it's dressed with Campagnolo Super Record EPS (Electric Power Shift), there is that much more to fawn over. EPS is the newly-released, no compromises electronic group from the artisans in Vincenza. They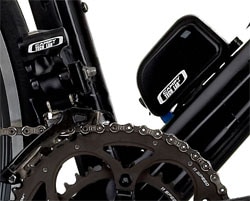 mix their incredible Super Record skeleton brake calipers (dual-pivot front, single-pivot rear), super-light Super Record compact crankset (50/34 rings), and 11-cog Super Record cassette (11-25) with electronic Super Record Ergopower levers and derailleurs.
If you haven't been following the story of Campagnolo electronic, know that it has been in development for over 20 years, that it has already won ProTour races, that it has handled not only the abuse of the cobbled classics, scaled the toughest peaks in Europe, but also faced down extreme heat, extreme cold, extreme precipitation, and more. It would have been on the market six years ago, but a team mechanic speeding with bikes on the roof at 150kph managed to breach the seals, necessitating a redesign. Highlights of the group include Ergopower levers, identical in shape and feel to Campagnolo's mechanical Ergopower. They give you a click you can feel and hear as you shift. You'll also get two characteristic Campagnolo functions: you can shift up or down the entire cassette in one motion, and you can trim the front derailleur to avoid annoying noises or drag from the drivetrain. The EPS system assures an average 2000km battery life and is certified to last 500 charge cycles (that's over 41 years if you charge it once a month). It weighs a claimed 2098g for the entire group, making it the lightest electronic shifting group on the market.
This bike keeps on going. The wheels are Campagnolo's Shamal Ultra 2-Way Dark. It's their top-of-the-line aluminum-rimmed wheelset that can be ridden with tubes or tubeless tires, and this version looks brilliant with the stealthy black-on-black logo scheme. The wheels have 16 radial spokes in front, with 21 spokes arranged in their Mega G3 pattern in the rear. The front rim is 24mm deep to ensure stable handling in gusty winds, but the rear is pumped up to 30mm for better aerodynamics. The wheels are completed with Dogma-labeled Continental tires, GP Attack in the front and GP Force on the rear.
The handlebars and stem finishing the bike are built into a single unit. It is the MOst Talon 1k compact integrated handlebar and stem. The bars have an ergonomic shape and measure out to a 125mm reach and 80mm drop. The combo is molded mostly with unidirectional carbon-fiber, though it's finished with a carbon 1k weave. The integrated steerer tube clamp is made from forged aluminum alloy to add security and durability in this critical zone. MOst is Pinarello's line of components, and this integrated combo is used by Movistar on their team bikes.
Keeping your body in position over the bike is a MOst Panther saddle sitting atop the Dogma 2's proprietary aero carbon-fiber seatpost. The Panther is a sculpted beauty with carbon-fiber rails and a Lorica cover. It weighs in like a climber, a claimed140g.
The Pinarello Dogma 2/Campagnolo EPS Super Record 11 Complete Road Bike is Black on Black. The base color is matte while logos and accents are in high gloss. The stem length, handlebar width, and crank lengths are all sized to match the frame size. It is available in 12 sizes from 42 to 62cm, all with 700c wheels.

Tech Specs
Frame Material:
carbon fiber
Fork Material:
carbon fiber
Shifters:
Campagnolo Super Record 11 ESP
Front Derailleur:
Campagnolo Super Record ESP
Rear Derailleur:
Campagnolo Super Record
Bottom Bracket:
Campagnolo Super Record BB Cups
Wheelset:
Campagnolo Shamal Ultra 2-Way
Recommended Use:
road race
Manufacturer Warranty:
2 years
View more Pre-Configured Road Bikes
Geometry chart
Pinarello
Geometry Chart
Dogma 2

Seat Tube

(c-t)

Top Tube

(TT)

Stack

(S)

Reach

(R)

Set Back

(SB)

Head Tube

(HT)

Head Tube Angle

(HTo)

Seat Tube Angle

(STo)

Bottom Bracket Drop

(BBD)

Chainstay

(CS)

42
43.5cm
49.8cm
49.3cm
35.1cm
11.3cm
11.5cm
69.150
74.4o
6.7cm
40.6cm
44
45.5cm
50.3cm
50.1cm
35.7cm
11.8cm
11.0cm
70.00
74.4o
6.7cm
40.6cm
46.5
48.0cm
51.5cm
51.2cm
36.7cm
12.5cm
11.5cm
70.50
74.4o
7.2cm
40.6cm
50
51.5cm
52.5cm
52.0cm
37.4cm
13.8cm
12.0cm
71.40
74.0o
7.2cm
40.6cm
51.5
53.0cm
53.5cm
52.7cm
38.0cm
14.5cm
12.5cm
72.00
73.7o
7.2cm
40.6cm
53
54.5cm
54.5cm
54.2cm
38.6cm
14.9cm
13.9cm
72.50
73.7o
7.2cm
40.6cm
54
55.5cm
55.0cm
55.0cm
38.6cm
15.4cm
14.7cm
72.80
73.4o
7.2cm
40.6cm
55
56.5cm
55.7cm
56.1cm
38.9cm
15.7cm
15.8cm
72.80
73.4o
7.2cm
40.8cm
56
57.5cm
56.5cm
56.9cm
39.1cm
16.4cm
16.5cm
73.20
73.0o
7.2cm
40.8cm
57.5
59.0cm
57.5cm
58.4cm
39.7cm
16.8cm
17.9cm
73.70
73.0o
7.2cm
40.8cm
59.5
61.0cm
58.7cm
61.2cm
39.4cm
18.0cm
21.5cm
73.40
72.4o
6.7cm
40.8cm
62
63.5cm
62.0cm
65.1cm
41.0cm
19.2cm
25.5cm
73.40
72.0o
6.7cm
41.1cm
Community & Reviews
What do you think of the
Pinarello
Dogma 2 Campagnolo EPS Super Record 11 Complete Road Bike - 2012
? Share a...