Pinarello Catena Road Bike $0.00
Item #

PIN0105
Description
'Steel is real.' It's a mantra teetering between absolute truth and over-wrought market-speak. But at risk of sounding the latter, it's completely true. The Pinarello Catena is the only steel bike in Pinarello's stacked lineup of carbon fiber and aluminum exotica. Fittingly so, because in more ways than one, the Catena is a subtle celebration of Pinarello's rich history, a history that began humbly in the village of Catena di Villorba in the late 1940s. It was there that Giovanni Pinarello retired from a professional cycling career to lay the foundations of the region's first and most renowned bike shop, in addition to initiating the manufacture of his own world-class bicycle brand. The bikes were simple back then, with the polished lugs and ruggedly classic aesthetic only found in steel frames. The single-speed Catena channels that classically beautiful simplicity and Pinarello's world-class pedigree to deliver a bicycle that is as much a pleasure to look at as it is to ride.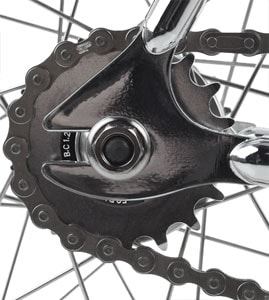 To ensure you're not committing to riding more than what you're capable of, the Catena comes with a flip-flop rear hub. On one side, the cog is fixed — meaning if the wheels are turning, so are the cranks. This lets you experience the 'purity' and 'zen' of cycling that all those messengers and bike-crazy urbanites are always talking about. And, quite literally on the flip-side, you're presented with a single-speed freewheel cog that allows you to freely coast to your knees' delight. The Catena is drilled for and includes both front and rear brake calipers, so choosing to run it as a single-speed won't result in a terrifying lesson in speed conservation and cautious brake modulation.
The Pinarello Catena Road Bike includes a contrasting silver Cro-Moly fork. It's available in four sizes and in two classic colorways: Black or Red. It comes as a complete bike only, so all you'll need to add is pedals. It is geared with a 46 tooth chainring and 18 tooth rear cog for a total gear of 86.4 inches.

Tech Specs
Bottom Bracket:
Pinarello square taper
Brake Levers:
Pinarello MOst Top-Mount CX
Brake Calipers:
Tektro ECO
Handlebar:
Pinarello MOst DB Track
Stem:
Pinarello MOst 4-Bolt alloy
Seatpost:
Pinerallo MOst alloy
Wheelset:
Pinarello MOst Fixed
Recommended Use:
commuting
Manufacturer Warranty:
3 years on frame
sizing chart
Bike size by rider height
|
Geometry chart
Pinarello
Geometry Chart
Catena

Seat Tube

(c-t)

Top Tube

(TT)

Stack

(S)

Reach

(R)

Set Back

(SB)

Head Tube

(HT)

Head Tube Angle

(HTo)

Seat Tube Angle

(STo)

Bottom Bracket Height

(BBD)

Chainstay

(CS)

46
48.0cm
52.3cm
51.0cm
37.4cm
12.4cm
10.5cm
72.0o
74.0o
6.5cm
40.8cm
50
52.0cm
54.2cm
52.9cm
38.8cm
13.5cm
12.5cm
72.0o
74.0o
6.5cm
40.8cm
54
56.0cm
56.0cm
55.6cm
39.0cm
15.5cm
15.0cm
73.0o
73.0o
6.5cm
40.8cm
58
60.0cm
58.0cm
57.6cm
40.4cm
16.7cm
16.8cm
74.0o
73.0o
6.5cm
40.8cm
I LOVE PINARELLO
Familiarity:

I've put it through the wringer
My wife and I are road bikers who live just North of New York City. When we recently purchased a place in Manhattan, we needed bikes for the city. My wife rides an Orbea Orca, so I felt very comfortable getting her an Orbea mountain bike with front suspension (indestructible). However, I ride a Pinarello Dogma 65.1, and I couldn't imagine riding anything but a Pinarello. Brett Cole at Competitive Cyclist (who knows his stuff) told me that I would love the Pinarello Catena. Apparently, fixie bikes are the standard gear for cool guys in the city (that is...."cool guys half my age"). I've worked with Brett over the years and I've come to trust his judgement.



I received the Pinarello Catena. It was easy to assemble. I order a set of vintage Campagnolo pedals (circa 1980) to match the bike's retro look. The retro geometry was a little different than I was used to- so much so that it required that the seat be more than one centimeter lower than on my modern road bike.



I've been riding it around the city on the freewheel side of the back wheel (I'm no hip enough or your enough to go "full fixie"). The bike is fun and comfortable. I had forgotten the feel of steel or rough road....but it's pretty nice.



For $1,000 (free shipping and no sales tax), I've got a bike that I actually like for around the city..... and it's a Pinarello !!!