Pearl Izumi P.R.O. Softshell 3x1 Jacket $0.00
Item #

PLZ0740
Description
So it's cold, really cold outside. What do you do? Say to hell with it, light the fire, and pour out a nice cognac? Well, not if you want to stick to your training regimen. What you need is the most effective multi-task winter cycling jacket available. The Pearl Izumi P.R.O. Softshell 3x1 Jacket has been designed to work for you in any number of unpleasant weather conditions. Pearl Izumi actually calls this jacket a 'cold weather system' and when you see the sorts of bells and whistles they've included, you'll see that they've thought of everything but the electric blanket.
To begin with, Pearl Izumi designates this as the 3x1 because there are three detachable options for varying degrees of defense against the cold. The outer jacket is made from P.R.O. Softshell with Cocona fabric to give you amazing protection against wind and rain. Then there is an inner, insulator jacket made from P.R.O. Barrier Lite fabric with Permaloft to give the ensemble a snug warmth. They use the Lite version of their P.R.O. Barrier fabric, though, to keep the inner jacket from becoming too bulky or indeed too suffocatingly warm. And so that the two jackets work in perfect unison, each comes with contoured sleeves with specially shaped cuffs so that the upper part of the hand is covered with more fabric than is found on the under-wrist. The collar of each jacket is also tapered from the front to the back so that the back of the neck will get the benefit of more coverage while the fabric at the front will not interfere with your helmet strap. The outer jacket cleverly comes with a collar tab which will allow you to secure the zipper or even keep the collar closed while you zip down to vent your chest a little.
With so many options to keep you warm, possibilities for ventilating have also been well thought out. Each jacket has laser cut Direct-Vent panels to keep any heat build-up from turning the interior of your jacket into a veritable sauna. The jackets come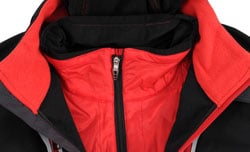 with full length zippers, each with internal draft flaps and garage seals to keep the air from penetrating whether you are wearing them in combo or on their own. As for storage, the outer jacket comes equipped with one rear pocket and two chest zipper pockets. The interior jacket comes with one chest zipper pocket. These jackets give you a ton of pocket space, so your only problem as far as storage is concerned will be remembering in which pocket you stowed your mobile phone.
This cold weather system is a Utilitarian's delight. In addition to the symbiotic jacket combo, Pearl Izumi has added a detachable balaclava with its own internal stow pocket. This form-fitting head gear will guarantee that no cold wind will penetrate through the neck region. To add to the effectiveness, a one hand pull elastic draw cord at the jacket collar will shut out any wind or rain from dripping down the back of your neck. The two-layered jacket with included balaclava may remind many of you of what has for the past four or five years been the holy grail of winter cycling coats. The Assos Fugu. However, the Pearl Izumi P.R.O. Softshell 3x1 Jacket has a huge advantage over the Fugu: every piece is detachable. If a day is chilly enough to combine the outer and interior jacket, but not severe enough to include the balaclava, then you don't have to have the blasted thing hanging out, getting in the way of your chin and helmet strap, or worse, bulking up the area behind your neck, particularly when you are in the drops bombing it down a descent. The 3x1 gives you a mix-and-match capability that will help facilitate your decisions for how warmly you'll need to dress for a ride.
The Pearl Izumi P.R.O. Softshell 3x1 Jacket comes equipped with 360 degree reflective properties, so that you will be much more visible to drivers during the darker parts of the day. It comes in Black/Black and True Red/Black color combinations. It is available in sizes Small through XX-Large.
Three-in-one jacket for ultimate climate versatility: softshell jacket for wind and water protection and Primaloft liner for insulation
Features a detachable balaclava with internal stow pocket for max face protection
Full-length internal draft flap with zipper garage seals in warmth
Contoured, shaped sleeve hem adds warmth
One-hand-pull elastic draw cord at collar seals in warmth
360-degree reflectivity for safety
Size chart
Pearl Izumi
Men's Apparel
Regular Fit
S
M
L
XL
XXL
Chest
35 - 37.5in
(88.9 - 95.3cm)
37.5 - 40.5in
(95.3 - 102.9cm)
40.5 - 43.5in
(102.9 - 110.5cm)
43.5 - 46.5in
(110.5 - 118.1cm)
46.5 - 49in
(118.1 - 124.5cm)
Waist
29 - 31.5in
(73.7 - 80cm)
31.5 - 34.5in
(80 - 87.6cm)
34.5 - 37.5in
(87.6 - 95.3cm)
37.5 - 41.5in
(95.3 - 105.4cm)
41.5 - 45in
(105.4 - 114.3cm)
Hip
35 - 37.5in
(88.9 - 95.3cm)
37.5 - 40.5in
(95.3 - 102.9cm)
40.5 - 43.5in
(102.9 - 110.5cm)
43.5 - 46.5in
(110.5 - 118.1cm)
46.5 - 49in
(118.1 - 124.5cm)
Inseam
31.5in
(80cm)
32in
(81.3cm)
32.5in
(82.5cm)
33in
(83.8cm)
33.5in
(85.1cm)
European Race Fit
Chest

36.5 - 38in




(92.7 - 96.5cm)

38 - 39.5in




(96.5 - 100.3cm)

39.5 - 41in




(100.3 - 104.1cm)

41 - 42.5in




(104.1 - 108.0cm)

42.5 - 44in




(108.0 - 111.8cm)

Waist

30.5 - 32in




(77.5 - 81.3cm)

32 - 33.5in




(81.3 - 85.1cm)

33.5 - 35in




(85.1 - 88.9cm)

35 - 36.5in




(88.9 - 92.7cm)

36.5 - 38in




(92.7 - 96.5cm)

Hip

36.5 - 38in




(92.7 - 96.5cm)

38 - 39.5in




(96.5 - 100.3cm)

39.5 - 41in




(100.3 - 104.1cm)

41 - 42.5in




(104.1 - 108.0cm)

42.5 - 44in




(108.0 - 111.8cm)

Inseam

31.5in




(80.0cm)

32in




(81.3cm)

32.5in




(82.5cm)

33in




(83.8cm)

33.5in




(85.1cm)
How to Measure:

For best results, take measurements over your underwear.

Chest:

Measure under your arms, around the fullest part of your chest.

Natural Waist:

Measure around your natural waistline, keeping the tape a bit loose.

Hip:

Measure around the fullest part of your body at the top of your legs.

Inseam:

Using pants that fit well, measure the crotch seam to the bottom of the leg.
Posted on
Awesome winter jacket!
Gender:

Male

Familiarity:

I've used it several times
I love this jacket. I have used it from below ten to >40. You learn when to remove the inner liner and just ride with the shell (for me >30 is just shell). The zippers are really easy to grab and the giant rear pocket is great, just what you want out of an all weather jacket.
Posted on
A dual-layer jacket good from 60 degrees and colder.
I couldn't find a decent review of this jacket on the web, so I here you go. I'm 5'10, 145lbs and a Medium is my size. The chest is still slightly baggy, but the arms and torso were too short on the next size down.

The 3x1 is basically a wind-proof insulated jacket inside a non-insulated, wind-proof, very water-resistant soft shell jacket. They are held together via a button snap on the sleeves and collar, it works well and is simple. Once the jacket is on, it feels like a one-piece jacket.

Wearing a only a short-sleeve baselayer, this jacket excels from 35-45 degrees. Any colder and I need an additional layer. At 45+ the inner-insulation layer needs to be taken out or it gets too hot. The outer layer is good up to about 60 degrees, any warmer and it might make more sense wear arm-warmers and a vest.

Both layers breathe extremely well in all temperatures. However, you only options for more venting are the front zippers. But, there is a clever snap on the outer-jacket collar that allows you to unzip without flapping in the wind. The zippers are very high-quality, and easily operated with gloves.

The detachable balaclava is a nice extra. However the internal stow pocket is located under the collar, inside the jacket, at the crook of your neck. It's isn't big enough for the balaclava and it feels like you are riding with a tennis ball behind your neck if you cram the balaclava back there. So in the end, I treat it like a regular balaclava and stash in a jersey pocket when I don't need it.

The left breast pocket on the outer jacket has a headphone port. The right breast pocket and the single breast pocket on the inner jacket do not. The outer jacket rear pocket is huge and stretchy, however it is still not big enough to stow the inner jacket if you get too hot. You are stuck with the insulation layer if you choose to use it. The insulation layer does not have a rear pocket.

Overall the jacket looks great, the soft shell material has a great hand to it. You could also wear the insulation layer by itself, but it's lack of pockets make it somewhat useless in that regard. They are both styled enough to wear off-the-bike.

My only complaints are wishing it fit a little more "euro" snug around the chest, the useless balaclava pocket and the inability to stow the insulation layer. It's nice to now have a jacket that I can throw on without stressing about extra layers and just ride out the door.
Posted on
What is the jacket's temp rating?
What is the jacket's temp rating?
Responded on
COLD! The primaloft liner is amazingly warm and combined with the fleece lined softshell this piece can handle some cold temps. Its all relative to exertion level, what you are wearing beneath and your tolerance to cold...
Responded on
I apprehensively took my new 3x1 jacket out on a foggy 28 degree Olympia, Wash. ride.
Don't know how a jacket this light can be warm but it is. Maybe too warm as the day heats up but the liner is removeable. I think it would be great in colder temps depending on
what base layers you wore.