Park Tool Emergency Tire Boot Set - TB-2C $0.00
Item #

PAR0176
Description
Carrying a frame pump and a spare tube or two is smart. But if you're a paranoid android and want to take your preparedness to the next level,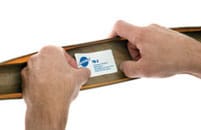 then bring one of these -- a tiny package of Park Tool Emergency Tire Boots. Sure, you can cover up a slit in the rubber or in the sidewall with a dollar bill or an empty GU packet, but the Park boot does the job faster, easier, and more securely. Park's boot is made from a waterproof vinyl membrane with fiber weave reinforcement. A pressure sensitive adhesive assures that the boot stays in place in any tire, road or mountain, high or low pressure. A true ride saver.
Tech Specs
Recommended Use:
sidewall repair
Give tire cuts the boot!
I carry a pump, a tube and patches. I also carry these Park Tool emergency tire boots just in case I ever run over something big enough that just addressing the tube puncture isn't going to solve it. A tear in a tire my compromise your new tube and will require something to cover the hole long enough to get you home. I carry them for my road bike and my mountain bike. My mtb tires are tubeless, but if I ever get a hole bad enough that the Stan's sealant seal it, I may need to cover the hole to put a tube in. The package includes three boots, each slightly smaller in size than a credit card. Three of the take up virtually no room in my saddle bag and weigh a few grams. At only a few dollars, I can't think of any reason not to carry them.
Women's intuition
I bought this on a whim and figured it was light enough and cheap enough, why not just keep it in my pack? Well.... turns out i needed it a few weeks later. What I really need is a new tire, BUT, it is still going strong (as strong as a tire with no tread can go) since I patched a sidewall hole with this TB-2. The pack includes more than one patch, and I'm not sure if they intend you to cut them to size, but I decided the hole I was fixing was small enough to just use half a patch and it's worked fine. The patch is not overly sticky, so if you can clean the area you are patching first, I would recommend it, however I was in the middle of a 12 mile ride and just tried to mash it in there as well as possible and was careful putting the new tube in. I am ordering new tires this week (treads are done), but the patch has been holding solid for a month now.