Orbea Ordu Gold - 2012 $0.00
Item # ORB0043
Description
There's something about the flat paneled design of the Orbea Ordu Gold that we can't get enough of. Perhaps it's that it reminds us of the F-117 Nighthawk stealth fighter or of our first Italian love, the Lamborghini Countach. Either way, it evokes unbridled speed – a good thing when you'll climb aboard to pursue your fastest efforts against the clock.
Like the Orca Gold, the Ordu Gold is made with Orbea's Gold grade of ultra-high modulus carbon fiber. It was Orbea's goal to provide an optimum blend of performance characteristics. Of course, aerodynamic efficiency was paramount, but so was stiffness because a slippery shape is nothing without efficient power transfer from the rider to the asphalt. This is why Orbea engineers used both wind tunnel results and FEA (finite element analysis) to fine-tune the shapes of the frame tubes. The combination of thoughtful design with the finest materials results in a bike that excels under the most powerful riders, and this is why it has won the Hawaii Ironman twice since its recent debut.
Aerodynamic details abound on the Ordu frameset, from the peaked head tube to the aero-section seat stays and the fully internal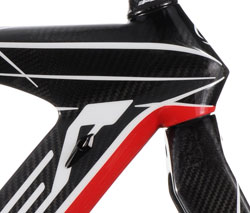 cable routing. The arcing seat tube may be one of the most distinctive aspects. While it may look similar to other bikes, for no other reason than the seat tube arcs closely along the diameter of the rear wheel, the Ordu uses Orbea's Co-linear seat tube geometry. Look closely and you'll see that the seat post still fits into the frame at an angle less than 90˚. The importance is that when you make seat height adjustments, the Ordu maintains the fore-aft relationship with regards to reach and proportional sizing. Your optimum fit is easy to find, especially since it comes with two seat posts that offer a whopping total angular range from 74˚ to 80˚.
Orbea molds the Ordu Gold frame and fork as monocoque structures. Each of these is formed as one piece without bonded joints where failures, either structural or cosmetic, can occur. With fibers running continuously along the length of the tubes and through the intersections, the total strength of the bike is increased along with the durability. This method is shared with the Silver version, but the number and orientation of the plies of carbon is different to give the Ordu Gold the intended physical properties. It's lighter, stronger, and stiffer. Orbea also uses what they term as SSN (size specific nerve) technology. This ensures that they can produce frames that offer the same comfort and performance characteristics across the size range. To do this, they make each frame size with its own specific lay-up schedule and tube dimensions.
The Orbea Ordu Gold is available in Carbon/red or White/blue and four tailored sizes – 48, 51, 54, and 57cm. It comes with a matching Ordu monocoque full-carbon fork, integrated FSA headset, and two seatposts – one that offers two positions 74/76˚ and the other 78/80˚. The Ordu requires a braze-on front derailleur and an English threaded bottom bracket. All Orbea bicycle frames come with a lifetime warranty against manufacturing defect.

Geometry chart
Orbea
Geometry Chart
Ordu Gold
Seat Tube
(c-t)

Effective Top Tube

(eTT)

Stack

(S)

Reach

(R)

Head Tube

(HT)

Head Tube Angle

(HTo)

Seat Tube Angle

(STo)

Chainstay

(CS)

Wheelbase
XS
44.0cm
48.4cm
46.7cm
38.1cm
10.0cm
72.0o
78.0o
37.0cm
92.9cm
S
48.0cm
50.5cm
50.1cm
39.5cm
9.0cm
72.0o
78.0o
40.0cm
97.3cm
M
53.5cm
52.4cm
51.7cm
41.5cm
10.5cm
72.4o
78.0o
40.0cm
99.4cm
L
57.0cm
56.1cm
55.2cm
44.4cm
14.0cm
74.0o
78.0o
40.0cm
102.9cm
Compiling options for this bike.
It'll be just a moment...