Orbea Orca Silver $0.00
Item #

ORB0045
Description
The angularity of the Orbea Orca Silver is unmistakable, and it's a striking quality that leaves you with a lasting impression. At first glance, it looks almost brutish, like its planar design is there to skew its radar signature at some terrifying top speed. It shares this same overall shape with the more expensive Orca Gold, though this one makes use of a materials mix that leaves all the performance out on the road without producing such a lasting effect on your wallet.
While the Orca has been around for a good number of years, its recent re-design has upped the ante considerably. Where the older bike used more traditional rounded tube shapes, this one nearly ventures into art deco.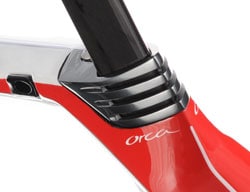 However, the tube shaping isn't all about good looks. Orbea uses what they term as SSN (size specific nerve) technology to produce frames that offer the same comfort and performance characteristics across the size range. More specifically, each frame size has specific carbon lay-ups and tube dimensions. This way, a 125lb five foot seven mountain climber doesn't have to suffer the otherworldly stiffness that would be necessary on a bike built for a 180lb six foot four classics rider. Otherwise, the angular tube shapes and sometimes pronounced edges are the result of FEA (finite element analysis) and the intent to create resistance to flex in critical areas like the bottom bracket, seat tube, and head tube junction.
That said, Orbea uses some particular shaping in the seat stays and fork legs of the Orca Silver and Gold models to absorb road vibration. They call it Attraction, and you won't find it on the Orca Bronze. Take a close look at the abrupt bends above the full-carbon dropouts. Their shaping allows some shear movement between the long axes of the straight segments. While this improves comfort over coarse road surfaces, it has no effect on the stiffness of the rear triangle with regards to power transfer. Make no mistake, the Orca Silver leaps when you punch on the pedals.
Orbea molds the Orca Silver frame and fork as a monocoque. Each of these is a homogenous structure without bonded joints where failures, either structural or cosmetic, can occur. With fibers running continuously along the length of the tubes and through the intersections, the total strength of the bike is increased along with the durability. The Orca Silver is made with Orbea's Silver grade, high modulus carbon fiber. The difference between this model and the Orca Gold is easily quantifiable in numerical terms -- for another thousand dollars you can save 130 grams and get an admittedly exquisite clear coated carbon weave finish. Out on the road, you'd be hard pressed to discern the difference. Ultimately, the gold is a bit stiffer as well as being lighter. It's not a stretch to think of the Orca Silver as the Ultegra of the Orca line. With performance nearly indistinguishable from the top of the line model, why pay more?
Like its more expensive sibling, the Orca Silver uses a BB30 bottom bracket and a tapered head tube/steerer. Both of these details add performance by increasing stiffness where it counts. At the bottom bracket, you'll enjoy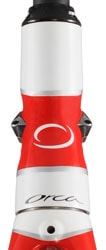 a 30% stiffer and lighter aluminum spindle compared to standard external bearing cranksets. Another benefit is the increased heel and ankle clearance. Do you wear out the inside surfaces of your cycling shoes against the crankarms? If you answered yes, BB30 is for you. And if you already have a typical crankset, you can easily adapt it to fit the BB30 shell, no problem. The tapered head tube allows the use of a 1.5" lower bearing. The increased inside diameter of the bearing allows the carbon fiber steerer tube to be oversized as well. This increases the torsional and bending stiffness. This is a big part of what makes the Orca feel rock solid on high speed descents and through tight corners, brushing elbows with your mates in the Wednesday night world championship crits.
The last difference between the Orca Silver and Gold framesets is the seatpost that comes with each model. Where the Gold is supplied with an Orca Monolink style post, AKA Selle Italia's latest clamp design, the Silver uses an Orca specific carbon post with an easy-to-adjust two bolt clamp. It provides a rock solid and slip-free support for the saddle brand and style of your choosing. Both models use a sculpted aluminum clamp that relies on an internal wedge to secure the post from sliding up or down.
The Orbea Orca Silver is available in four colors and six tailored sizes from 48cm to 60cm. It comes with a matching Orca tapered monocoque full-carbon fork and integrated FSA headset. The seatpost is also included, as is a Gore cable set. The frame is designed for super low profile cables, and the Gore lining keeps the cable from rubbing the clear coat off, so you'll want to continue to use lined cables. The Orca requires a braze-on front derailleur. All Orbea bicycle frames come with a lifetime warranty against manufacturing defect.

Tech Specs
Frame Material:
carbon fiber
Fork Material:
carbon fiber
Steer Tube Type:
tapered carbon fiber
Replaceable Rear Derailleur Hanger:
yes
Head Tube Diameter:
1 1/2 to 1 1/8in tapered
Headset Included:
yes, FSA
Bottom Bracket Type:
BB30
Front Derailleur Mount:
braze-on
Compatible Components:
mechanical, electric
Recommended Use:
road cycling, racing
Manufacturer Warranty:
lifetime
sizing chart
Bike size by rider height
|
Geometry chart
Orbea
Geometry Chart
Orca
Seat Tube
(c-t)

Effective Top Tube

(eTT)

Stack

(S)

Reach

(R)

Head Tube

(HT)

Head Tube Angle

(HTo)

Seat Tube Angle

(STo)

Bottom Bracket Height

(BBH)

Bottom Bracket Drop

(BBD)

Chainstay

(CS)

Wheelbase
48
45.4cm
52.0cm
50.0cm
36.0cm
10.4cm
71.5o
74.75o
26.7cm
7.0cm
40.5cm
97.0cm
51
48.4cm
53.5cm
53.0cm
37.7cm
12.0cm
72.1o
73.5o
26.7cm
7.0cm
40.5cm
97.0cm
53
50.4cm
54.5cm
55.2cm
38.0cm
14.5cm
72.1o
73.5o
26.7cm
7.0cm
40.5cm
98.0cm
55
52.4cm
55.5cm
57.2cm
38.2cm
16.5cm
73.5o
73.2o
26.7cm
7.0cm
40.8cm
98.8cm
57
54.4cm
57.0cm
59.0cm
39.1cm
18.5cm
73.2o
73.2o
26.7cm
7.0cm
40.8cm
99.8cm
60
57.4cm
59.0cm
62.1cm
40.3cm
20.5cm
73.5o
73.2o
26.7cm
7.0cm
40.8cm
101.3cm
Unanswered Question
hey can i get this with the orca specific...
hey can i get this with the orca specific zero setback seatpost?

thanks
Incredible professional level ride!
Familiarity:

I've put it through the wringer
This frameset simply does it all very well. Stiff, comfortable, beautiful, perfect geometry, great handling, the list goes on. Very well thought out design that keeps it light and aero all in a beautifully shaped and sharp looking package. I logged a 120 mile day that climbed over 11k feet and this frameset was perfect in every way. I ride 20 miles or so each day on some very spirited group rides and love the way the power transfers. All in all, I don't think I could be happier with anything else. I even sold my Foil in favor of the Orca!