Orbea Orca Dama Silver $0.00
Item # ORB0042
Description
Dama is Spanish for lady, and it leaves the name of the Orbea Orca Dama Silver without secrets. It's made for ladies and has specific geometry to match the typical proportionality of a woman's body. There are a number of geometrical changes to make it so, and this is where it differs from the men's version of the Orca.
With women generally being shorter than men and having shorter torsos and arms with relation to their total height, Orbea builds the Orca Dama with a few angles and measurements tailored to optimize the fit. If you find it confusing that there are two sizes shared with the men's Orca, please note that the top tube lengths are a good bit shorter here on the Dama version. This allows you to reach the bars more easily without feeling over-stretched. As important as it is to get the top tube length correct, 700c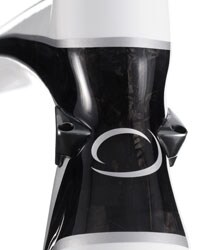 wheels can present a challenge with smaller women's sizes. The remedy here is a slacker head angle and corresponding fork offset. The reason is to lengthen the front-center, the measurement between the bottom bracket and the front hub. This reduces the chance for toe overlap when you steer the bike at low speeds, increasing your comfort and safety.
The Orca Dama Silver shares the same planar shaping with the more expensive, stiffer, and lighter Orca Dama Gold. The Silver version is made with Orbea's Silver grade, high modulus carbon fiber. Compared to the stiffer Gold carbon, the Silver carbon lay-up will yield a ride that is a bit more compliant. If the Orca Gold is meant purely for racing at the highest level, the Orca Silver is meant for the racer who values comfort along with performance.
Orbea uses what they term as SSN (size specific nerve) technology to produce frames that offer the same comfort and performance characteristics across the size range. More specifically, each frame size has specific carbon lay-ups and tube dimensions. Orbea used FEA (finite element analysis) to optimize the angular, hard-edged tubes. They're shaped to resist flex in critical areas like the bottom bracket, seat tube, and head tube junction. That said, Orbea intends some compliance in the seat stays and fork legs of the Orca Silver and Gold models to absorb road vibration. They call it Attraction, and you won't find it on the Orca Bronze. Take a close look at the abrupt bends above the full-carbon dropouts. Their shaping improves comfort over coarse road surfaces, yet it won't allow any unwanted flex when you stand to climb or sprint.
Orbea molds the Orca Dama Silver frame and fork as a monocoque. Each of these is a homogenous structure without bonded joints where failures, either structural or cosmetic, can occur. With fibers running continuously along the length of the tubes and through the intersections, the total strength of the bike is increased along with the durability. This is the reason that Orbea can offer you peace of mind with their lifetime warranty against manufacturing defects.
The Orca Silver uses a BB30 bottom bracket and a tapered head tube/steerer. Both of these details add performance by increasing stiffness where it counts. With a BB30 crankset, you'll enjoy a 30% stiffer and lighter aluminum spindle compared to standard external bearing cranks. Another benefit is the increased heel and ankle clearance. Do you wear out the inside surfaces of your cycling shoes against the crankarms? If you answered yes, BB30 is for you. And if you already have a typical crankset, you can easily adapt it to fit the BB30 shell. The tapered head tube allows the use of a 1.5" lower bearing. The increased inside diameter of the bearing allows the carbon fiber steerer tube to be oversized as well. This increases the torsional and bending stiffness. This is a big part of what makes the Orca feel rock solid on high speed descents and through tight corners.
The last difference between the Orca Silver and Gold framesets is the seatpost that comes with each model. Where the Gold is supplied with an Orca Monolink style post, AKA Selle Italia's latest clamp design, the Silver uses an Orca specific carbon post with an easy-to-adjust two bolt clamp. It provides a rock solid and slip-free support for the saddle brand and style of your choosing. Both models use a sculpted aluminum clamp that relies on an internal wedge to secure the post from sliding up or down.
The Orbea Orca Dama Silver is available in White/blue/silver and White/carbon/silver. It's built in four women's specific sizes – 47, 49, 51, and 53cm. It comes with a matching Orca tapered monocoque full-carbon fork, integrated FSA headset, seatpost, and Gore cable set. The frame is designed for super low profile cables, and the Gore lining keeps the cable from rubbing the clear coat off, so you'll want to continue to use lined cables. The Orca requires a braze-on front derailleur.

Tech Specs
Frame Material:
carbon fiber
Fork Material:
carbon fiber
Replaceable Rear Derailleur Hanger:
yes
Head Tube Diameter:
tapered (zero stack)
Bottom Bracket Type:
BB30
Front Derailleur Mount:
braze-on
Compatible Components:
mechanical, electric
Recommended Use:
road racing
Manufacturer Warranty:
lifetime
Geometry chart
Orbea Orca Dama
Geometry Chart
Orca Dama
Seat Tube
(c-t)

Effective Top Tube

(eTT)

Stack

(S)

Reach

(R)

Head Tube

(HT)

Head Tube Angle

(HTo)

Seat Tube Angle

(STo)

Bottom Bracket Height

(BBH)

Bottom Bracket Drop

(BBD)

Chainstay

(CS)

Wheelbase
47
40.4cm
50.4cm
50.5cm
36.5cm
10.4cm
70.0o
75.0o
26.7cm
7.0cm
40.5cm
97.0cm
49
45.4cm
51.0cm
51.0cm
36.5cm
11.0cm
70.1o
74.5o
26.7cm
7.0cm
40.5cm
97.0cm
51
47.4cm
52.0cm
53.3cm
37.0cm
12.9cm
71.4o
74.5o
26.7cm
7.0cm
40.5cm
97.0cm
53
48.4cm
52.5cm
54.6cm
37.3cm
14.0cm
72.0o
74.5o
26.7cm
7.0cm
40.5cm
97.0cm
Compiling options for this bike.
It'll be just a moment...