Orbea Orca Dama Gold Road Bike Frame $0.00
Item # ORB0047
Description
The Orca Dama Gold is the bike for the woman who values performance first and foremost. Its materials set it apart from the Silver and Bronze models. The difference is in the physical properties of the raw carbon. Orbea's Gold grade, high modulus carbon fiber is stiffer, less dense, and has higher tensile strength. This allows Orbea's engineers to design a racing bicycle that offers an optimum blend of high strength, stiffness, and light weight. When you add in the Orca's aerodynamic efficiency, you'll see that it is intended to be the ultimate road machine.
Orbea molds the Orca Gold frame and fork as a monocoque. Each of these is a homogenous structure without bonded joints where failures, either structural or cosmetic, can occur. With fibers running continuously along the length of the tubes and through the intersections, the total strength of the bike is increased along with the durability.
Orbea builds the Orca Dama with a few angles and measurements tailored to optimize the fit for women's proportionality. The top tube lengths are shorter for a given size. This allows you to reach the bars more easily without feeling over-stretched.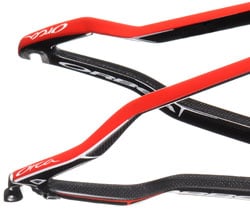 They also have a slacker head angle and corresponding fork offset. The reason is to lengthen the distance between the bottom bracket and the front hub. This reduces the chance for toe overlap when you steer the bike at low speeds, increasing your comfort and safety.
The Orca has an angular, muscular appearance with flat planes and sometimes pronounced edges where other bikes use more rounded shapes. Its design is the result of FEA (finite element analysis) and Orbea's intent to create resistance to flex in critical areas like the bottom bracket, seat tube, and head tube junction. Orbea uses what they term as SSN (size specific nerve) technology to produce frames that offer the same comfort and performance characteristics across the size range. More specifically, each frame size has specific carbon lay-ups and tube dimensions.
Though stiffness is a key priority, Orbea uses some particular shaping in the seat stays and fork legs of the Orca Gold to absorb road vibration. Take a close look at the abrupt bends above the full-carbon dropouts. Their shaping allows some shear movement between the long axes of the straight segments. While this improves comfort over coarse road surfaces, it has no effect on the efficiency of the rear triangle with regards to power transfer. Don't forget, this is the bike that the pros ride.
The Orca Gold uses a BB30 bottom bracket and a tapered head tube/steerer. Both of these details add performance by increasing stiffness where it counts. At the bottom bracket, you'll enjoy a 30% stiffer and lighter aluminum spindle compared to standard external bearing cranksets. Another benefit is the increased heel and ankle clearance. Do you wear out the inside surfaces of your cycling shoes against the crankarms? If you answered yes, BB30 is for you. And if you already have a typical crankset, you can easily adapt it to fit the BB30 shell, no problem. The tapered head tube allows the use of a 1.5" lower bearing. The increased inside diameter of the bearing allows the carbon fiber steerer tube to be oversized as well. This increases the torsional and bending stiffness. This is a big part of what makes the Orca feel so stable through sweeping high speed corners.
Another difference between the Orca Gold and silver framesets is the seatpost that comes with each model. This Gold version is supplied with an Orca Monolink style post that allows the use of Selle Italia's latest saddles with their Friction Free design. It's easy to set up and provides a rock solid perch for your saddle. If you prefer another brand or style of saddle, you can use the supplied adapters to fit typical dual-rail saddles. Both models use a sculpted aluminum clamp that relies on an internal wedge to secure the post from sliding up or down.
The Orbea Orca Dama Gold Road Bike Frame is available in Red/white or White/pink and comes in four tailored sizes from 47cm to 53cm. It comes with a matching Orca tapered monocoque full-carbon fork, integrated FSA headset, and carbon seatpost. It also includes a Gore cable set for ultra-smooth shifting. The frame is designed for super low profile cables, and the Gore lining keeps the cable from rubbing the clear coat off, so you'll want to continue to use lined cables. The Orca requires a braze-on front derailleur. All Orbea bicycle frames come with a lifetime warranty against manufacturing defect.

Tech Specs
Frame Material:
carbon fiber
Fork Material:
carbon fiber
Steer Tube Type:
tapered carbon fiber
Replaceable Rear Derailleur Hanger:
yes
Head Tube Diameter:
1 1/2 to 1 1/8in tapered
Headset Included:
yes, FSA
Bottom Bracket Type:
BB30
Front Derailleur Mount:
braze-on
Compatible Components:
mechanical, electric
Recommended Use:
road racing
Manufacturer Warranty:
lifetime
Geometry chart
Orbea Orca Dama
Geometry Chart
Orca Dama
Seat Tube
(c-t)

Effective Top Tube

(eTT)

Stack

(S)

Reach

(R)

Head Tube

(HT)

Head Tube Angle

(HTo)

Seat Tube Angle

(STo)

Bottom Bracket Height

(BBH)

Bottom Bracket Drop

(BBD)

Chainstay

(CS)

Wheelbase
47
40.4cm
50.4cm
50.5cm
36.5cm
10.4cm
70.0o
75.0o
26.7cm
7.0cm
40.5cm
97.0cm
49
45.4cm
51.0cm
51.0cm
36.5cm
11.0cm
70.1o
74.5o
26.7cm
7.0cm
40.5cm
97.0cm
51
47.4cm
52.0cm
53.3cm
37.0cm
12.9cm
71.4o
74.5o
26.7cm
7.0cm
40.5cm
97.0cm
53
48.4cm
52.5cm
54.6cm
37.3cm
14.0cm
72.0o
74.5o
26.7cm
7.0cm
40.5cm
97.0cm
Compiling options for this bike.
It'll be just a moment...