Orbea Orca Bronze $0.00
Item #

ORB0056
Description
As carbon fiber comes in a variety of grades, so does the Orbea Orca. The Gold version is the lightest and stiffest, but also the most expensive by a grand margin. This Orca Bronze is priced right and built to combine comfort and long distance performance because it offers more compliance than the Gold or Silver. This is due to the physical properties of the materials used in the frame and fork.
The Orca Bronze uses Orbea's Bronze grade carbon, and it's a blend of intermediate modulus fibers that have a touch more elasticity than the higher modulus fibers in the Gold and Silver Orcas. That the intermediate fibers also create a more durable frame is an added bonus for those looking at their first carbon fiber bicycle. If you're looking towards an upgrade from aluminum, but have concerns about the lifespan of a composite bicycle, be aware that this Orca Bronze is likely more crashproof than a thin-walled alloy frame. And we're certain that it's ultimately more repairable if the unthinkable occurs. But the real benefit of carbon fiber is the silky smooth ride. It absorbs high frequency vibrations from coarse road surfaces better than aluminum or steel frames.
Like the Gold and Silver, Orbea molds the Orca Bronze frame and fork as a monocoque. Each of these is a homogenous structure with fibers running continuously along the length of the tubes and through the intersections. This increases the total strength of the bike along with the durability. There are a few structural differences that separate the Orca Bronze. It uses alloy dropouts. They're a few grams heavier than the full-carbon dropouts of the more expensive models, but they're also more apt to endure repeated ham-fisted wheel insertions. The seat tube here is round where the Gold and Silver have a more sculpted, aero shape. This allows the use of a less expensive, standard round seatpost and conventional clamp assembly.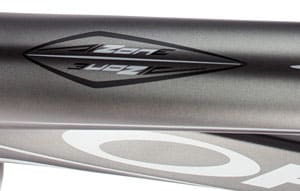 Otherwise the front triangle uses the same planar styling as the other Orca models. And the tube shaping isn't all about good looks. The angular tube shapes and sometimes pronounced edges are the result of FEA (finite element analysis) and their intent to create resistance to flex in critical areas like the bottom bracket, seat tube, and head tube junction. Orbea uses what they term as SSN (size specific nerve) technology to produce frames that offer the same comfort and performance characteristics across the size range. More specifically, each frame size has specific carbon lay-ups and tube dimensions.
The Orca Bronze also uses a BB30 bottom bracket and a tapered head tube. Both of these details add performance by increasing stiffness where it counts. At the bottom bracket, you'll enjoy a 30% stiffer and lighter aluminum spindle compared to standard external bearing cranksets. Another benefit is the increased heel and ankle clearance. Do you wear out the inside surfaces of your cycling shoes against the crankarms? If you answered yes, BB30 is for you. And if you already have a typical crankset, you can easily adapt it to fit the BB30 shell, no problem. The tapered head tube allows the use of a 1.5" lower bearing. The increased inside diameter of the bearing allows the carbon fiber steerer tube to be oversized as well. This increases the torsional and bending stiffness. This is a big part of what makes the Orca feel rock solid on high speed descents and through tight corners.
The Orbea Orca Bronze is available in Anthracite/carbon or White/carbon/red and comes in six tailored sizes from 48cm to 60cm. It comes with a matching Orca tapered monocoque carbon fork and integrated FSA headset. The Orca requires a braze-on front derailleur. All Orbea bicycle frames come with a lifetime warranty against manufacturing defect.

sizing chart
Bike size by rider height
|
Geometry chart
Orbea
Geometry Chart
Orca
Seat Tube
(c-t)

Effective Top Tube

(eTT)

Stack

(S)

Reach

(R)

Head Tube

(HT)

Head Tube Angle

(HTo)

Seat Tube Angle

(STo)

Bottom Bracket Height

(BBH)

Bottom Bracket Drop

(BBD)

Chainstay

(CS)

Wheelbase
48
45.4cm
52.0cm
50.0cm
36.0cm
10.4cm
71.5o
74.75o
26.7cm
7.0cm
40.5cm
97.0cm
51
48.4cm
53.5cm
53.0cm
37.7cm
12.0cm
72.1o
73.5o
26.7cm
7.0cm
40.5cm
97.0cm
53
50.4cm
54.5cm
55.2cm
38.0cm
14.5cm
72.1o
73.5o
26.7cm
7.0cm
40.5cm
98.0cm
55
52.4cm
55.5cm
57.2cm
38.2cm
16.5cm
73.5o
73.2o
26.7cm
7.0cm
40.8cm
98.8cm
57
54.4cm
57.0cm
59.0cm
39.1cm
18.5cm
73.2o
73.2o
26.7cm
7.0cm
40.8cm
99.8cm
60
57.4cm
59.0cm
62.1cm
40.3cm
20.5cm
73.5o
73.2o
26.7cm
7.0cm
40.8cm
101.3cm
I've currently got an old Basso Gap w/...
I've currently got an old Basso Gap w/ SunTour Superbe Pro on it and am wondering if there would be any problems fitting the bottom bracket and crankset on the Orca Bronze.

Also, would I be able to use the Superbe Pro front derailleur and calipers with shimano ultegra shift levers?

I'm trying to upgrade while preserving a few of the parts that are still in great shape due to sitting dormant for quite a lonnnng time :)
Mark



this frame uses a bb30 bottom bracket system which would not be compatible with the parts you have. use our kit calculator to put together a complete build or give us a call and we will walk you through it. leave the Basso complete and save it, the parts are well sought after with some collectors