Description
We can think of few mountain bikes with designs so forward-thinking that their legitimacy endured for more than a couple of years. We recall even fewer that were remembered, let alone still revered after five years. The modern Ibis Mojo is one such example, and a big part of its legacy is the dw-link rear suspension. Perhaps more remarkable is the Orbea Alma since it's a simple bike, a hardtail. It's a testament to the developmental energy and prospective design work by Orbea, and the Alma 29 Silver hits the target best with respect to stiffness, durability, and cost.
Aside from being the world's first production carbon 29er, the Alma stands as a model of sharp design. We don't mean just sharp angles, though the Alma 29 has a few of those. We mean thoughtful, like a downtube that's oversized for stiffness and shaped to provide some protection for the rider from mud and spray from the front tire, acting like a fender. We also mean well-engineered. Take the 4x4 design; both the front and rear triangles are actually quadrangles, with four corners. The reasons for this are simple – to increase the comfort for the rider. Couple this with the advantages of 29er wheels and the Alma 29 Silver is a true all-terrain bike.
The 4x4 design is based around the understanding that a triangle is nature's stiffest geometrical design because any forces on its points simply become tension or compression in the members (think chainstays, seatstays, and seat tube in the case of the rear triangle). By adding a short fourth member, which you can see in front of the dropout, Orbea's engineers have designed the rear end of the Alma to deflect some of the harsh input from the trail by way of the joints, or nodes, flexing slightly. The carbon lay-up is designed to allow a small degree of movement here without losing any torsional stiffness. This is the beauty of carbon in comparison to metals; where metals exhibit the same characteristics in all directions,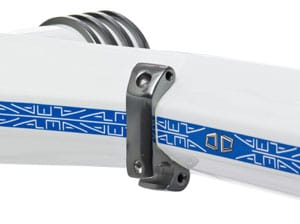 carbon fiber can be tuned for different mechanical properties along different axes. The Alma front triangle is built in the same way to maximize your comfort and efficiency.
Orbea does all this with a monocoque molding process. That's to say that they make each Alma 29 frame as a one-piece homogenous structure. Without bonded joints where failures can occur and with fibers running continuously along the length of the tubes and through the intersections, the total strength of the bike is increased along with the durability. This version uses Orbea's Silver grade carbon fiber, and it's a material that offers great impact resistance and toughness – two desirable characteristics for a bike frame that's made to hammer.
The Alma 29 is also designed and built in accordance with Orbea's SSN (size specific nerve) technology so that it offers the same comfort and performance characteristics across the size range. More specifically, each frame size has specific carbon lay-ups and tube dimensions. While optimization of the ride qualities is paramount, it would be pointless if the bike didn't shift flawlessly. This is why the Alma uses DCR (direct cable routing). It's made to use Gore's slick-shifting cables, and it comes with a complete set. The inner wires are sealed from start to finish and the routing on the underside of the top tube keeps them protected from the ravages of the trail.
The Alma uses a BB30 bottom bracket shell. While you can use standard cranksets with the included FSA adapters, you'll enjoy a 30% stiffer and lighter aluminum spindle if you use a BB30 crankset. Another benefit is the increased heel and ankle clearance because of the shorter spindle length. Do you wear out the inside surfaces of your cycling shoes against the crankarms? If you answered yes, BB30 is for you. The Alma 29 also uses a tapered head tube with a 1.5" lower bearing. When paired with a tapered fork, this increases the stiffness and stability of the front end. This is a big part of what makes it feel rock solid over rutted or rocky trails and through sketchy corners. Both of these details add performance by increasing stiffness right where it counts.
The Orbea Alma 29 Silver is available in Small, Medium, and Large and comes in three colors – Carbon/yellow/silver, White/blue/carbon, and White/red/carbon. It has a tapered head tube with 44mm top and 56mm bottom ID. The frameset includes an FSA semi-integrated tapered 1-1/8" – 1.5" headset. It requires a 31.6mm seatpost and a 34.9mm high clamp/top pull front derailleur. All Orbea bicycle frames come with a lifetime warranty against manufacturing defect.

Tech Specs
Frame Material:
carbon fiber
Head Tube Diameter:
ZS44/ZS56 zero stack tapered
Headset Included:
yes, FSA
Bottom Bracket Type:
BB30
Front Derailleur Mount:
34.9mm high clamp
Compatible Components:
Shimano, SRAM
Seatpost Diameter:
31.6 mm
Seat Collar:
34.9 mm Orbea
Rear Axle:
10x135 mm quick-release
Recommended Use:
cross country
Manufacturer Warranty:
lifetime
Geometry chart
Orbea
Geometry Chart
Alma 29

Seat Tube

(c-c)

Effective Top Tube

(eTT)

Stack

(S)

Reach

(R)

Stand Over

(SO)

Head Tube Length

(HT)

Head Tube Angle

(HTo)

Seat Tube Angle

(STo)

Bottom Bracket Height

(BBH)

Chainstay

(CS)

Wheelbase
S
16.5in
22.6in
25.0in
15.2in
30.8in
4.3in
71.5 deg
73.0 deg
11.9in
17.3in
41.7in
M
18.5in
23.2in
25.2in
15.5in
31.7in
4.5in
71.5 deg
73.0 deg
11.9in
17.3in
42.1in
L
20.5in
24.4in
25.8in
16.5in
33.1in
5.1in
72.0 deg
73.0 deg
11.9in
17.3in
43.1in
Compiling options for this bike.
It'll be just a moment...