Open O-1.0 Carbon Mountain Bike Frame $0.00
Item #

OPN0001
Description
Watching the open O-1.0 roll by is like seeing a Stealth Bomber fly overhead. You marvel at the visual experience, sure, but it's the knowledge that you're witnessing one of the most technologically advanced machines of its kind in action that really captivates you. Gerard Vroomen, Andy Kessler, and the team at open didn't set out to dabble in the status quo, which required unacceptable trade-offs: strength for low weight, or stiffness for ride quality. Rather, they set out to break the mold. To accomplish that goal, they challenged conventional wisdom and adopted the mantra that every aspect of the modern hardtail 29er frame could be improved. The result of this relentless pursuit is the O-1.0.
They started with the material itself. There are many myths surrounding carbon fiber. One is that the more 'high-modulus' carbon fiber you use in constructing a frame, the better. The simple fact is that though high-modulus carbon is stiffer, it's also more brittle, and thus, weaker. So for the O-1.0, open used stiffer, lighter carbon where it made sense, and stronger carbon where it was needed, like in the tapered 1-1/8 to 1-1/2in head tube. open calls this blended approach TRCinTRS, for The Right Carbon in The Right Spot, a tongue-in-cheek nod to the industry's love affair with acronyms. The result of the TRCinTRS approach was the creation of the lightest mountain bike frame ever to pass the German company EFBe's structural integrity tests, which are some of the most rigorous in the world.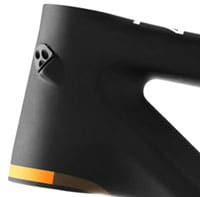 Another myth that open was determined to put to rest is that carbon mountain bikes can't have a compliant feel. One look at the O-1.0's profile, and you'll notice that the tubing slims down from the front of the bike to the rear. The seatstays, in particular, are razor-thin when viewed from the side. The purpose of the slender tubing is to provide a little vertical flex in back for comfort without sacrificing lateral rigidity. The key phrase here is 'a little,' as open points out that for hardtails, particularly 29ers, most vertical flex comes from the tires.
Looking at the geometry of the O-1.0, it's clear that open sought to prioritize nimbleness while taking advantage of the rolling advantages that 29in wheels provide. The short, 17.3in chainstays create agile handling, as does the steeper 72 degree head tube angle. Also note that while the seat tube angle appears to be slacker at 72.5 degrees, the seat tube is designed to accept a 27.2mm, zero-setback seatpost, which would compensate for the slacker angle, and save a modest amount of weight.
The open O-1.0 comes equipped for full internal cable routing for clean lines and to keep everything running smooth. The derailleur cables and rear brake housing route through a single opening in the frame; open calls the piece that fits into this opening the MultiStop. The shifter cable holes double as stops so you don't have to run full housing through the frame. With electric and hydraulic shifting looming on the horizon, it's comforting to know that all you'll have to do to upgrade is order a new MultiStop and replace the internal cable guide found in the bottom bracket shell.
The BBright bottom bracket system found on Cervelo road bikes has been carried over to the O-1.0. It uses the 30mm spindle found in BB30 designs, but the bottom bracket shell is 11mm wider on the non-drive side of the frame. This setup offers an ideal blend of frame and axle stiffness without changing the chainline or pedal stance width. The O-1.0 comes with Rotor 3D+ cranks designed specifically for the BBright system. The chainrings are 38 and 24 teeth, which provide a nice range for anything you're likely to encounter.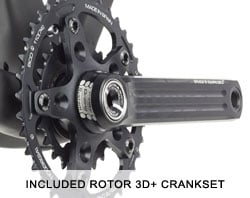 The O-1.0 has some final finishing touches that demonstrate the forward thinking and attention to detail this frame received. open used direct-mount S3 front derailleur posts to eliminate the need for a clamping front derailleur that could damage the seat tube. The mounting posts for the rear brake are located on the chainstay rather than the seatstay, a logical innovation considering that chainstays are, by necessity, more rigid than seatstays. Finally, to protect your investment, the included FrameSaver derailleur hanger is bolted on from the inside of the dropout, which puts the bolt threads in the hanger rather than the frame.
The open O-1.0 Carbon Mountain Bike Frame accepts most tires up to 2.25 inches wide. This frames includes a Rotor 3D+ special edition, 175mm crankset (retail price: $799). It comes in Black and in sizes Small through X-Large.

Tech Specs
Frame Material:
carbon fiber
Head Tube Diameter:
1 1/2 to 1 1/8in tapered
Bottom Bracket Type:
BBright
Front Derailleur Mount:
S3 low direct mount (e-type)
Compatible Components:
Shimano, SRAM
Seatpost Diameter:
27.2 mm
Rear Axle:
10x135 mm quick-release
Recommended Use:
cross country
Manufacturer Warranty:
3 years
sizing chart
Bike size by rider height
|
Geometry chart
Open
Geometry Chart
O-1.0 Carbon

Seat Tube

(c-t)

Effective Top Tube

(eTT)

Stack

(S)

Reach

(R)

Stand Over

Head Tube

(HT)

Head Tube Angle

(HT°)

Seat Tube Angle

(ST°)

Bottom Bracket Drop

(BBD)

Chainstay

(CS)

S
16.5in
22.6in
24.2in
15.6in
29.5in
3.5in
72°
72.5°
2.2in
17.3in
M
17.5in
23.5in
24.8in
16.3in
30.1in
4.1in
72°
72.5°
2.2in
17.3in
L
18.7in
24.5in
25.4in
17.1in
30.7in
4.7in
72°
72.5°
2.2in
17.3in
XL
19.9in
25.5in
25.9in
17.9in
31.3in
5.3in
72°
72.5°
2.2in
17.3in
Nice Hardtail
Familiarity:

I've used it several times
I test rode this bike for a few days and really liked the ride quality. The model I rode was speced with XTR and ENVE wheels and weighed in at 18.5 lbs. Crazy light weight for a hardtail. I found the bike to be very agile on the trail and also descended very well. The bike was a little stiff but that's the nature of this bike.Its more of a shorter distance type ride and its meant to be a very lethal race machine which definitely doesn't doesn't disappoint. If you want an edge on your competition I highly recommend adding this stud to your stable.

I am a sales rep for competitive cyclist so if you have specific questions please contact me direct at 801.736.6396 x 4074-Wes
Avg. ride time:
2h 12m per week
Open O1.0
Familiarity:

I've used it several times
I was able to put in around 35 miles on the Open and get a good perspective of its capabilities. Trails contained many rock gardens, tight switchbacks, long sustained climbs as well as long descents. I feel like the bikes true caliber came out during these rides. At approximately 18 lbs, this bike was stiff, could sprint like a road bike, would accelerate up climbs like a dragster. From my typical climb, I was able to shave my time down from 33 mins to 27 mins with this bike.



The agile response combined with the light weight makes this bike an absolute weapon. On the extended descents, the bike felt very collected as I pushed it into corners and tried pushing the bike to its limit. I was really quite impressed with its stability considering the 72 degree head angle.



To sum it up, I really, really loved riding this bike and it was very difficult giving this bike to a coworker to ride for a few days. Coming from riding full suspension, I really was expecting a bike to climb well, but not offer much in terms of comfort and descending. This bike's light weight made it climb incredibly well and construction/geometry made this bike just as fun on the way down the mountain as it was on the way up. While I categorize this bike in XC, specifically exceling at racing and marathons, it did not disappoint in any way.