Niner S.I.R. 9 - 2012 $0.00
Item #

NNR0005
Description
It can be daunting to undertake the search for a new bike, what with the sheer volume of variation, options, and tech jargon bouncing around websites and forums. Carbon this, forged that … an arm for this, and a leg for that. The Niner S.I.R. 9 is a safe haven from paralysis by analysis. It shares the same custom Reynolds tubeset as the MCR 9 in a stripped-down, single-speed set-up. But, far from locking you into a decision, you'll be able to set the S.I.R. 9 up with any drivetrain configuration out there, from 2x10 to triples—can you say options?
All you have to do to convert the S.I.R. 9 for use with gears is add a derailleur hanger dropout and swap the EBB for one of Niners CYA press fit adapters. A nice touch on the S.I.R. 9 is its low-profile cable guides that keep the silhouette sleek, even if you're going gear-free.
The proprietary Reynolds 853 tubing and custom S-bend rear seatstays and chainstays give the S.I.R. 9 a distinctive ride that dedicated cyclists crave—it deadens trail chatter while feeling lively under your input. The tubing wall thicknesses are tweaked both externally and internally to produce the best possible ride quality for each frame size. Clean TIG welds provide the strength, while short chainstays and a steep head angle offer the maneuverability tight, twisty trails require. Niner gave the S.I.R. 9 a radically sloping top tube for stand-over clearance. From the beefy tire clearance to the down tube shaped to avoid interference with fork crowns, everything about this frame shows the design time invested
The S.I.R. 9 features Niner's exclusive Bio-Centric EBB technology. An essential design element of the Bio-Centric system is that the cups lock to the bottom bracket shell's flange. Once the EBB is in position, one bolt tightens the eccentric to the flanges, providing 360 degrees of purchase while eliminating any chance for creak-causing dirt or debris to contaminate the interface. Also, because forces are no longer placed against the inside of the shell, it won't round out or suffer from the over-tightening issues of traditional EBB designs.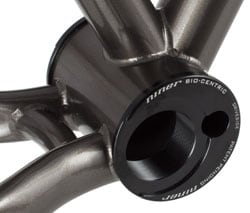 This simple solution makes the S.I.R. 9 the true Zen-machine SS bikes should be. The wheel can be removed without hassling with caliper position or chain tension, and you're guaranteed perfect dropout-to-frame alignment—unlike individually adjustable sliding drops.
If you plan on going the geared route, Niner recommends doubles not exceeding 39/26 chainrings for SRAM, and 40/28 for Shimano. A standard triple will pose no problems. The rear triangle will accommodate a 2.4in tire, and you can run a 160mm or smaller rear rotor. The disc mount is International Standard—the frame's disc specific. You'll need a bottom pull, top-swing front derailleur with a low-mount 28.6mm clamp. The MCR 9 uses a 27.2mm seatpost, a 73mm BB (only external style BBs works with the EBB), and a standard 1-1/8in external headset.
Niner offers the S.I.R. 9 in two colors: Niner Green and Midnight. Four sizes: Small, Medium, Large and Extra Large ensure there's a Niner for everyone.

sizing chart
Bike size by rider height
|
Geometry chart
Niner Bikes
Geometry Chart
S.I.R. 9
80mm Fork

Seat Tube

(c-t)

Effective Top Tube

(eTT)

Stack

(S)

Reach

(R)

Standover

Head Tube

(HT)

Head Tube Angle

(HTo)

Seat Tube Angle

(STo)

Bottom Bracket Drop

(BBD)

Chainstay

(CS)

Wheelbase
S
15.5in
23.2

in

24.2

in

15.9

in

28.0

in

3.9

in

70.8o
73.3o
2.2

in

17.3

in

42.4

in

M
16.5

in

23.8

in

24.5

in

16.5

in

28.8

in

4.3

in

71.3o

73.3

o

2.2

in




17.3

in

42.9

in

L
19.0

in

24.6

in

25.4

in

17.0

in

30.9

in

4.9

in

71.3

o

73.3

o

2.2

in

17.3

in

43.7

in

XL
21.5

in

25.3

in

25.9

in

17.6

in

32.9

in

5.7

in

71.3

o

73.3

o

2.2

in

17.3

in

44.4

in

100mm Fork

Seat Tube

(c-t)

Effective Top Tube

(eTT)

Stack

(S)

Reach

(R)

Standover

Head Tube

(HT)

Head Tube Angle

(HTo)

Seat Tube Angle

(STo)

Bottom Bracket Drop

(BBD)

Chainstay

(CS)

Wheelbase
S
15.5

in

23.3

in

24.4

in

15.6

in

28.2

in

3.9

in

69.8o
72.3o
1.9

in

17.3

in

42.7

in

M
16.5

in

24.0

in

25.1

in

16.1

in

29.0

in

4.3

in

70.3o

72.3

o

1.9

in

17.3

in

43.1

in

L
19.0

in

24.7

in

25.7

in

16.7

in

31.1

in

4.9

in

70.3

o

72.3

o

1.9

in

17.3

in

43.9

in

XL
21.5

in

25.5

in

26.4

in

17.2

in

33.1

in

5.7

in

70.3

o

72.3

o

1.9

in

17.3

in

44.7

in