Niner ONE 9 - 2013 $0.00
Item #

NNR0007
Description
The beauty of single-speed mountain bikes are their simplicity. Strip the gears, shifters, derailleurs and you're good to go, right? Sure, if dealing with dropped chains, creaky bottom brackets, and failed frames (a lesson learned on the trail by the earliest SS adopters) is your idea of trouble-free riding. Twisting one rear cog puts key components under extreme stress, wreaking havoc on the drivetrain and frame. The purpose built Niner ONE 9 isn't a stripped-down geared bike aiming to cash in on another fat-tire fad. Rather, it smartly addresses all the issues that plague SSers so you can actually enjoy the simplicity.
One of the most important aspects of a single-speed mountain bike is its chain tensioning system. The use of disc brakes makes it difficult to line up the caliper with the rotor, and that alignment changes every time the gear ratios are adjusted. The caliper position can also affect wheel removal, requiring the rider to loosen the caliper and readjust it every time—not exactly simple. A solution to this is sliding dropouts that bolt to the frame. They work, but the bolts can loosen and fall out, and the extended drops also place a ton of stress on the seat and chainstays, increasing the chance of a fatigue-induced failure. The other option is eccentric bottom brackets, but problems have existed there, too. The BB shell can become out of round by overtightening set screws, which makes it difficult to tension the chain correctly when changing gears—oh, and the inevitable creak that'll occur due to grime and dirt. Niner chose to stick with the eccentric option that they've been using since their first single-speeds, but have made great improvements to it, eliminating the issues that affected the early versions.
The ONE 9 features Niner's exclusive Bio-Centric EBB technology. An essential design element of the Bio-Centric system is that the cups lock to the bottom bracket shell's flange. Once the EBB is in position, one bolt tightens the two eccentric pieces against the flanges, providing 360 degrees of purchase while eliminating any chance for creak-causing dirt or debris to contaminate the interface. Also, the shell won't ovalize or suffer from the over-tightening issues of traditional EBB designs. This simple solution makes the ONE 9 the true Zen-machine SS bikes should be. The wheel can be removed without readjusting caliper position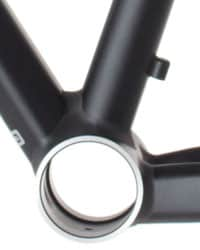 or chain tension, and you're guaranteed perfect dropout-to-frame alignment, unlike individually adjustable sliding drops.
You can use a kit can to convert the ONE 9 for use with derailleurs. The EBB is removed and Niner's CYA press fit bottom bracket cups are installed. The ONE 9 only has one cable stop, and the rest are removable guides. This helps the ONE 9 retain its sleek, gear-free profile when other hybrid geared/SS bikes are peppered with zit-like, short-grabbing cable stops. To run a rear derailleur, you'll also have to swap the driveside dropout to one with a hanger. The bottom bracket inserts are sold separately, so you can choose the insert you need, rather than incurring the cost of a handful of inserts that will undoubtedly collect dust on your workbench.
The ONE 9 offers a unique, finely-tuned ride optimized for single-speed duty because of its extensive hydroformed alloy tubeset. Using computer-aided finite element analysis and real world testing, Niner employed hydroforming to perfect every tube shape, from the seat and chainstays all the way to the front triangle. These tubes, when combined with widespread forging and CNC machining throughout crucial elements, ensure the optimum balance of weight to strength. The end result is a frame that's incredibly strong, lightweight, and accelerates on demand—but won't beat you up when you push the limits. Up front Niner specs a tapered headtube for steering precision and strength.
Niner suggests a fork in the range of 80 to 100mm to retain the ONE 9's geometry and trail manners. A Niner RDO rigid fork would make a great complement to the ONE 9 if you're aiming build the ultimate lightweight single speed. The tapered headtube comes equipped with a Cane Creek IS42/28.6|IS52/40 integrated (Campy style) headset. The rear triangle has room for tires up to 2.4in, and 160mm rotors. Niner offers the ONE 9 in four sizes: Small, medium, large, and extra-large. You'll need a 31.6mm seatpost and a 73mm external-bearing bottom bracket. The ONE 9 comes in either Tangerine or Black.

sizing chart
Bike size by rider height
|
Geometry chart
Fuji Bicycles
Geometry Chart
Altamira LTD

Seat Tube

(c-t)

Effective Top Tube

(eTT)

Stack

(S)

Reach

(R)

Standover

(SO)

Head Tube

(HT)

Head Tube Angle

(HTo)

Seat Tube Angle

(STo)

Bottom Bracket Drop

(BBD)

Chainstay Length

(CS)

Wheelbase

44
44.0cm
51.5cm

51.7cm

36.3cm
72.1cm

12.0cm

72.0 deg
75.0 deg
6.9cm
40.5cm
97.1cm
47
47.0cm
53.0cm

52.8cm

37.0cm
74.1cm
13.0cm
72.5 deg
74.5 deg

6.9cm

40.5cm
97.7cm
50
50.0cm
54.5cm
54.0cm
37.0cm
76.0cm
14.0cm
73.0 deg

73.5 deg

6.9cm

40.5cm
97.6cm
53
53.0cm
56.0cm
56.0cm
37.9cm
78.3cm
16.0cm

73.5 deg

73.5 deg

6.9cm

40.5cm
98.6cm
55
55.0cm
57.5cm
58.0cm
38.9cm
80.1cm
18.0cm

73.5 deg

73.5 deg

6.9cm

40.5cm
100.1cm
58
58.0cm
59.0cm
60.1cm
39.7cm
82.1cm
20.0cm
74.0 deg

73.5 deg

6.9cm

40.5cm

101.0cm
Posted on
My favorite frame :)
Familiarity:

I've put it through the wringer
Have had several scandium frames and several of the hydroform One 9 SS frames. same geometries, just the tapered head tube now is more stable. can configure the One 9 from 100 to 140 on the front end. xc or all mtn for wheels. it is still a hardtail, but what a versatile, durable design. if i could only have one bike, this would be it.
Posted on
After owning 3 One9s.. leaving Niner
Familiarity:

I've put it through the wringer
What a disappointment. If you want to end your SS tunnel vision for Niner's famously awesome One9, go pick up one of these. I have struggled to love this new frame into submission, but it's just not happening. It climbs poorly. It corners poorly (the only caveat of prior models, IMO). It performs poorly. The EBB issues are not resolved, the design is boring, and my favorite singletrack seems to have had a change in heart when I arrive with this joint. What a bummer. My advice: buy a 2010, or pick another company.