Niner One 9 - 2012 $0.00
Item #

NNR0020
Description
In a world flooded with buzz about custom weaves, monocoque construction, and optimized polymers offering the ultimate balance of 'vertical compliance and lateral stiffness,' aluminum has quietly taken a backseat to the magical black weave. While in that backseat however, wheel standards have changed and manufacturing processes have advanced significantly. Now, bikes like the 2011 Niner One 9 offer a ride that's far from the bone jarring reputation early aluminum hardtails garnered.
In the late 90s, aluminum hardtail frames gained market share over steel and Ti due to their low weight, efficiency, and relatively inexpensive production costs. The Yeti ARC, Schwinn Homegrown, and the GT Zaskar, to name just a few, are all shining examples from that time period, but they quickly fell into the shadows as full-suspension technology advanced and dropped in price. In that short time, those original aluminum hardtail frames developed a reputation for having super-fast acceleration but a brutal ride.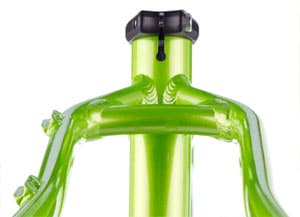 While the 'harsh' stigma has persistently stuck with aluminum, times have changed since aluminum's first heyday. Now hydroformed, shaped tubing, 29in wheels, and advanced frame designs have become commonplace. When Niner introduced the One 9 six years ago, they saw the advantages of modern aluminum, more specifically Scandium, as an excellent frame material for its then-flagship single speed 29er hardtail.
Niner uses Easton's GX2 Scandium tubing on this One 9, which was specifically developed to offer a steel-like ride and the low weight of aluminum. By using Scandium, a chemical element that's added to aluminum, Easton can manufacture tubesets that are easier to weld without disrupting grain structure. What this means is Niner can use smaller diameter, thinner-walled stock, and weld it without sacrificing strength.
What you get is a lighter, lively frame that's significantly less harsh then a comparable 7005 aluminum frame. Niner could have stopped there, but they didn't. They used advanced tubing manipulation to custom draw the tubes into specific shapes. Take a look at the seat and chainstays. They are shaped on multiple planes. This gives exceptional horizontal stiffness, while allowing bump compliance.
When you stomp on the pedals, the One 9 is eager to accelerate, and unlike those early hardtails we talked about earlier, you won't need a week to recover after a hard ride. Another key to the One 9's responsiveness is the oversized bottom bracket. It provides plenty of surface area for joining the seat tube, downtube, and chainstays for a flex-free interface. The bottom bracket also houses Niners Bio-centric bottom bracket.
The Bio-centric bottom bracket is a super-light way to securely adjust chain tension and bottom bracket height. Unlike sliding dropouts, your disc brakes are always perfectly aligned and there's only one bolt to adjust it. Traditional eccentric bottom brackets use set screws or an expanding wedge to hold the eccentric in place. However, these have inherent problems. The set screws can strip out, and mar the eccentric, making adjustments difficult as it ages. The expanding wedge eventually ovalizes the bottom bracket shell, again, making adjustments difficult.
Niner's Bio-centric system actually clamps to the outside of the bottom bracket shell. This prevents any deformation of both the bottom bracket and eccentric piece. It also creates a void free interface -- unlike the other eccentric designs, this one locks out dirt and grime. You'll enjoy miles of maintenance-free, and, more importantly, creak-free riding.
The Niner One 9 is designed around an 80 to 100mm suspension fork. If you're going the rigid route, Niner's carbon fork is suspension-corrected and would complement the One 9's geometry nicely. The One 9 is single-speed specific. There are no cable stops for shift cables, and the dropouts won't accept a derailleur hanger. It's only compatible with disc brakes, and has IS tabs.
The Niner One 9 uses a 30.9mm seatpost and a standard 1-1/8in headset. It's available in Niner Green, and comes in sizes Small through X-large.
shredding on the single speed niner
awesome single speed...This bike is my first single speed so I didnt reallly know what to expect.. I like it more than my full suspesion.. Its very light and takes bumps well.