Niner JET 9 - 2012 $0.00
Item #

NNR0010
Description
The full suspension twenty-niner market has quickly become saturated as manufacturers scramble for a piece of the pie, but the Niner JET 9 isn't another 'me too' addition to the wagon-wheel pill party. As hastily adapted FS 29ers rely on existing suspension and chassis designs for a quick fix, Niner started with a clean slate to develop a suspension system optimized solely for larger wheels—the CVA. And, far from being a reactive, over-the-winter design, it's been more than half a decade in the making . Now in its second iteration, the JET 9 sports features and improvements that enhance its celebrated efficiency, ride, and performance.
Niner's Constantly Varying Arc (CVA) suspension design places forged aluminum in positions that isolate pedaling forces while remaining fully active under all conditions. Because the lower link sits below the bottom bracket and the CVA's instant center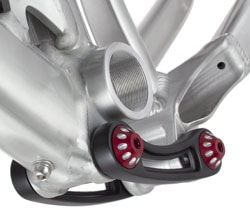 sits in a virtual location ahead of the drivetrain, chain tension at the rear axle pulls the two linkages in opposite directions—effectively isolating the drivetrain from the rear triangle. When you press on the pedals, nothing's lost to compressing the suspension and you won't suffer kickback from chain growth when pedaling through rock gardens.
Differing Niner's CVA design further from competitors is super-short chainstays (450mm). Short chainstays are vital to FS 29ers, directly affecting their ability to easily negotiate tight switchbacks and to provide eager handling. Because the rear tire's tucked under the rider, the JET 9 carves turns well and is highly maneuverable in technical situations. The CVA also doesn't inhibit front derailleur placement or operation, something that plagues FS 29ers and causes chainstays to be excessively long. Another key feature of the CVA is its low ratio of shock stroke to suspension movement. This decreases the amount of preload needed, which translates to smooth, effective damping and less drag on the seals.
Tuned to three inches (76mm) of travel, the JET 9's CVA suspension combines all the elements for an excellent off-road experience, but that can easily be lost to a noodly frame—and the fanatics at Niner wouldn't let that happen. Using finite element analysis and real world testing, Niner employed extensive hydroforming to perfect its tube shapes. These tubes, when combined with widespread forging and CNC machining throughout crucial frame and suspension pieces, ensure the optimum balance of weight to strength. Topping things off is a full complement of sealed cartridge bearings to keep things tight and smooth for many miles. A custom valved Fox RP23 takes care of squish by offering superb bump compliance and damping.
The JET 9 will match up nicely to an 80 or 100mm fork, and it features a tapered head tube (44mm upper, 56mm lower) for enhanced steering precision and strength. You'll need a 30.9mm seatpost, and a 34.9mm high mount, bottom pull front derailleur. The rear triangle offers clearance for 2.5 tires and 180mm rotor. The Niner JET 9 comes in four sizes: small, medium, large, and extra-large. Niner finishes the JET 9 in three distinct colors: Black, Raw, and Tangerine .