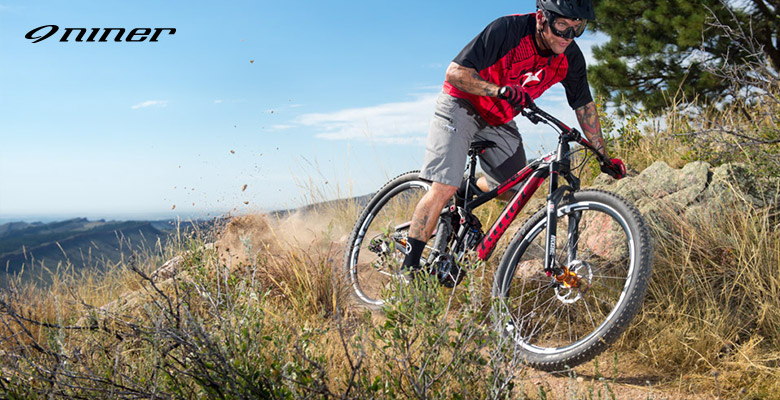 Niner may be a young company, but in its short existence, it's made an impressive knobby-tire rooster tail through the muddy, 29er puddle. Quickly establishing itself as the twenty-niner authority through passion, innovation, and community, Niner is about the freedom and rush of riding, topped with a healthy dose of post-ride camaraderie. Most notable, though, is its push for modern, yet refined designs.
Changing the industry by doing everything from twisting arms of the reluctant into producing components for 29er applications, to conducting extensive in-house R&D in order to ensure that its own technologies and products perform to the highest degree, Niner is a leader in what it rightfully calls "The Big Revolution." Take a look at the praised, 29er-specific CVA suspension system.
No other manufacturer is able to say that it developed a rear suspension for large wheels only; others have merely adapted existing designs for use with a completely different wheel size. Niner doesn't compromise for the sake of a quick buck. Back in 05', when it first introduced the CVA design to the public, it was on a prototype WFO 9—a long-travel, full-suspension 29er like nothing seen before. And while the CVA platform quickly made it into production on shorter-travel versions, like the RIP 9, Niner continued to develop the WFO 9 with consumers clawing at the doors to get one.
Fast forward four years, hundreds of hours of computer analysis, and countless miles of real-world testing under mountain-bike fanatics, and the WFO 9 was released to glowing reviews. Had Niner pushed it to market prematurely, it would have tainted the long-travel 29er niche with shoddy handling, weak construction, and an unsupportive aftermarket.
That's the difference between a fad and what has become a staple to the mountain bike industry—dedication and professional execution. This attitude has produced a full line of distinguished bikes: Race-day carbon lust machines, back-country full suspension rigs, working-man steel hardtails, and more. Ride a Niner, and you'll not only feel the highly-publicized advantages of twenty-niners, but you'll also feel the dedication to professionalism and the passion that goes into developing each and every Niner frame.