Niner A.I.R. 9 Carbon Mountain Bike Frame - 2013 $0.00
Item #

NNR0009
Description
At the heart of Niner's modus operandi is computer-based finite element analysis combined with heaps of real-world testing. And that testing isn't exclusive to pampered pros. Niner's computer modeling ninjas don't drive home in compact cars to mundane lives after a day modeling tube shapes and carbon layups. They shut down the nerd station and throw a leg over prototypes for post-work, seat-of-the-pants beta. From marketing to customer service to their extensive fan base, input from passionate riders is constantly streamed into the Niner development process. It was no different for the Niner A.I.R. 9 Carbon Mountain Bike Frame, one of the most sought after, podium-dominating, and versatile 29er chariots money can buy.
Niner's commitment to development is evident throughout the curvy A.I.R. 9 Carbon, and its foundation is a high modulus carbon fiber structure with optimized weaves, lay ups, and tube shapes. The fluid form is no accident, and is purpose designed to dampen chatter and guide impact forces to stronger parts of the frame. Chain torque goes directly to the rear wheel via the reinforced bottom bracket shell and sturdy chainstays, yet trail vibrations are quelled by the swooping seatstays. From the strength- and precision-enhancing tapered head tube to the internal cable routing and titanium chain-slap protectors, the A.I.R. 9 Carbon checks all the boxes to confidently hold the title of Niner's top dog.
The A.I.R. 9 Carbon features Niner's exclusive Bio-Centric EBB technology and CYA Bottom Bracket system. This frees the A.I.R. 9 Carbon from the plethora of new bottom bracket standards, and it means you can easily switch from gears to single speed. Through the use of press-fit inserts, the A.I.R. 9 Carbon can be set up for Shimano or SRAM BB30, Shimano or SRAM BB92, or standard external cups. The options don't stop there either. The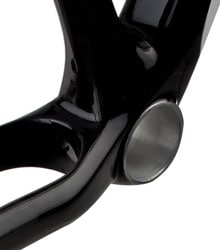 Niner EBB allows you to enjoy pure singlespeed simplicity without the chain tension headaches. The inserts are sold separately, so you can choose the insert you need, rather than incurring the cost of a handful of inserts that will undoubtedly collect dust on your workbench.
Eccentric bottom brackets often present finicky maintenance headaches like constant creaking, ovalized shells, and stripped bolts. An essential design element of the Bio-Centric system is that the cups lock to the bottom bracket shell's flange, providing 360 degrees of purchase while eliminating any chance for creak-causing dirt or debris to contaminate the interface. It won't round out or suffer from the over-tightening issues of traditional EBB designs. If you're going the SS route, only external cup bottom brackets will work.
Niner recommends an 80 to 100mm suspension fork, or a rigid unit with a 470mm axle to crown length and 45mm offset. (Perhaps not coincidentally, their award-winning carbon fork shares those exact dimensions). The tapered head tube comes equipped with an FSA IS42/28.6|IS52/40 integrated (Campy style) headset. You'll need a 31.6mm seatpost and a high-mount, bottom-swing, bottom-pull front derailleur with a 34.9mm clamp. The rear triangle offers clearance for tires up to 2.4in. The A.I.R. 9 stays true to its XC nature in the brake department —160mm rotors are the only option, and the caliper attaches via a post mount. Niner recommends a maximum chainring size of 26/39t SRAM or 28/40t Shimano XT, XTR is not compatible, for 2x10 applications to avoid interference issues. Any traditional triple setup will work fine. For those of you who intend on running a one-by drivetrain, such as SRAM's XX1, the AIR 9 Carbon will clear up to a 32t ring with a 168mm Q Factor crankset.
From the factory, this frame comes set up for a singlespeed drivetrain, but Niner's geared kit is sold separately (NNR0024). The Niner A.I.R. 9 Carbon Mountain Bike Frame - 2013 is available four sizes from Small to X-Large and in the colors Black, White, and Tangerine.

Tech Specs
Frame Material:
carbon fiber
Rear Axle:
10x135 mm quick-release
Head Tube Diameter:
1.125 x 1.5in
Bottom Bracket Type:
EBB, CYA insert (PF30, BB30, threaded, or BB86/92)
Front Derailleur Mount:
34.9mm clamp-on
Seatpost Diameter:
31.6 mm
Replaceable Rear Derailleur Hanger:
yes
Recommended Use:
cross country and trail riding
Manufacturer Warranty:
5 years
sizing chart
Bike size by rider height
|
Geometry chart
Niner Bikes
Geometry Chart
Air 9 Carbon
80mm Travel Fork
Seat Tube
(c-t)

Effective Top Tube

(eTT)

Stack

(S)

Reach

(R)

Stand Over

Head Tube

(HT)

Head Tube Angle

(HTo)

Seat Tube Angle

(STo)

Bottom Bracket Drop

(BBD)

Chainstay

(CS)

Wheelbase
S
15.5in
23.1in
23.6in
16.1in
27.8in
4.2in
71.0 deg
74.0 deg
2.4in
17.3in
42.4in
M
16.5in
23.7in
24.0in
16.7in
28.6in
4.3in
72.0 deg
74.0 deg
2.4in
17.3in
42.7in
L
19.0in
24.0in
24.6in
17.3in
30.7in
5.0in
72.0 deg
74.0 deg
2.4in
17.3in
43.5in
XL
21.0in
25.2in
25.3in
17.8in
32.4in
5.7in
72.0 deg
74.0 deg
2.4in
17.3in
44.3in
100mm Travel Fork
Seat Tube
(c-t)

Effective Top Tube

(eTT)

Stack

(S)

Reach

(R)

Stand Over

Head Tube

(HT)

Head Tube Angle

(HTo)

Seat Tube Angle

(STo)

Bottom Bracket Drop

(BBD)

Chainstay

(CS)

Wheelbase
S
15.5in
23.2in
23.9in
15.7in
28.0in
4.2in
70.0 deg
73.0 deg
2.1in
17.3in
42.7in
M
16.5in
23.9in
24.3in
16.3in
28.8in
4.3in
71.0 deg
73.0 deg
2.1in
17.3in
43.0in
L
19.0in
24.6in
24.8in
16.9in
30.9in
5.0in
71.0 deg
73.0 deg
2.1in
17.3in
43.7in
XL
21.0in
25.4in
25.6in
17.4in
32.6in
5.7in
71.0 deg
73.0 deg
2.1in
17.3in
44.5in