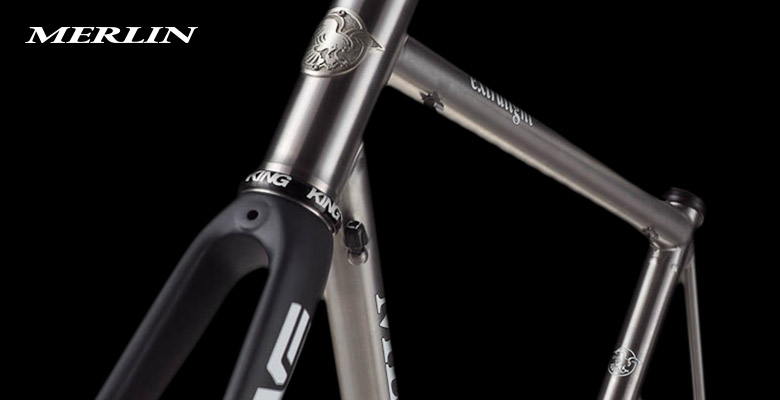 You don't see mastery every day, even though we talk of it in our schools like it's something that's easily attainable. In reality, it doesn't come fast, nor does it come easy. And when you actually experience it, a masterful effort is simply breathtaking. You'll recognize it in the symmetry and perfection of the welds on a Merlin bicycle.
Those immaculate zones of once-molten titanium have served, for us anyway, as objects of intense examination. Who knows just how many bike shop hours we spent fondling a Merlin frame with youthful exuberance when we should've been assembling bikes or sweeping the parking lot. At the time, titanium was a wonderful and new phenomenon in our small corner of the bike industry, and we wanted one. Hell, everybody wanted one.
Merlin's magic began in 1986 when it built its first titanium frame, and it didn't take long for Merlin to set the industry standard. In an age when fully-rigid mountain bikes often punished the scales at 30 pounds, Merlin built bikes that loosened three pounds or more from the frame alone. In addition to creating new benchmarks for light weight, Merlin set the tone early on for some subtle, yet widespread characteristics that are prolific on the bikes that we ride nowadays. Merlin's mountain bikes have always had sloping top tubes, and they were the first to use S-bend stays on the rear triangles.
Of course, there were others at beginning, but where most were content to use commercially pure or straight gauge tubing, Merlin sourced custom drawn, butted 3/2.5 titanium tubing that exceeded aerospace specifications. This, along with the craftsmanship of its builders, proved to be a big part of its success. The bikes that rolled out of their Cambridge, MA workshop rode better than anything before, and they were widely considered to be the best that money could buy. John Tomac raced on a re-badged Merlin along with Dave Turner and his other Mongoose teammates. Greg Lemond famously bought Merlin bikes for himself and his "Z" teammates for the 1992 season.
Like many, we fell in love with Merlin in the early to mid '90s. And though carbon fiber has recently snatched away a great deal of titanium's attention, we've never lost our feelings for the simple elegance and precision of Merlin frames. After all, who didn't lust for the Extralight? Who wasn't smitten by the retro-inspired Newsboy? Merlin continued to build titanium bikes, in spite of the success of the me-too composite revolution, which inspired one of the most beautifully tig-welded bikes of all time, the Extralight. And in the mountain bike world, where hardtails still reign supreme on race day, the XLM continues to remain one of the best choices for going hard and fast.
Titanium hasn't changed, and you can sum up the essence of every Merlin bicycle ever built with three words—Strong. Light. Forever.