Litespeed L1R $0.00
Item # LTS0053
Description
Being at the forefront of the titanium frame revolution would be a benchmark in any company's history, but Litespeed has never been complacent when it comes to innovation. The L1R Frameset marks a new era in Litespeed design, featuring 60-ton carbon fiber, unparalleled aerodynamics, and rigidity unmatched in the carbon aero frame market. The L1R is the flagship of the new Litespeed L-Series, and it's completely UCI legal for hassle-free racing.
The Litespeed L1R is unlike any other carbon frame. Four years in the making, Litespeed utilized its proprietary Continuous Cross-Sectional Morphology technology to create the unique asymmetric and shape-specific design of the L1R. Using a Quadrilateral System, the frame design is meant to manage torsional-frontal and lateral loads. In layman's terms, this means that Litespeed examined the four sections of the frame to manage the stress caused by twisting your weight around. The rigidity resulting from this examination is achieved through Litespeed's own 60-ton aero carbon fork, with a UCI legal 1.125 x 1.5in tapered steerer tube, and oversized aero head tube. Meanwhile, an asymmetric design of the down tube/seat tube junction has been incorporated to promote a direct conduit for energy transfer, resulting in the ultimate in drivetrain efficiency.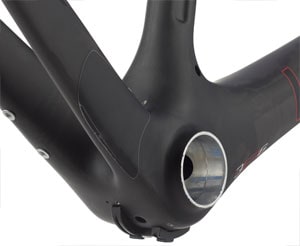 The radical ideas for the new L series forced Litespeed to re-think the technology in its manufacturing process in order to execute the design principles. To achieve the unique L1R shape, Litespeed developed Reactive Pressure Molding, RPM, to create advanced molding techniques that allow increasingly rigid aerodynamic shapes while reducing material weight. Typically, manufacturers use a process called bladder molding to form their carbon shapes. This regimen requires extra filler material and permanent components; all contribute to useless weight in the frame in order to decrease drag. RPM allows precise control of inner wall thickness by using a polyurethane sleeve, and thus makes unique shapes, like the L1R's full-carbon head tube, achievable. Litespeed also made great strides in making the L1R extremely aerodynamic outside of RPM. The proprietary carbon fork has been bladed and bowed to allow a clean airflow over the front wheel. Also new is the advent of the BB386 bottom bracket design. Developed in coordination with FSA, BH, and Wilier, BB386 is a wide-bearing BB30 alteration that increases rigidity while decreasing bearing friction.
The Litespeed L1R Frameset is available in sizes Small through X-Large in the color Black/Red. The L1R is compatible with any 31.6mm seat post, and requires a braze-on front derailleur
The L1R utilizes a 60-ton carbon fiber weave — the lightest and strongest available
Steerer tapers from 1.125-inch to an oversized 1.5-inch tube to keep the front of the bike stiff, while tracking confidently at higher speeds
Wafer-thin seatstays soak up road chatter, keeping your ride smooth
Campagnolo-style Zero Stack headset system helps preserve a comfortable, yet race-ready geometry without the use of spacers
Unique to the L-series, tube lengths and widths are all size-specific for each different frame size, ensuring a proportionally uniform fit and ride quality whether you ride a Small or an Extra-Large
Tech Specs
Frame Material:
carbon fiber
Fork Material:
unidirectional monocoque carbon fiber
Steer Tube Type:
Tapered Carbon Fiber
Replaceable Rear Derailleur Hanger:
yes
Head Tube Diameter:
1.125 x 1.5 in
Bottom Bracket Type:
BB386
Bottom Bracket Shell Width:
86 mm
Bottom Bracket Shell Material:
carbon fiber
Seatpost Diameter:
31.6 mm
Front Derailleur Mount:
braze-on
Compatible Components:
Di2 internal wiring
Frame-Only Weight:
1535 g
Measured Effective Top-Tube Length:
(size ML) 56 cm
Recommended Use:
training, racing, improving your mood
View more Custom Road Bikes & Frames
Geometry chart
Litespeed
L Series Bike Geometry

in
(cm)

Sin
(cm)

Min
(cm)

MLin
(cm)

Lin
(cm)

XLin
(cm)

Top Tube Lengthin
(cm)

20.7in
(52.5cm)

21.3in
(54cm)

22in
(56cm)

22.4in
(57cm)

23.2in
(59cm)

Head Tube Anglein
(cm)

72.5deg
73deg
73deg
73deg
73.5deg
Seat Tube Anglein
(cm)

74deg
73.5deg
73deg
73deg
72.5deg
Seat Tube Lengthin
(cm)

18.7in
(47.5cm)

19.3in
(49cm)

20.2in
(51.5cm)

21.1in
(53.5cm)

21.9in
(55.5cm)

Chastayin
(cm)

15.9in
(40.5cm)

15.9in
(40.5cm)

15.9in
(40.5cm)

15.9in
(40.5cm)

15.9in
(40.5cm)

BB Dropin
(cm)

2.7in
(6.87cm)

2.7in
(6.87cm)

2.7in
(6.97cm)

2.7in
(6.97cm)

2.8in
(7.18cm)

Wheelbasein
(cm)

37.9in
(96.3cm)

38.1in
(96.8cm)

38.6in
(98.2cm)

39.1in
(99.3cm)

39.6in
(100.8cm)

Standoverin
(cm)

29.4in
(72.3cm)

30.6in
(75.4cm)

31.3in
(77.4cm)

32.3in
(79.7cm)

33.3in
(81.5cm)

Head Tube Lengthin
(cm)

4.3in
(11cm)

5.1in
(13cm)

6.3in
(16cm)

7.3in
(18.5cm)

8.3in
(21cm)

Reviews & Community
What do you think of the
Litespeed
L1R
? Share a...