Litespeed Cohutta 29er $0.00
Item # LTS0062
Description
If you have the skills, equipment, and gumption to build your own titanium 29er, there are off-the-shelf tubesets ready to purchase -- and that's the exact ingredient most manufacturers use to fill a niche product market. Buy tubesets in bulk then miter, tack, and weld. These cookie cutter tubesets are the same used for any bicycle application, from skinny-tire race bikes to hardtail mountain bikes. The butting and shapes are standard issue, and not exactly optimized for their intended purpose. This is where Litespeed differentiated themselves from the norm, developing the Cohutta 29er's tubeset specifically to enhance ride quality for an unparalleled ride at an incredibly low weight.
Optimized tubing is undeniably one of Cohutta's shining traits, but it's most distinguishing aspect may be its headtube. Most 29er hardtails see duty on cross-country trails. While that's a pretty narrow set of parameters to develop a geometry around, there are still significant differences in handling traits preferred within XC's different sects. A short-track racer isn't going to want the same geometry and frame behavior as an endurance racer. Litespeed could have tweaked the Cohutta for XC race use, but that would have discouraged its endurance and backcountry appeal. For that reason, Litespeed developed what they call 4nine, an oversized 49mm headtube which allows the user to run everything from 100mm to 120mm forks without negatively affecting handling.
This is achieved by using different headsets. You can chose between internal and external cup lower headsets to change front end height and offset effects of different axle to crown lengths. Further adjustments can be achieved with a Cane Creek Angleset. Now you can boost front end travel up to 120mm without feeling like you're riding a slow steering, top-heavy 29er. Headset options and combinations can be found here. The Cohutta's headtube also allows use of standard 1-1/8in steerer tube or a tapered one.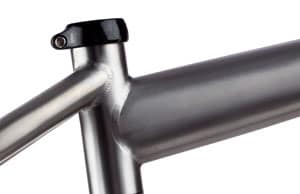 Not only does the Cohutta's 4nine headtube enable you to dial its geometry and suspension for the desired application, it serves as a secure starting point for the rest of the frame. The headtube creates an ultra-stiff connection for the oversized, 29er-specific down and toptubes. Follow the toptube to where it joins to the seat tube, and you'll notice it's shaped to increase surface area. These features offer resistance to the twisting forces the front triangle experiences during aggressive riding -- when you lean the Cohutta into a turn, you'll enjoy wallow-free, pinpoint handling.
At the bottom of the frame you'll find a PF30 bottom bracket. Again, the wider shell of the PF30 interface allows for a maximum downtube diameter, and plenty of room to cleanly connect the chainstays. This prevents flex when hammering the pedals. Finishing off the Cohutta are precision machined dropouts. These lightweight drops offer perfect frame alignment for accurate tracking and smooth wheel removal.
The Cohutta is crafted in Litespeed's legendary US titanium shop. It is available in Small, Medium, Large, and X-Large. It's only available with a raw Ti finish