Litespeed C1R $0.00
Item # LTS0040
Description
Science, meet art.
Every bike company has a Pro-level bike. The Litespeed C1R is a ProTour-level bike and might soon have a ride in Europe. It's the lightest, stiffest, fastest, and most aero of their C-series frames and is ready to be ridden fast by strong, aggressive riders who want no energy wasted.
The C1R frame is dazzling on the page and screen. In person, it's dizzying. The scaled images you see hide the gloriously varied shapes of the frameset.

Just take a look at the down tube. It looks huge. In person, you can see how the tube subtly changes shape throughout its length. There is no extreme flare where the down tube meets the bottom bracket, but a gradual widening of the tube as it travels from the head tube. The profile at the trailing edge of the down tube widens near the cage mount, giving room for your water bottle to nestle somewhat hidden from the wind. At the back of the bike, the seat stays are wide and flat for shock absorption where they join the seat tube and they morph on their journey to the rear dropouts, becoming narrow and more aero because more wind passes over them by the dropouts. Same goes for the top tube, which starts out massive for front end stiffness and getting small for compliance by the seat tube. And when you look at a Small frame next to a Medium, next to a Large, you'll see subtle differences in the shaping as well; Litespeed takes each frame as its own design rather than just doing just one tubing design for the entire size run.
Litespeed is part of the American Bicycle Group, the same company that owns Quintana Roo. Thanks to this tie to QR, Litespeed has access to lots and lots of wind tunnel data. This helped them go into the wind tunnel with some pretty good ideas on how to make a bike frame more aerodynamic. The shaping described above they call Aerologic. And their test data shows it really works. They took their Archon Ti' and C frames to the A2 tunnel, equipped them with identical components and ran the tests at the industry-standard 30mph speed. The reduction in drag goes from a minimum of 100g of drag when the bike is facing directly into the wind to a maximum of almost 200g. The difference is about the equivalent of adding a set of aero wheels to a regular road bike; only you're getting that benefit with training wheels. It's that much faster when you put on your aero race wheels.
Part of the design advantage comes from the fork shape. It's a bit different from most integrated carbon fiber forks in that the crown is designed to help airflow around the frame, and the legs are narrow and placed a bit wider than usual to give more room for air to flow around the wheels. It's a faster shape than many forks. The crown is a great example of how integrated components should work, as it flows seamlessly into the head and down tubes.
Inside the head tube, the fork is forward-thinking as well. The steerer is carbon-fiber and tapered, with a 1-1/8" race at the top and a 1.5" at the bottom. The rake is 43mm. The fork tips are carbon-wrapped Inox stainless steel.
The seat mast itself is another example of aerodynamics and light weight being on the same page. Because it's integrated, the design saves weight. Because they can better control the shaping, the mast is more aerodynamic.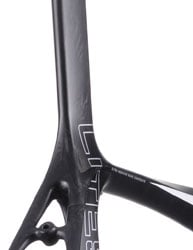 And because it's a larger size than a traditional seat post, it's also stiffer for better power transfer.
The C-series frames all come out of the same mold. The C1R is set apart from the others by both the seat mast and the materials. Yes, it's still carbon-fiber, but this frame gets 60T carbon-fiber cloth added to the mix to maximize stiffness and minimize weight. It is also unique in the model line for using nanotube-enhanced resin for greater impact strength. Don't expect to see handlebars crack a top tube with the C1R; this bike was built not only to be strong and light but be a Timex, it takes a lickin' and keeps on tickin'.
An important feature of Litespeed's molding process is what they call Reactive Pressure Molding, or RPM for short. In addition to using bladders, they also use internal forms that help press out from the inside to eliminate voids without leaving molding parts behind when the process is done. RPM is another way Litespeed saves weight and increases strength.
There wasn't an aspect of frame building too tiny to escape Litespeed's eye. Even the dropouts have been considered and changed. They may look like carbon, but there are Inox stainless steel skeletal pieces inside and they've been over-molded with carbon-fiber. The replaceable derailleur hanger is stainless, too.
The C1R uses FSA's K-Wing Aero Integrated Seat Post. The stub that goes inside the frame is a carbon Kevlar composite molded to slide perfectly inside the mast. It is tightened by a bolt on top of the unit that pulls an expander wedge against the mast. The saddle clamp is made of 7075 aluminum and the hardware is made of stainless steel. There is a left and right bolt to tighten down on the clamp. The clamp has 12.5mm of setback. The overall length of the component is 131.7mm. You have 30mm of up and down adjustment, and the post is supplied with spacers to fill up that space. It is also recommended that if you cut down the post to save the mast section to cut into spacers for a more precise look. For those who fear owning a bike with a mast, know that Litespeed makes an accessory seat post and clamp kit, the same post and clamp that comes with the other Litespeed C frames, so you can cut off the mast and go more traditional if you want.
Because of the massive down tube, a traditional front derailleur clamp can't fit, so it has a "braze on" mount. The bottom bracket is a BB30 design to optimize light weight and stiffness. If you're not a fan of BB30 or would prefer to use your favorite crank and bottom bracket combo, adapters are available to easily make the conversion. The cable guides are external, as that's what pro team mechanics prefer.
Litespeed offers a limited lifetime warranty on their frames that will cover manufacturing defects. They also have a crash replacement policy.
The Litespeed C1R comes in Matte Black with White decals. Sizes are Small, Medium, Medium Large, Large, and X-Large.
Shrouded water bottle mount provides maximum aero advantage while still allowing you to use standard bottles
BB30 offers unmatched stiffness and weight savings
Variable layup and thickness in the carbon make the most of every piece of fiber
Unique seatstay design provides vertical compliance for a softer ride while maintaining aerodynamic performance

Tech Specs
Front Triangle:
carbon fiber
Fork Material:
Litespeed tapered
Head Tube Diameter:
1.125 - 1.5 in
Bottom Bracket Type:
English
Extras:
seat mast cutting guide, seat mast head
Manufacturer Warranty:
limited lifetime
Geometry chart
Litespeed
Litespeed C1R Frameset Geometry

S
M
ML
L
XL
Top Tube Length
20.7in
(52.5cm)

21.3in
(54cm)

22.0in
(56cm)

22.4in
(57cm)

23.2in
(59cm)

Head Tube Angle
72.5deg
73deg
73deg
73deg
73.5deg
Seat Tube Angle
74deg
73.5deg
73deg
73deg
73deg
Seat Tube Length (ISM)
28.0in
(71cm)

28.7in
(73cm)

29.5in
(75cm)

30.7in
(78cm)

30.7in
(78cm)

Chainstay
15.6in
(39.5cm)

15.6in
(39.5cm)

15.6in
(39.5cm)

15.6in
(39.5cm)

15.6in
(39.5cm)

BB Drop
2.6in
(6.7cm)

2.6in
(6.7cm)

2.7in
(6.8cm)

2.7in
(6.8cm)

2.7in
(6.8cm)

Wheelbase
37.5in
(95.3cm)

37.7in
(95.8cm)

38.3in
(97.4cm)

38.7in
(98.3cm)

39.3in
(99.7cm)

Standover
28.5in
(72.4cm)

29.6in
(75.1cm)

29.9in
(75.9cm)

31.4in
(79.8cm)

32.0in
(81.2cm)

Head Tube Length
4.3in
(11cm)

5.1in
(13cm)

6.3in
(16cm)

7.3in
(18.5cm)

8.3in
(21cm)

Reviews & Community
What do you think of the
Litespeed
C1R
? Share a...
Compiling options for this bike.
It'll be just a moment...