Ibis Mojo SL Special Blend Complete Bike $0.00
Item # IBS0006
Description
When searching for a sub $3K mountain bike, you're hard-pressed to find a carbon option. If you do, it's usually either some mystery off-brand, or the parts leave a bit to be desired. The last thing you'd expect to find is a highly refined Ibis residing in this category. Hell, the Mojo SL frame alone runs north of $2K. However, this Mojo SL Complete Bike with the Special Blend package sits comfortably below that magical price point. And, it does so with components from Shimano and Mavic, mixed with tuned suspension from the experts at X Fusion to create what might be the best grin-to-dollar ratio bike we've ever offered.
Trailside banter often includes discussion on which suspension brand is the smoothest, offers the most adjustments, and holds it line the best. While X Fusion may not be the first brand that gets tossed around during these pow-wows, it's well on the way to becoming a mountain bike staple. X Fusion has been supplying mountain bike forks and shocks worldwide for twenty years under other brands; In '99 it broke out on its own, launching with help from well-respected industry players.
After gaining positive market share with its premium OEM applications and establishing a global support network, X Fusion is expanding its line and has opened a state-of-the-art research and design facility in the US. This facility, located in Santa Cruz, California, allows them to not only tweak, test, and service products, it allows them to immediately try new concepts and ideas on local trails. Coincidentally, Ibis Cycles is located a leisurely 30 minute bicycle ride from this high-tech suspension R&D facility.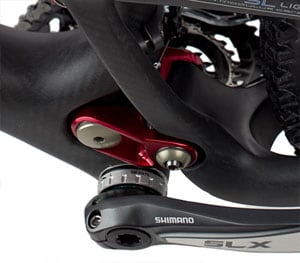 Working closely with each other (i.e. rubbing elbows on trails nearly every day) X Fusion and Ibis have seamlessly combined their products to reflect a undeniable passion for high-performance mountain biking. The 140mm-travel Velvet RLX fork with 15mm thru-axle and the O2 RCX rear shock spec'd in this Special Blend package feature fully adjustable, CNC-machined damping cartridges with aluminum knobs (you'll find a welcome lack of brittle plastic throughout the X Fusion suspension line). Both of these air-sprung pieces offer a lockout for enhanced fire-road climbing, and come with rebound and preload adjustments for fine tuning. With X Fusion's recent signing of the Mojo Master, Flyin' Brian Lopes, and highly decorated Anne-Caroline Chausson, we're looking forward to seeing more 'blends' from Ibis and X Fusion in the future.
If you're not familiar with the Mojo SL, it's the evolution of Ibis' return to mountain biking -- the lauded Mojo. When this model was released, it offered an unheard of balance of weight, strength, and performance. Sporting 140mm of DW-link suspension (the first time this system was used on a carbon chassis), the Mojo changed preconceived notions of what's possible in the mountain bike market. Fast-forward to the present-day version, the Mojo SL. Using a unique-to-the SL high-modulus carbon weave and Ibis' void-eliminating compression molding, Ibis was able to replace what were once alloy bits with carbon and Ti. These advancements left the SL tipping the scales at a feathery 5.3lbs with shock, while providing even more strength and stiffness than before.
Aside from the instantly recognizable organic shape, and industry-leading use of carbon fiber, what really makes the Mojo design shine is its DW-link suspension. Two links tie the front and rear triangle together, and their placement offers a finely tuned ride. Instead of squatting under power, the links counter chain torque to propel the rider forward while remaining active over both large and small trail imperfections. What you get is incredibly efficient power transfer and excellent traction when climbing, in a longer 5.5in travel package. From XC race to aggressive all-mountain, the Mojo's ready.
The Ibis Mojo SL Special Blend Complete Bike rolls on Mavic's straight-pull, bladed-spoke-equipped CrossRide wheelset with 2.1in Kenda Nevegal tires. Powerful Avid Elixir 1 hydraulic disc brakes with an oversized 185mm front rotor keep your speed in check. You'd be hard pressed to find a component group that can match the performance, price point, and reliability of Shimano's SLX parts, which makes it a perfect match to this build's purpose. For that reason, the cranks, shifters, and derailleurs are all SLX, and in a classic 3X10 format. An Ibis alloy stem, handlebar, and seat post, along with a WTB Rocket V throne comprise the cockpit. The Mojo SL proudly shows off its matte carbon finish, and is available in Small, Medium, Large, and X-Large.

Tech Specs
Frame Material:
carbon fiber
Suspension:
full suspension
Rear Shock:
X-Fusion O2 RCX
Fork:
X Fusion Velvet RLX
Front Derailleur:
Shimano SLX
Rear Derailleur:
Shimano SLX
Crankset:
24/32/42 t Shimano SLX
Wheelset:
Mavic Cross Ride
Axles:
[front] 15mm thru-axle, [rear] 10x135mm quick-release
Tires:
Specialized Ground Control Sport
Claimed Weight:
[frame-only] 2406 g
Recommended Use:
all-mountain, freeride, XC
Manufacturer Warranty:
3 years on frame
View more XC Full Suspension
Geometry chart
Ibis
Geometry Chart
Mojo SL
A. Seat Tube
(c-t)
B. Effective Top Tube
G. Standover
F. Head Tube Length
D. Head Tube Angle
E. Seat Tube Angle
C. Bottom Bracket Height
H. Chainstay
Wheelbase
S
15.5in
22.0in
30.3in
4.0in
69.0 deg
73.0 deg
13.25in
16.9in
41.9in
M
17.0in
22.8in
30.7in
4.5in
69.0 deg
73.0 deg
13.25in
16.9in
42.7in
L
19.0in
23.6in
31.0in
5.1in
69.0 deg
73.0 deg
13.25in
16.9in
43.5in
XL
21.0in
24.4in
31.3in
5.7in
69.0 deg
73.0 deg
13.25in
16.9in
44.3in
Community & Reviews
What do you think of the
Ibis
Mojo SL Special Blend Complete Bike
? Share a...