Out of Stock
Item # IBS0005
This model is no longer in stock.
Don't worry though, we have a lot more XC Frames - Full Suspension in stock than that.
Ibis Mojo SL - 2012 $0.00
Item # IBS0005
Description
The Ibis Mojo SL takes its cues from the popular Mojo Carbon, and it takes away a few extra grams as well. This bike is built in the same molds as the Mojo, so the familiar shape and notable 140mm travel all-mountain geometry is all the same. However, there are a few distinct differences between the two that set the 5.3 pound Mojo SL apart and up to 295g (.65 lbs) lighter than the Mojo Carbon.
The folks at Ibis have used the latest technologies to eliminate most of the alloy bits found in the original Mojo Carbon frame. In the SL version, the dropouts are compression molded carbon fiber and are far lighter than their aluminum counterparts. The dropouts use stainless steel inserts to ensure durability. The head tube cups and seatpost insert are also carbon fiber. The actual composite layup is enhanced by the integration of higher modulus fibers, meaning less material can be used while maintaining the same strength and stiffness. Less material means less total weight. And, for the icing on the cake, steel pivot hardware has been replaced with lighter and stronger 6/4 titanium.
Ibis makes full use of the dw-link to provide an optimal blend of all-mountain suspension characteristics. One of the most notable traits is its built in anti-squat. The position of the linkages creates resistance in the suspension to the rearward transfer of mass and subsequent compression (squat) of the rear end as you stomp the pedals and accelerate. This anti-squat transfers your pedal input into forward motion instead of "monkey motion." According to Dave Weagle, the dw-link creator, the anti-squat properties built into the Mojo SL rear suspension allow Ibis to use a more lightly damped shock. This translates into greater bump sensitivity, traction, and control in all trail situations whether accelerating or coasting. The Mojo SL has that "buttery smooth" feel of a coil spring without the weight penalty. With the dw-link, the chainstay length increase is minimal and occurs at a constant and smooth rate. Pedal feedback as the suspension cycles is nominal and doesn't markedly change from the small to the big ring. We've found it to be a square-edge bump-eating machine.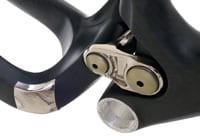 The Mojo SL is 100% carbon fiber except for the inserts at the bottom bracket and linkage shaft bores. The composite frame sections are molded as a monocoque to exploit the benefits of a refined layup schedule. The one-piece carbon structures are stiff and durable and provide the ultimate platform for the dw-link to do its work. Each alloy link is forged, CNC machined, polished, and nickel plated or anodized for the ultimate in stiffness and sex appeal. Out back, Ibis specs the latest Fox RP23 rear shock with Kashima Coat and Adaptive Logic Boost Valve. Just like its effect on the front forks, Kashima Coat creates a slicker more durable finish on the shock shaft. This allows the rear suspension to respond to bump input with greater sensitivity. This rear shock has user adjustable rebound damping and a two position lever that now selects from climb mode (comparable to the #3 Propedal setting on last year's RP23) to Propedal with selections from 0 (open for super plush descending) to 2 (medium damping) for the low speed compression side of things. The bike is designed with a 69 degree head angle that is optimized for a 140mm travel front fork, but lovers of gnarly trails are welcome to make the switch to a 160mm fork. The resulting change in head angle would slow down the steering a bit, perhaps perfect for those interested in more aggressive terrain.
The Ibis Mojo SL comes in four sizes -- Small, Medium, Large, and XL and is available in Matte Clear (over naked carbon weave), Transparent Blue, White, Eddy Orange, and Nuclear Pesto. It takes a 31.6mm seatpost and comes standard with a bolt-on seatpost clamp. It requires a traditional top-pull 34.9mm front derailleur. The rear disc brake mount features IS mounting tabs, and it takes a Cane Creek or similar IS integrated headset. 5.3 lbs (2409g).
Ibis Cycles offers a 3 year warranty on the Mojo SL frame. Please follow this link to register.
Note: Not all front derailleurs will work with this frame. Please check the compatibility here. It is compatible with the 156Q factor SRAM XX crank without issue.
Geometry chart
Ibis
Geometry Chart
Mojo SL

Seat Tube
(c-t)
Effective Top Tube
Standover
Head Tube Length
Head Tube Angle
Seat Tube Angle
Bottom Bracket Height
Chainstay
Wheelbase
S
15.5in
(39.4cm)

22.0in
(55.9cm)

30.3in
(77.0cm)

4.0in
(10.2cm)

69.0 deg
73.0 deg
13.25in
(33.7cm)

16.9in
(42.9cm)

41.9in
(106.4cm)

M
17.0in
(43.2cm)

22.8in
(57.9cm)

30.7in
(78.0cm)

4.5in
(11.4cm)

69.0 deg
73.0 deg
13.25in
(33.7cm)

16.9in
(42.9cm)

42.7in
(108.5cm)

L
19.0in
(48.3cm)

23.6in
(59.9cm)

31.0in
(78.7cm)

5.1in
(13.0cm)

69.0 deg
73.0 deg
13.25in
(33.7cm)

16.9in
(42.9cm)

43.5in
(110.5cm)

XL
21.0in
(53.3cm)

24.4in
(62.0cm)

31.3in
(79.5cm)

5.7in
(14.5cm)

69.0 deg
73.0 deg
13.25in
(33.7cm)

16.9in
(42.9cm)

44.3in
(112.6cm)

Head Tube Length

Measurement includes lower headset cup.
Compiling options for this bike.
It'll be just a moment...