Ibis Hakkalügi $0.00
Item # IBS0004
Description
The Ibis Hakkalügi is back and it's ready for 'cross season. This time around, the 'Lügi is way lighter for faster accelerations and less tiresome shouldering during repeated dismounts. Traditional cues abound, as the Hakkalügi pays tongue-in-cheek respect to the cyclocross hardmen of the Flanders region of Belgium. Since cyclocross is such an intense sport, it seems right that Ibis would have some fun with this bike to lessen the severity of it all, if only until the starter's gun goes off.
The Hakkalügi is now created as a carbon fiber monocoque structure -- part of the reason that the tube joints are so sleek. The whole frame is built with pre-impregnated carbon fiber sheet, hand rolled around silicone forms, placed into a steel mold and baked until done. This unified structure assures that it is not only lighter than ever, but strong enough for serious 'cross courses, jarring dirt roads, and trail rides. The patent pending Cylindrical Tube Technology used in the front triangle makes for excellent torsional stiffness and precise handling for those uphill-through-the-mud slogfests and snot-slicked off-camber corners. In an effort to reduce as much excess weight as possible, Ibis chose to use compression molded carbon for the dropouts and the seat tube insert is also 100% carbon. In fact, the aluminum headtube and bottom bracket inserts are the only non-carbon bits.
With the move to carbon fiber, the 'Lügi also goes back to cantilever brake mounts.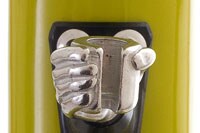 In comparison to V-brakes, cantis offer more mud clearance, and are well...more traditional. But perhaps, the greatest benefit of all -- the Hakkalügi once again gets a handjob. For those uninitiated, the handjob is perhaps the most coveted of rear brake cable stops. As V-brakes and then disk brakes pushed cantilevers into archaism, the need for the cable stop was gone, and regrettably so was the handjob, until now. An Enve 'Cross fork handles the steering duties up front, and the traditional, investment cast bronze Ibis bird headtube badge provides the mojo.
The Ibis Hakkalügi is available in six sizes from 47cm-61cm and comes in two colors -- Phlegmish Yellow and Black Lung. It requires the use of a 31.6mm seatpost and a 34.9mm band clamp bottom pull front derailleur. The included Enve full carbon 'Cross fork has a 1-1/8" steerer tube. 1100 grams (55 cm).
Ibis Cycles offers a 3 year warranty on the Hakkalügi frame. Please follow this link to register your Lügi.

Tech Specs
Frame Material:
carbon fiber
Fork Material:
carbon fiber
Rear Axle:
9x130 mm quick-release
Replaceable Rear Derailleur Hanger:
yes
Head Tube Diameter:
1-1/8in, Campagnolo Hiddenset Standard
Bottom Bracket Type:
68 mm English
Front Derailleur Mount:
34.9mm clamp-on
Seatpost Diameter:
31.6 mm
Frame-Only Weight:
1100 g
Recommended Use:
cyclocross, everyday road
Manufacturer Warranty:
3 years limited on frame
Geometry chart
Ibis
Geometry Chart
Hakkalugi
A. Seat Tube
(c-t)
B. Top Tube
F. Standover
C. Head Tube Length
D. Head Tube Angle
E. Seat Tube Angle
Bottom Bracket Drop
Chainstay
Wheelbase
47
47.0cm
51.4cm
74.1cm
11.0cm
70.5 deg
73.1 deg
6.0cm
43.0cm
99.8cm
50
50.0cm
53.0cm
75.0cm
11.5cm
70.2 deg
72.8 deg
6.4cm
43.0cm
100.4cm
53
53.0cm
54.2cm
48.0cm
14.5cm
71.5 deg
72.9 deg
6.4cm
43.0cm
101.0cm
55
55.0cm
55.9cm
79.0cm
16.0cm
71.5 deg
72.0 deg
6.2cm
43.0cm
101.6cm
58
58.0cm
57.4cm
83.0cm
19.5cm
71.4 deg
71.6 deg
6.1cm
43.0cm
103.0cm
61
61.0cm
58.1cm
85.0cm
20.0cm
72.4 deg
72.0 deg
5.6cm
43.0cm
103.2cm
Compiling options for this bike.
It'll be just a moment...