Giro Prolight Cycling Helmet $0.00
Item #

GIR0227
Description
Funny how what looked like a step back turned out to be a step up. Giro's new Prolight Helmet debuted on the stage to Arcalis in the 2009 Tour de France. It looked odd, as if Giro had given their riders a retro helmet for an important mountain stage. We were right and wrong at the same time. The Prolight shares a name with Giro's debut product, the Prolight, of 1985. But it represents all of Giro's knowledge in weight-saving helmet technology. The goal was to make a 200 gram helmet (and a medium weighs just that), a weight that is 2/3 of their marquee model, the Ionos. 200g is crazy light for a helmet. Even the old leather hairnets of the Merckx era would have trouble crossing this barrier.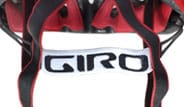 Giro did a lot of rethinking with this helmet. The changes aren't just the weight, though reducing grams was the point of just about every change. The Roc Loc SL, Giro's secondary retention system, is a completely new design. The obvious is that it saves 20g of weight savings compared to the Roc Loc 4. Elastic and non-elastic segments keep the helmet anchored to your head with a minimum of weight and fuss. There are three "snap baskets" at the forward ends of the Roc Loc SL that allow you to adjust how firmly it grabs your head.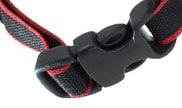 Giro also scrutinized the helmet straps. Their usual nylon strap material wasn't light enough, so they searched the world and found some thin Italian nylon strap material. It feels ribbon-thin, yet it's strong enough to survive impacts without ripping. The strap material saves 14g.
The adjusting "Tri-Loc" buckles where the helmet straps join were also eliminated. Too heavy. The buckles are now no longer buckles but fixed points. As in, they don't adjust. But this shouldn't result in any worry that the fixed points will result in a helmet position that won't fit with your head. They studied countless heads and determined a position that works with most.
Back to our memory of the Prolight. The vents were smaller. And the vents on the new Prolight are smaller than the Ionos vents. Yes, ventilation won't be the same. But the smaller vents are necessary for two features of the helmet. One is the lighter weight, which we've already detailed; the other is greater aerodynamics as a result of a smaller silhouette. For some people ventilation is everything. For others, weight comes first. Looking at the stages beyond Arcalis of the 2009 Tour, you saw some riders sticking with their older Ionos helmets while others kept on the new Prolight. Lance Armstrong preferred the Ionos while Alberto Contador stuck with the Prolight.
The smaller vents, which total 25, this being Giro, lead to generous internal channels, their Wind Tunnel tech, which move the air around the helmet and allow that air to vent in the back. So even with the smaller vents, your head is bathed in air as you move.
The Prolight also comes with anti-bacterial X-Static pads, which are light and comfy, resist odors, dry quickly, and wash easily. The helmet utilizes In-mold construction where the outer polycarbonate shell is fused to the EPS material to create a solid exoskeleton. The sizes available are: Small (182g), Medium (200g), Large (234g). Colors available are Black/Carbon, Blue/Black, Red/Black, and White/Silver.
Roc Loc SL features three horizontal belt positions for secure fit
Easy one-hand adjustment while in the saddle
25 Wind Tunnel vents force more fresh air onto your head than going bareheaded
Redesigned ribbon-thin straps feel like lambs while performing like lions
Tech Specs
Material:
[shell] polycarbonate, EPS foam
Recommended Use:
cycling, racing
Manufacturer Warranty:
1 year
Size chart
Giro
Adult Cycling Helmets
S
S/M
M
M/L
L
XL
Adult Universal
Women's Universal
Head Circumference
20 - 21.75in
(51 - 55cm)
20 - 22.5in
(51 - 57cm)
21.75 - 23.25in
(55 - 59cm)
21.75 - 24in
(55 - 61cm)
23.25 - 24.75in
(59 - 63cm)
24 - 25.55in
(61 - 65cm)
21.25 - 24in
(54 - 61cm)
19.75 - 22.5in
(50 - 57cm)
Cipher
XS
S
M
L
Head Circumference
20 - 20.75in
(51 - 53cm)
21.25 - 22in
(54 - 56cm)
22.5 - 23.25in
(57 - 59cm)
23.5 - 24.25in
(60 - 62cm)
How to Measure:

For best results, use a tape measure to measure around your head where your hat would fit comfortably.