SANTA CRUZ BICYCLES
TALLBOY CARBON - SRAM XX COMPLETE BIKE
Based on acceptance and trailhead hype, it's clear that the combination of dual suspension and the 29" wheel size is making the biggest waves in the mountain bike world. Taking into account its proven VPP suspension and carbon
technology, the Santa Cruz Tallboy, matched with SRAM XX componentry gets our vote as the most advanced full suspension mountain bike in its price range. The combination of a light and responsive frame, second generation VPP, big wheels, and the race-proven XX drivetrain ensure that this carbon chariot will cover ground at insane speeds.
The Tallboy relies on Santa Cruz's time-tested formula for carbon. They start with a one-piece lay-up and curing for the front triangle, as opposed to assembling joints, which would require bonding or wrapping. This eliminates excess material and weight. As you might imagine, this is a costly process as each size requires dedicated tooling. The resulting structure distributes loads and absorbs impact energy better because the one-piece layup process allows for continuous fibers that wrap between tubes. Just like the Blur XC Carbon, there is not a rivet or bond to be found. This process allows Santa Cruz to control both the outside and inside shapes, and to compact the fibers during the lay-up. This places material where it's needed most, and reduces the chance for any stress risers, which results in a strong and light chassis for the VPP suspension to work its magic.
The redesigned second generation VPP suspension features upper and lower links which flatten out the shock rate. This provides a more active feel to the early axle path, allowing the rear wheel to move up and back as you ride over a bump. The new link design also balances the downward force of your pedaling with the pulling force of the chain, neutralizing them to prevent pedal-bob or unwanted squatting during acceleration. The VPP design also prevents brake-induced lock-out, which will allow you to descend confidently on rough, technical terrain. Rolling through rock gardens, climbing water bars, or riding on lumpy fire roads, the suspension is active and responsive, even driving the rear wheel into the ground when climbing to enhance the bike's traction. Pair that with the natural advantages of the bigger wheels of a 29er, and you're well ahead of the game—and your riding buddies.
Santa Cruz added a carbon fiber upper link to shave weight and enhance lateral stiffness, and easily-serviceable grease ports in the aluminum alloy lower link (grease gun and grease included) ensure extremely long bearing life. The pivots now have oversized, 15mm locking axle pins, which run on intricately-sealed bearings with one-way purging seals that should last the life of the frame, and won't creak or loosen. Santa Cruz topped it off with titanium hardware where applicable.
Managing the Tallboy's 100mm of travel is a lightweight and reliable Fox Float RP23 shock that's easy to adjust. The three position Propedal lever provides two platform options to maximize efficiency during extended out-of-the-saddle climbing. We followed suit up front and went with the Fox 32 Float 29 120 RLC with the 15QR thru-axle for added stiffness and steering precision. The fork features rebound, preload, and compression adjustments for fine tuning, and it has a lockout for those long fire road climbs back to the top. You'll roll on Easton EA70XC wheels wrapped in Geax Saguaro 2.2in tires for tenacious traction in everything from moon dust to slick rock. Easton EA70 parts also get the nod for the handlebar, stem, and seatpost, with a Sella Italia SL Kit Carbonio saddle offering the comfort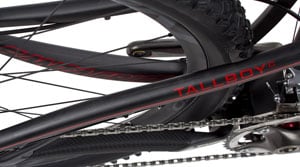 needed for all day rides.
We've found the shifting of SRAM's components to offer unsurpassed precision, speed, and reliability, so when the time came to spec a high-performance drivetrain for the Tallboy, we opted for the top-tier XX components. A carbon fiber XX 2X10 crankset with 39/26 chainrings and a 11-36-tooth XX cassette, along with a matching XX rear derailleur and shifters work in harmony to offer insanely fast shifts and the perfect mix of gear ratios for the larger 29er wheels. This combination offers the spot-on shifts and cadences needed to get you around the mountain efficiently and quickly. Powerful and lightweight XX calipers and levers with 160mm rotors provide consistent, confidence-boosting stopping power as well.
The Santa Cruz Tallboy/SRAM XX Complete Bike is available in Matte Carbon/red and comes in four sizes; Medium, Large, X-Large, and XX-Large.
Tallboy Carbon - SRAM XX Complete Bike Price: $5799.00
Buy/Configure Complete Bike
2013 Santa Cruz Bicycles Tallboy Carbon - SRAM XX Complete Bike Geometry
| Size | Seat Tube | Effective Top Tube | Stand Over | BB Height | Head Tube Angle | Seat Tube Angle | Head Tube | Chainstay |
| --- | --- | --- | --- | --- | --- | --- | --- | --- |
| M | 17.7 | 23.0 | 29.1 | 12.8 | 71.0 | 73.0 | 3.9 | 17.5 |
| L | 19.5 | 24.0 | 29.9 | 12.8 | 71.0 | 73.0 | 3.9 | 17.5 |
| XL | 21.0 | 25.0 | 30.6 | 12.8 | 71.0 | 73.0 | 4.3 | 17.5 |
| XXL | 22.5 | 25.9 | 31.0 | 12.8 | 71.0 | 73.0 | 4.7 | 17.5 |
All lengths are measured in inches. Geometry based on 505mm (axle to crown).