eeCycleworks eeBrake Brake Calipers $0.00
Item #

EEC0002
Description
It's been a long while since we've endorsed a non-corporate brakeset. By that we mean something that hasn't come from the big three -- Campagnolo, Shimano, or SRAM. It boils down to performance. Boutique brakes largely deserve their pigeon-holed reputation and their relegation to un-rideable show bikes. The eecycleworks eeBrake Brake Calipers are the exception to the rule because they're designed strictly for performance. Their magical blend of absolute power and precise modulation rivals Dura-Ace 7800, considered by the cognoscenti to be the all-time benchmark. And that you can save nearly 1/4 pound over Dura-Ace 7900 calipers makes them an incredible option.
The heart of the design is the 'big and hollow' approach to the shape of the arms. Like the lightest modern road frames, the key to stiffness is increased surface area. As you look at the eeBrakes, notice the fore/aft depth of the caliper. The center bridge and brake arms are massive compared to most other brakes.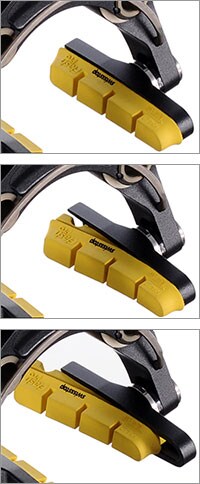 This eliminates the potential for flex in the component pieces. The pivots are also designed for stiffness, with hollow alloy pivot axles and close-tolerance bushings. This theme even carries into the brake bolt that mounts it to the frame. It's built on an eccentric for two reasons: You can adjust the caliper position for slight dish problems with your wheels so that it always provides centered, even contact with the rim, and it allows the lever arms to be shorter, and therefore stiffer, than standard designs. This is evident in the minimal adjustment slot on the arms. The eccentric's ability to locate the eeBrake in an upper or lower position allows this seemingly small adjustment to cover the same height range as a typical caliper.
With the eebrake's stiffness you get precise brake control for excellent modulation and power. In fact, they're a perfect cure for typical atrophied brake performance with carbon rims. Their design has seen some updates over the years, and eecycleworks changed the leverage ratio to increase total power. This also makes them more consistent throughout the operating range from a light touch to knock off a bit of speed before a sweeping corner to grabbing a fistful of brakes to avoid a collision with an unseen hazard.
Another neat part of the eebrake design is that it can be adjusted to work perfectly with the wider modern road rims like Zipp's Firecrest or Hed's C2 designs. In fact, the quick release strut allows the caliper to open with room to spare for a 28mm tire. Easier tire changes may not make the brake stop faster, but you know it's a benefit nonetheless.
Speaking of easy, eecycleworks designed the pad holders to facilitate the easiest, quickest pad changes ever. Why is this important? For starters, you won't have to rip out your fingernails a la Campagnolo, nor will you have to reach for the tool box like with Shimano. These holders use Shimano style pads, yet there is a ledge in the CNC machined holder that catches a groove in the pad as long as the pad is pressed into place in the holder, and this is always the case when the brakes are applied. So although you can remove the pads in 10 seconds by hand, they'll never accidentally slide out while you practice your trackstand at a stoplight. You'll appreciate this easy pad removal if you routinely swap from carbon race wheels to aluminum trainers. We won't think less of you if you've gotten tired of changing pads and simply opt to risk it, but know this: embedded alloy bits from your training wheels can cause severe damage to your expensive carbon rims. The eebrake makes this less of a chore.
All of the caliper parts and pivot axles on the eecycleworks eeBrake brake calipers are constructed of forged 7075 T6 aluminum, and they use titanium fasteners to save precious extra grams. The eccentric mounting bolt is made of stainless steel for strength, yet it's been heavily machined and uses an aluminum brake nut to shave even more weight. We have them in Black only. They're available without pads or with Swiss Stop Flashpro Original Black for alloy rims or Flashpro Yellow King pads for carbon rims. If you buy without, know that they take standard Shimano style brake pads. They are compatible with all Campagnolo, Shimano, and SRAM road levers.
Tech Specs
Material:
7075 T6 aluminum
Recommended Use:
road racing
Posted on
So much power, so light, and so cool!
Familiarity:

I've put it through the wringer
Remember Sweet Wings cranks from the 90s? Craig Edwards created those legends and he designed these as well. These brakes feel great and will out stop and have greater modulation than the newest big brand brakes. And once you experience the ease of removing or installing pads (flipping from alloy to carbon pads or sanding off glaze from your pads) all other brand brake pad swapping will seem like a bad joke.