Deuter Race EXP Air Pack - 900cu in $0.00
Item # DTR0118
Description
Stay hydrated, stay alive.
When we see EXP, we think "expedition." Uncharted territory, set e.mail on bounceback, set v.mail on not accepting messages; don't know when we'll be back. Better get the full complement of shots as maybe this time we'll end up in a place where we have to worry about Japanese Encephalitis.
Actually, the EXP in the Deuter EXP Air Hydration Pack stands for "expandable". There's a zippered gusset that can be opened to add 150 cubic inches of storage capacity. A zip-out helmet holder will carry your lid, but it can secure other things as well. There is a main cavity, a zippered pocket inside, a zippered pocket outside, and two mesh side pockets. The main pocket has a snap-together double-zipper for added security.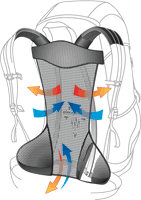 The Deuter EXP Air uses the Deuter Advanced Aircomfort System (AAS). Anglophones usually separate the two words, not Germans. And this is a very German pack. The AAS is composed of two parts. First there is a mesh screen. The back of the back (the part that is supposed to meet up with your back) has a rigid liner and is stitched to the mesh panel so that there is a curve to it, keeping the pack off the back but securing it to the back at the same time. The result is human back surface area exposed, which means less of the soggy back phenomenon that all packs are infamous for. Securing the pack to your back are light mesh shoulder straps and pads at the hips. There is both a sternum strap and hip belt.
Deuter has chosen not to make their own bladder, but employ one from Source, an Israeli company. Source calls it a Streamer Reservoir, because they feel that the bite valve allows pure easy flow like a mountain stream. The Z-Valve is a plastic valve covered by a soft rubber cover that is leak-proof. Just bite it and the liquid flows. Let go, and the flow stops. It's that easy. There is a plastic cover that protects the valve, though many leave it in the car when riding.The reservoir itself is made from a BPA-free polyethylene (PE) plastic that boasts a surface as smooth as glass. Smooth is important because the smoother the surface, the harder it is for bacteria to attach. In addition, the surface makes it harder for taste, like old Cytomax, to remain after the bladder has been washed. Beyond the glass-like surface, there's Grunge Guard, an anti-microbial coating designed to further keep mold at bay. Sealing the pouch is a bar-and-clip system that allows the bladder to be both opened completely and sealed completely, and is tough enough to be landed on without bursting.
The Deuter Race EXP Air Hydration Pack has a capacity of 750 cubic inches when the expander is zipped shut, and 900 cubic inches when unzipped and open. There is a zip-out yellow rain cover with a reflective logo on it. It includes a 3-liter reservoir. The color combination is Anthracite/Silver. Dimensions are 18" tall by 9" wide by 5" deep. 2lbs 1oz (pack) + 6oz for the reservoir.
Deuter's Airstripes ventilated carrying system consists of dual waffle-structure foam strips covered with cooling mesh for maximum heat transfer
Air channel between the two back panel Airstripes allows heat to rapidly escape in a chimney effect
Integrated, detachable rain cover
Mesh shoulder straps and hip belt feature contoured mesh to reduce sweating as they secure the pack when you ride, run, or hike
Mylar-lined main compartment prevents excessive temperature increase of your hydrating liquid
Small zippered valuables pocket secures important items during your activity
Sternum and waist straps stabilize the pack
Stowaway helmet holder
Tech Specs
Pockets:
2 exterior side mesh, 1 exterior front, 1 internal hydration, 1 internal zip
Claimed Weight:
2 lb 7 oz
Recommended Use:
hiking, travel, biking
Manufacturer Warranty:
lifetime
Reviews & Community
What do you think of the
Deuter
Race EXP Air Pack - 900cu in
? Share a...