Deda Elementi M35 Handlebar $0.00
Item #

DED0027
Description
Just when the 25.4mm and 26.0mm clamp diameters of yore were fading into obscurity and we were pretty much left with 31.8mm for both mountain and road handlebars, Deda introduces their M35 Handlebar. With its 35mm top section, the M35 is 50% stiffer than a comparable 31.8mm bar.
The 35mm diameter extends all the way across the top of the bar to the transitions towards the drops. Those with bigger hands will appreciate the extra surface area. And with the massive increase in stiffness,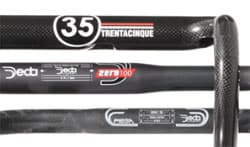 it comes as no surprise that this would be an ideal handlebar for bigger, more powerful riders. It's also a product of the Deda Rapid Hand Movement (RHM) design initiative. Deda noticed that more and more pro riders have been dropping their bars in relation to their saddle. As a result, it seemed that riders were spending less time in their drops. So, rather than raise the bars, something a rider might be loath to do because he likes the position of the tops for climbing, they shortened both the drop and the reach of the bars. RHM bars are shorter than a traditional shallow drop handlebar.
The RHM bend is a wonderful balance between anatomic and traditional round shapes of the past. It uses what Deda calls a Continuous Incremental Radius. This simply means that the length of the radius (or how tight the bend is) changes a number of times through the bend in the drops. What you get is a bend with subtle shaping that offers comfort in multiple positions.
The Deda M35 Handlebar is available in Black, Red, and White and in three widths -- 42, 44, and 46cm (measured outside to outside). The drop is 129mm, and the reach is 75mm. Please note that this bar requires the use of a stem with a 35.0mm clamp diameter.
Tech Specs
Width:
(outside to outside) 42 cm, 44 cm, 46 cm
Compatible Components:
Deda Trentacinque Stem
Recommended Use:
road racing, sprinting, ramping up your cockpit stiffness
Unanswered Question
Will you guys be getting in any 42 cm white carbon handlebar Deda Elementi M 35