De Marchi Authentic Ireland Team Short Sleeve Men's Jersey $0.00
Item #

DMA0113
Description
Sean Kelly and Stephen Roche are mythical figures in Ireland's cycling history -- two different men, from two different walks of life, and two completely different bike riders. When they both pulled on their Irish team jerseys, they were united on the bike and always considered dangerous. Roche won the World's in his magical 1987 season, and Kelly came famously close in the rain behind LeMond and Konyshev in the pouring rain at Chambery. De Marchi makes this Ireland Team Replica Short Sleeve Jersey to celebrate this golden age of Irish cycling and its two most prominent riders.
The difference between the old wool jerseys and this one is that it lacks the legendary itchiness of old. For this modern jersey, De Marchi uses Superfine Merino Wool. It's a taslanized 50%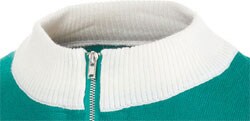 Merino Wool, 50% acrylic knit blend. It has a fine hand like a spun yarn, though it's more consistent and won't pill like a spun yarn. Its luxurious softness will make you know that it's intended to be worn directly against the skin.
De Marchi cuts the Ireland Wool Jersey just like they did twenty some odd years ago. They've always been known for their technical jerseys, and this one is no different. It's made to ridden in. To that end, it's a bit looser than modern synthetic jerseys, but it's cut to follow the body. The collar and sleeve cuffs are a doubled over rib-knit. De Marchi calls it a 'French' collar after Louison Bobet. He was, of course, French, and known to be stylish and exacting with his gear and clothing. He is said to have been the first to request a move to this style of collar from the traditional winged collar and buttons that were used at the time. The hem at the bottom is simply a doubled layer of the knit, with an imperceptible seam. It has an 18cm metal zipper from YKK, the best in the business. In the back you'll find the three traditional patch pockets, and rather than being open at the top they have pearly buttons if you feel the need to secure your stowed articles.
The Ireland Team Replica Short Sleeve Jersey is Green and has a white collar and sleeves. It comes in five sizes from Small to XX-Large. It is handmade in Italy. Please Note: We highly recommend that you wash by hand in cold water with a mild detergent and blot, then air dry flat. This will ensure that your jersey will last for many seasons and that it will remain the proper size.
Size chart
De Marchi
Sizing Chart
De Marchi Men's Apparel

XS
S
M
L
XL
XXL
XXXL
Jerseys / Jackets
(Chest)
33.0 - 35.0in
(83.8 - 88.9cm)

35-37in
(88.9 - 94.0cm)

37-39in
(94.0 - 99.1cm)

39-41in
(99.1 - 104.1cm)

41-43in
(104.1 - 109.2cm)

43-45in
(109.2 - 114.3cm)

45-47in
(114.3 - 119.4cm)

Shorts / Tights / Knickers
(Height ft)
5.0-5.2
5.2-5.5
5.5-5.8
5.8-6.1
6.1-6.3
6.3-6.5
6.5-6.6
How to Measure:

For best results, take measurements over your underwear.

Chest:

Measure under your arms, around the fullest part of your chest.