CycleOps 400 Pro Indoor Cycle $0.00
Item #

COP0032
Description
The CycleOps 400 Pro Indoor Cycle is the most technologically advanced model they make. What differentiates it from the not-unimpressive 300 Pro model is that it uses CycleOps' Controlled Resistance Technology. This allows the 400 Pro's Joule 3.0 computer to conduct saved workouts for you, where the resistance has been programmed in ahead of time. You can remove the Joule 3.0 and use it on your road bike to record your favorite training loop. Have an early season race with a monster hill? Recon the course, download and edit the data, then upload back to the Joule. Ride it over and over to become familiar with the rhythm of the climb. You'll also be able to create a ride from scratch, controlling target power outputs, slopes (up or down) and gearing.
It comes with the Joule 3.0 cycling computer as standard equipment. The Joule, in combination with the built-in PowerTap power meter in the rear flywheel, will allow you to track a variety of information as you ride -- Power in watts and w/kg and see your current, average, and max. Power zone, average power zone, and max power zone. Peak power for 5 sec, 5 min, and 20 min. WKO+ metrics: training stress score, normalized power, and intensity factor. Work measured in kilojoules, kilojoules per hour and calories. Cadence: current, average, and max. Heart rate: current, average, and max. Speed: current, average, and max. Climbing: current grade, current altitude, and total ascent. VAM: vertical ascent, current altitude, and total ascent. Ride: time, distance, and time of day. You can save a good number of rides on the Joule 3.0 CPU before downloading them to your computer, depending on ride time, of course. We've saved up to 20 rides, and it accepts a Micro SD card to expand the storage capacity.
The Joule 3.0 uses ANT+ technology to communicate wirelessly with the PowerTap hub and the included heart rate strap. If you choose to use the Joule 3.0 on your bike outside, it can also communicate with any ANT+ powermeter and/or cadence and speed sensors. Riding without a powermeter is still possible and you'll be able to track every detail of your ride, save for the power data. Please Note: This particular PowerTap in the rear flywheel operates on a narrow portion of the frequency range within the full breadth of ANT+. This means that, even though the Joule 3.0 is easily used to detect other powermeters, you may or may not (probably more likely) be able to substitute another ANT+ CPU to read your power data on the 300 Pro Indoor Cycle. Use the downloadable Power Agent Software, and you'll be able to generate a variety of detailed reports of your workouts to analyze and track your progress or pinpoint weaknesses in your fitness.
If there's one reason why we love Cycleops' indoor bikes so much, it's that their 70lb flywheel simulates the momentum you'd develop at speed on the road -- it's the most road-like feel you can get indoors. And, yes, you can freewheel any time you feel like a break.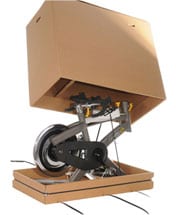 Why buy a CycleOps 400 Pro Indoor Cycle from Competitive Cyclist? The foremost reason is that we package and ship it via UPS in a customized box in a nearly ready to ride condition. It will be fully assembled by our team of professional mechanics just like we'd build a race bike. The only work you'll need to do is insert the seatpost and stem & dial it in to match the fit of your bike. You can do so without tools -- which is another benefit of the CycleOps Indoor Cycles: A husband and wife can share the same bike, since adjusting seat height and effective reach takes mere seconds. The seat height can range from 66 to 92cm from the center of the bottom bracket to the top of the saddle, of course this can vary if you change the saddle depending on model. The indoor cycle ships without pedals, so you can set it up just like your favorite road or mountain bike. We sell the CycleOps Indoor Cycles in a drop bar configuration (not the bullhorn bar you sometimes see) and it has two water bottle holders.
Please Note: Due to the size and weight of the package, a CycleOps Indoor Cycle is shipped via freight carrier only and is limited to the contiguous U.S. The cost to ship this item is $99.
Tech Specs
Resistance:
Controlled Resistance Technology
Recommended Use:
off-season training