CycleOps 100 Pro Indoor Cycle $0.00
Item #

COP0029
Description
The CycleOps100 Pro Indoor Cycle is stripped down to the basics -- allowing you to get the benefit of training indoors on such a specialized machine, but doing so at the lowest cost possible. Feel free to sprint with all your might and do interval repeats 'til you're blue in the face, the wide footprint of the four adjustable legs will keep this bike upright and underneath you -- rubber side down so to speak. You can manually adjust the resistance as you're riding by twisting the knob on the top tube so that you can ensure that each workout gives you what you need, whether it's a hard or easy day. If there's one reason why we love Cycleops' indoor bikes so much, it's that their 70lb flywheel simulates the momentum you'd develop at speed on the road -- it's the most road-like feel you can get indoors. And, yes, you can freewheel any time you feel like a break.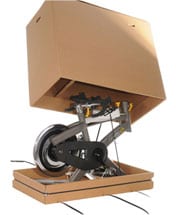 Why buy a CycleOps 100 Pro Indoor Cycle from Competitive Cyclist? The foremost reason is that we package and ship it via UPS in a customized box in a nearly ready to ride condition. It will be fully assembled by our team of professional mechanics just like we'd build a race bike. The only work you'll need to do is insert the seatpost and stem & dial it in to match the fit of your bike. You can do so without tools -- which is another benefit of the CycleOps Indoor Cycles: A husband and wife can share the same bike, since adjusting seat height and effective reach takes mere seconds. The seat height can range from 66 to 92cm from the center of the bottom bracket to the top of the saddle, of course this can vary if you change the saddle depending on model.The indoor cycle ships without pedals, so you can set it up just like your favorite road or mountain bike. We sell the CycleOps Indoor Cycles in a drop bar configuration (not the bullhorn bar you sometimes see) and it has two water bottle holders.
Please Note: Due to the size and weight of the package, a CycleOps Indoor Cycle is shipped via freight carrier only and is limited to the contiguous U.S. The cost to ship this item is $99.
Tech Specs
Resistance:
resistance knob
Recommended Use:
off-season training
Manufacturer Warranty:
lifetime
I was told that there is no adjustment to...
I was told that there is no adjustment to make the ride smooth in an upright position (standing.) There's a little cliff I clunk over at the top unless I get positioned uncomfortably forward and turn the tension way up. They said it was due to the auto breaking (when you stop your feet the tension stops.) Is this the right answer? If I could have it adjusted and fix this I'd keep it. Otherwise I'm ready to bag it and get another bike. No one likes to ride it.
Hey Peggy,



Sorry about the weird feeling with your trainer. I spoke with CycleOps, and I'll try to explain what's going on. If you'd prefer to discuss this over the phone, feel free to call us at 888-276-7130.



Because these trainers allow you to freewheel (like you would on a normal bicycle - ie coast), the pedals won't always have tension on them like a more "old school" trainer might. What could happen is if you're not focusing on carrying the pedaling motion through the entire stroke, you end up with a "dead spot," which, on a trainer like this, would result in a clunk when you re-apply pressure to the pedals. This shouldn't hurt the machine, but if it annoys you enough (or if you want to just work on your form), you can turn up the resistance a bit, which should help out (slowing down the pedaling cadence will help, too). If neither of these work for you, I believe they can convert the trainer to a fixed gear style, which would prevent this altogether. Let me know, and I hope it's not too late to salvage the experience, as these are really nice trainers.



Thanks!