Gear Review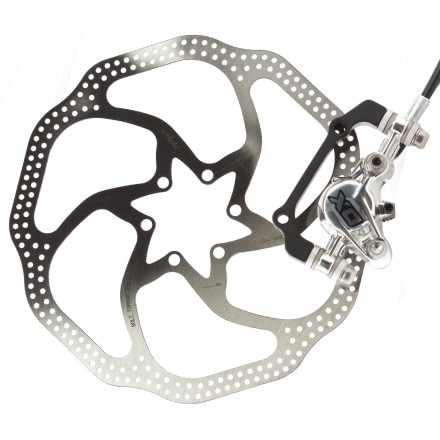 Posted on
XO Race Ready Performance
Having the opportunity to run the XO brakes front and rear on my 29 inch race setup, Santa Cruz Highball, I can definitively endorse the high end performance of this brake set up. The XO was chosen for its ability for minor adjustments on the fly vs. the upscaled XX that has limited adjustibility. Going into my build I like the ability to adjust the calipers during a long ride if something radically changed in my braking system. The XO performed really well all season including standing up to about 6K miles in varying conditions. I did go through several sets of brake pads but that should be expected when finishing 5 NUE's on the season. The way I see it, I want the brakes PADS to wear not the brake cylinders, so pads are a cheap price to pay for continued performance. I ran the 160mm disc front/rear and could probably go through less pads if I upsized the dia of my rotors (albeit I like the lower wgt and response of the 160 dia rotors).
I did find the cable length that came stock were a bit long for my liking even on my size (L) frameset. Therefore, after about a month of riding I decided to flush the system with new brake fluid and cut down the cable length. The system comes with extra compression fittings so that you can mate the cable system to your frame size (I hav to give kudos for thinking on SRAM's part here).
If you are looking for high end performance, light wgt, and to keep some $$ in your pocket look no further these are your brakes for your high end XC rig. I am sticking with the XO this year again as they proved reliable and easily adjustable.
Ride ON!

View More Details on Avid X0 Silver Disc Brake