Gear Review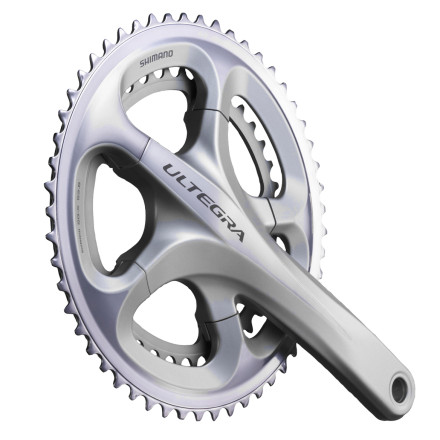 Posted on
Stiff, light, smooth, pretty (on the outside)
Couldn't beat the price on this crankset. I picked it to replace an old Sugino Mighty for which rings aren't widely available, much less those with newfangled shifting technology.

Out of the box, I wasn't that impressed. I'd not spent a lot of time looking at Shimano's cranksets and was surprised to see the hollowed-out backside of the star. That makes a great place for dirt to accumulate. And how could that deep, complex concave shape possibly be aerodynamic? The ultralight bottom bracket felt like a plastic imitation of a pro part, as did the hollowed-out spindle. That split in the left crank, with two bolts buried into recesses seems like it introduces a whole new set of opportunities for dirt to gather. I mean really, does everyone who likes a light, fast drivetrain spend the requisite amount of time cleaning their bike over a period of 20 or 30 years that these parts can be useful? Does my bike really have to be either a well-maintained racer or a no-time-for-maintenance-ride-in-any-weather commuter? Not if I have a choice in the matter. Gotta love that 20th Century engineering for durability and ease of maintenance.

And what's with the 8-spline crank arm adjustment cap? Has Shimano ever heard of a T60 torques pattern? Sure, the BBT-9 fits the dust cap, but the BBT-19 looks like a more professional tool and seems less likely to damage the 16 splines of the ultra-light outboard BB bearings, especially if the cups were seized a bit tight after being left in for a period of years and someone had access to neither a bike shop to do the job right nor a bike stand available to stabilize the bike during repairs. I wonder if Shimano makes a tool just for those dust caps, but the BBT-9 is the one that comes up most often in online searches, and the neither the specs nor the picture do a great job of explaining the latest trend in dust caps. Sorry, I know I shouldn't have slept through at least the past 20 bike shows, and didn't pay close attention to the "8 spline" phrase in the tool description, nor look at an exploded view of the crankset before I bought it, but I'm just sayin...

Installed and on the stand, I was still unimpressed. The sealed bearings of the Shimano Ultegra BB-6700 don't glide like old-school ball bearings -- not even those of an old BB with years of neglect. Fortunately, I know just enough bicycling science to recognize that bearing resistance is minimal compared to other factors -- especially rotating weight. With the new bottom bracket, compared to the old tapered spindle and steel cups, I lost about 134 grams - 15 percent of the crank weight, much of which is rotational weight. A 10-speed chain dropped another 20 percent of chain weight -- also all rotating weight.

It took a while to get the old Suntour Mountain derailleur bent back into shape so it wouldn't knock the chain off the right side in any gear combination, but once that was under control, it was time to find out what I'd bought into. Would I be able to feel the difference? I wouldn't know until I tried.

Once on the road, my opinion started to swing the other way. Not sure how much of it was reduced weight and how much of the difference was the more stiff crankarms, nor just how much less overall flex comes with the shorter Q-line fulcrum of the outboard bearing location, but it was definitely different. And of course it solved the chain-dropping problem I'd intended to fix -- that mostly because it was not bent like the chainrings and perhaps star arms of the old crankset. Not only did it end the mechanical stops to put the chain back, it shifted so smoothly with my well-adjusted derailleur and downtube friction shifters, I occasionally wondered if I'd shifted or just found my second wind.

With a set of Ksyrium Elite wheels that made the folks at one LBS cringe when I showed them the bike I was outfitting, this old roadbike is now fast as lightning. Speed is good, but for an older rider who can get aggressive, a drivetrain easy on the joints is also important. Overall, I was happy with my purchase.

As I worked through the gears during a few rides, I wondered if I'd have been happier with a compact crankset. I use a 34t rear cog, and find myself there slightly more often than I find myself in the 12t, which suggests my range is centered toward the low end of my gearing preference. However, I don't like to spin fast at high speeds in vehicle traffic. If there's any time to mash, that's it -- when one wants to maintain a very stable posture but still keep up speed. If it was available, I'd probably buy just the right side so I could switch from compact to full size chainrings as it suited me, but it's not so important that I'd buy another Ultegra crank at the regular price for the compact rings.

Oh, did I mention the excellent customer service at realcyclist? Sorry, LBS -- maybe you need to recruit me, cuz these online folks have the edge in that category for now. Maybe they're just not as threatened by customers who update their knowledge by shopping. Maybe the LBS mechanics-slash-salespeople need to keep moving through service tickets and have little time to chat about parts choice -- especially when they don't have those parts in stock. Maybe it's easier to come off as friendly when they have more inventory to select from and maybe it just makes them seem friendlier when they can say "free shipping to your door" rather than "pay now and come back next week after we unpack our shipment." I suspect, though, that it's easier to critically discuss after-market parts choice when there's no risk the conversation will be overheard by a nearby customer considering the new bike purchase that could make or break that day's sales.
View More Details on Shimano Ultegra FC-6700 Crankset - Double