Gear Review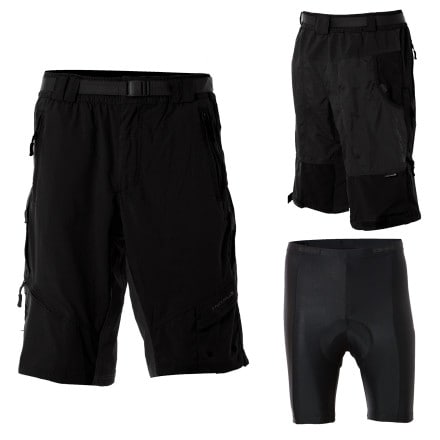 Posted on
Shell is great, liner fit not so good
The shell on these shorts are probably my favorites to date for mild temps. They do seem to run pretty far on the small side. I'm 6'2", 195lbs, 36 waist, 32.5-33" inseam and initially tried on the L and they were really tight through the butt and thighs. XL fits perfect however. Inseam is just about perfect length for me, still gives a little bit of top of the knee coverage but doesn't get hung up while pedaling and no clam digger feel. Crotch doesn't get hung up on the saddle. Plenty of useful pockets (I love the map pockets). There are a lot of zipper pulls, but I'm willing to give up some fashion for the ability to easily open/close the pockets and vents w/ my gloves on.

Not sure how they'll fair when the temps and humidity start climbing past 85-90. The vents seemed to do a decent job of cooling things off in the early fall through winter when needed. The nylon shell material and construction seems to be pretty darn bullet proof and water/melting snow/mud seems to bead up pretty well on its surface, but doesn't seem like it will be very breathable.

I knocked off a star due to the sizing/fit of the liner which seems like it might actually match up w/ the size chart. Way too long in the crotch, a bit loose in the legs, and generally kind of baggy. Even w/ the shell Erkel'd up to my belly button there's still probably 1/16-1/4" or so of air between the chamois and my squishy parts. To me, a good liner should have a semi-compression fit and the chamois shouldn't be able to shift around. I generally wear bibs under my baggies as most of the liners aren't as nice as my bibs, but I was a little bummed w/ these since the chamois actually looks like it's decent quality and the Clickfast snap-in attachment system seems like it has potential to keep the liner and chamois in its proper place if the lycra was cut in a sensible fashion.
View More Details on Endura Hummvee Short with Liner