Gear Review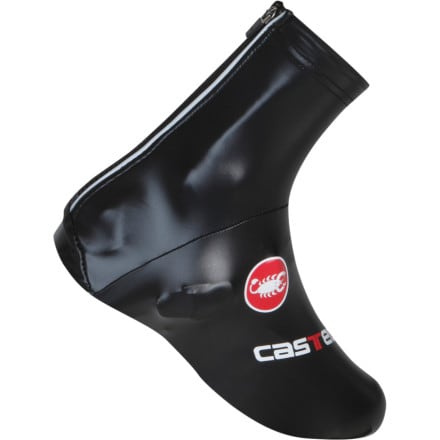 Posted on
Ok, but need some work
Nice concept, but maybe castelli needs to go back to Garmin-Cervelo test team for some fine tuning.
Let me start with fit. I wear a 44.5 and the Large seemed like it was going to burst at the seams, so i exchanged for Xlarge. XL is good, but not perfect - the heal and cleat cut out are probably designed for a 45.5-46.5, they work but could be closer for 44.5.
In the Narcissita, a Large fit me perfectly.
Zipper - this thing needs to be redesigned for such an expensive shoe cover. The zipper digs into your calf. you can do things to minimize this, but why should you have to on such an expensive cover? if the zipper was on the side, or maybe down zip with enclosed calf, or even some kind of cloth that covered the zipper top, it would be much better.
Pros- they fit the front and top of your shoe very well. I think they do very well in wind and temps in 40's. Probably be fine in high 30's with a very thick sock. I think they are good in wet stuff too - just not heavy rain..
Pro#2- they are very very packable compared to other shoe covers. You can wear them until it gets warm, then zip them off and put them in your jersey....most other over shoes i've tried, once you have them on, you'r committed for the entire ride because they are too bulky to take off. This is a real + if you live on the West coast.
Overall they could use a quality upgrade. other than the zipper issue they fit ad feel good. i doubt you could get more than a winter out of these as i suspect you'll tear a seam or puncture them with all the streching you need to do getting them over the cleat. and dont even think about cyclecross/ or anything that you have to walk much in...like coffee.
Would probably buy them again becaue the whole packability thing is +++ for me.
oh yeah, did i mention they look really cool?
View More Details on Castelli Nano Shoe Covers