Gear Question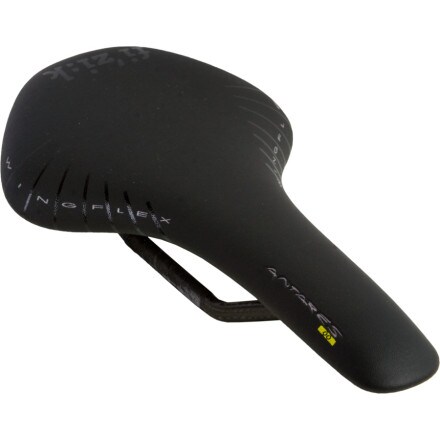 Posted on
What is "ICS Compatible"?
What is "ICS Compatible"?
Responded on
No ICS on the carbon Antares.
Responded on
ICS is Fizik's proprietary system for saddlebags and lights that allows you to clip the accessory into a recess at the back of the saddle. It eliminates the need for velcro around the rails to attach saddlebags and is awesome. Install/removal takes literally 1 second and it sits higher up under the saddle for a cleaner look (and better airflow?). I've loved every minute of it for three years. Unfortunately, this saddle does not have that system.
Responded on
I rate the Fizik Antares 00 as one of the best saddles in both form and function. Just on aesthetics alone, it stands above 99% or more of the crowd, all while including an excellent balance between performance and comfort. The fact that it's so damn light is icing on the cake with almost no saddle any lighter that comes anywhere near the comfort level of this beast.

Part of the lightness does indeed come from the lack of Fizik's ICS system as mentioned above. I have a number of Fizik saddles and will say it's a nifty attachment system if you go for that kind of thing. I personally am not a fan of saddle bags on high performance bikes and prefer just carrying extras in jersey within something like the Mann Bag. The light attachment is pretty cool though something like the Thunderbolt from Serfas provides an even better solution, in my view.

The only real negative to the Antares 00 is the uber sharp edges that do not welcome a single botched move such as leaning against a wall and pulling off or letting it graze ANYTHING. You'll have a tear of that fine edge before you know it. But if you're careful with your ride and make sure you never lean on saddle, it's not an issue. Besides, most of the top saddle tend to be rather fragile on the edges.

By the way, if you DO want this ICS system, you can simply move down to the Fizik Antares R1 with braided rails, this only 20g heavier than the 00, coming in at @155g. See the comparison graphic I cobbled together below, this a view of the underside of the R1 vs the 00. The top of the 00 wins out as it seems slightly stiffer and with less going on.

- kh
View More Details on Fi'zi:k Antares 00 Carbon Braided Saddle