Stay in the Know
Choose the Color/Size you want, enter your email, and we'll contact you when the item is in stock.
Temporarily Out Of Stock
Item # CVN0002
Don't get too bummed. This item is on the way and will be available for purchase as soon as it rolls into the warehouse.
Can't wait? Consider one of the other Pre-Configured Road Bikes we have in stock.
Civilian Bicycle Co. Ramble - 2012 $0.00
Item # CVN0002
Description
Enjoy the Ramble.
Getting around town doesn't have to be a daunting endeavor, and bikes like the Civilian Ramble give you a well-thought-out transportation alternative. Commuter bicycles need to be durable, and only need minor maintenance. You should be able to run out the door and throw a leg over it without second guessing your gear, the weather, or how you're going to carry everything.
The Ramble does all this, and offers a ride that dampens broken pavement and is energetic when you stand up on the pedals. This is because the frame is crafted from a high-tensile, double-butted tubeset. This springy material, unlike aluminum, absorbs vibration so your ride is nice and smooth. The durable steel frame is covered with a quality finish, and is ready for a long life locked to racks and getting you to your destination in inclement weather.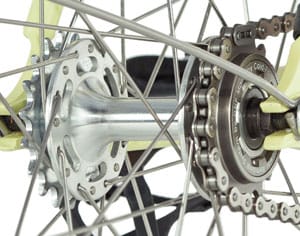 Essential to the Ramble's reliability is its single-speed drivetrain. The lack of shifters and derailleurs means less maintenance to keep you off the bike. Life locked up to a bike rack can include all kinds of damage; one common occurrence is a clumsy cyclist bumping into your bicycle while you're away-- leaving you with a bent derailleur and limping home. The gear ratio is 46 x 18, which is sufficient for getting around most metropolitan areas. The alloy cranks are 170mm long on 52 - 56cm frames, and 175mm on the larger ones.
Weather doesn't always cooperate, and for that reason this dedicated commuter comes with lightweight aluminum fenders. Sturdy wheels consisting of polished aluminum double-wall rims laced to high-flange, bolt-on track hubs ensure durability. The 32 hole rims and hubs are laced with 14g spokes and brass nipples. This combination is very common, so finding parts in a pinch will be easy. The wheels are wrapped in 700c x 28mm Kenda tires. They are larger volume compared to 23mm road bike tires, and provide more shock absorption and a wider contact patch for better traction.
A lightly padded Velo Saddle wont inhibit your pedaling, but remains comfortable throughout your commute. The saddle is covered in soft micro suede, and won't deteriorate or absorb moisture when exposed to the elements. The classic mustache-style aluminum handlebar is 520mm wide and can be flipped to offer an upright riding position or a lower, more aggressive, forward leaning position.
A defining feature of the Civilian Ramble is its front loader, porteur-style rack. The rack has a handy u-lock slot-- it's nice having your Ramble secure when you're gone, and even better not having any extra weight in your bag. The Ramble comes in two finishes: Asphalt, and Bad Egg, and in six sizes: 49.9, 52, 55, 57, 59, and 62cm
Bear in mind that because of its racks and fenders, the Ramble may only ship as 'Ready to Ride.' With this limitation of options, we'll be reducing the standard shipping price to $99, ensuring your new bike is immediately ready for its first urban flight, while leaving you some change left over for groceries.
Lightweight and springy double-butted HiTen frame filters shock from road imperfection for a smooth ride
A slack, 73 degree headangle offers neutral handling at speed or weaving around slow moving traffic
Alloy double-wall rims, high flange bolt-on hubs, and 14g spokes with brass nipples ensure durable wheels
46 x 18 tooth gearing gets you swiftly around town, without beating you up
Lightweight aluminum fenders keep road spray off clothing
Flip flop rear hub comes with a fixed cog and a freewheel
Handlebar can be run with drops positioned up or down

Tech Specs
Frame Material:
HiTen steel
Fork Material:
HiTen steel
Crank Arm Length:
49.5cm, 52cm, 54cm 170 mm, 57cm, 58cm, 60cm, 63cm 175 mm
Bottom Bracket:
square taper
Handlebar:
alloy (flip flop)
Geometry chart
Civilian Bicycle Co.
Hustle and Ramble Bicycle Geometry

Size
49.5
52
54
56
58
60
63
Seat Tube (C-C)
18.1in
(46cm)

19.1in
(48.5cm)

20.5in
(52cm)

21.1in
(53.5cm)

22.0in
(56cm)

23.2in
(59cm)

24.4in
(62cm)

Top Tube
20.1in
(51cm)

20.7in
(52.5cm)

21.3in
(54cm)

22.0in
(56cm)

22.8in
(58cm)

23.4in
(59.5cm)

24.4in
(62cm)

Seat Tube Angle
74deg
73deg
73deg
73deg
73deg
72deg
72deg
Head Tube Angle
72deg
72.5deg
73deg
73deg
73deg
73deg
73deg
Head Tube
3.5in
(8.9cm)

3.9in
(10.0cm)

4.3in
(10.9cm)

4.9in
(12.4cm)

5.9in
(14.9cm)

6.9in
(17.6cm)

8.1in
(20.6cm)

Chain Stay
16.3in
(41.5cm)

16.3in
(41.5cm)

16.3in
(41.5cm)

16.3in
(41.5cm)

16.3in
(41.5cm)

16.3in
(41.5cm)

16.3in
(41.5cm)

Standover
29.4in
(74.7cm)

30in
(76.2cm)

31in
(78.7cm)

31.6in
(80.3cm)

32.5in
(82.5cm)

33.4in
(84.8cm)

34.6in
(87.9cm)

Fork Rakein
(cm)

43deg
43deg
43deg
43deg
43deg
43deg
43deg
What community has to say
What do you think of the
Civilian Bicycle Co.
Ramble - 2012
? Share a...