Castelli Radiation 1-2-3 Jacket $0.00
Item #

CST0438
Description
Convertible clothing—zip-on sleeves and pant legs—tends to be the hallmark of the Yank abroad. It's a look that's so long on utility that it short shrifts style. The Castelli Radiation 1-2-3 Jacket is a rare winter jacket that is more than the sum of its parts.
Imagine a jacket so flexible that it will keep you warm on a ride that starts early on a morning cold enough for frost and yet offers enough flexibility that it won't bake you if temperatures creep into the 60s. This jacket is designed for the cyclist who refuses to stay in just because conditions might change noticeably -- or even radically.
Fundamentally, the Radiation 1-2-3 Jacket is a winter jacket. As part of Castelli's Rosso Corsa collection it gets the very best in materials, design and fit. What makes it so amazing is how easily it adapts to changing conditions. The sleeves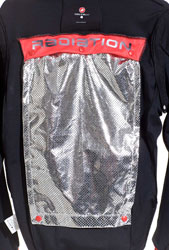 zip off without leaving behind big flapping hems, making it a practical vest. It also includes a zip-on hood for occasions when a cycling cap under your helmet is a flyswatter to a bear. And while those three variations on a single garment are great, this jacket has a secret weapon—its Radiation inserts.
The Radiation inserts are made from breathable aluminum and they insulate by reflecting back as much as 80 percent of your body's own heat. Instead of the bulk that comes from fleece, the Radiation inserts allow the jacket to follow your body's contours more closely, keeping you more comfortable.
With four pockets, the Radiation 1-2-3 Jacket has more than enough stowage capacity to carry the sleeves, hood, and Radiation inserts and still allow you pack your cell phone and an energy bar.
The Castelli Radiation 1-2-3 Jacket is available in Black/black and White/black and comes in six sizes from Small through XXX-Large.
Tech Specs
Material:
[shell] WindStopper X-Lite (100% polyester), [lining] Radiation heat-reflecting fabric
Recommended Use:
cold-weather cycling
Manufacturer Warranty:
30 days