Castelli Espresso Due Jacket $0.00
Item #

CST2449
Description
If you're looking for luxury and performance in a winter jacket, then the Castelli Espresso Due Jacket is the perfect choice. In designing the Espresso Due, Castelli paid attention to even the smallest details to create the ideal blend of performance, fit, and style.
It all starts with the Windstopper X-Fast fabric used extensively throughout the jacket. Made using high-tech circular interlocking polyester, Windstopper X-Fast provides total wind protection while allowing for excellent breathability. In short, it blocks the wind while letting your sweat evaporate, keeping you dry and warm. A soft, lofty microfleece lining is essential for the insulation it provides, and it adds serious comfort. The Windstopper's natural stretch characteristics and 50 Denier outer coverage make the Espresso Due abrasion resistant and durable.
The Espresso Due's breathability is further enhanced by the addition of two vertical zippers down the front of the jacket. Ever hit the summit of a long climb in cold weather only to freeze going down the other side?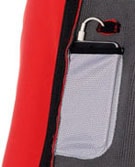 The Espresso's chest vents address this problem: simply unzip them while climbing to allow heat and moisture to escape, then close them while descending to once again block the wind and insulate your torso. As an added bonus, Castelli includes two more zippers extending up along the Espresso Due's wrists, offering yet another ventilation opportunity and allowing you to close the jacket around the cuffs of your gloves to create a tight, heat-protecting seal. Last but not least, a flip-up Thermoflex collar is soft and fleecy on the inside (for warmth and stretch), but treated with silicon on the outside to give the collar slight water repellency. And Thermoflex's natural elasticity enables the collar to form a snug seal around your neck to lock-in warmth while keeping out the elements.
Castelli also spent a lot of time dialing-in the Espresso Due's fit. The Windstopper X-Fast fabric provides 4-way stretch for easy movement, while Castelli's shoulder articulation system means the back of the jacket is separated from the arms around the back of the shoulder to eliminate pull. Here, a stretchy mesh insert provides the freedom you need. Lastly, the back hem of the Espresso Due is cut low, and an elastic band on the back will keep the jacket from riding up while you're bent over the bike.
The Espresso Due comes with three rear pockets for your riding essentials, plus it includes an internal MP3 player/phone pocket and a cable port for your headphones. Castelli's YKK camlock zipper stays flat when the zipper head is down, and rear reflective tabs improve visibility on gloomy, winter training rides.
Designed to keep you warm and comfortable down to 32 degrees Fahrenheit, the Castelli Espresso Due Jacket is available in three colors -- Black, Red, and White. It comes in six sizes from Small through XXX-Large. Like most Castelli clothing, the Espresso Due is designed to be form-fitting as the technical fabrics used to construct the jacket work best when in close contact with your body. Be sure to check the sizing chart to ensure proper fit.
Tech Specs
Recommended Use:
cycling, training, racing
Size chart
Castelli Men's
Note: Castelli has a "Euro" slimmer fit. We suggest ordering at least one size larger than your normal US size.
Bike Apparel
S
M
L
XL
XXL
Chest
35.5-37.5in
(90-95cm)
37-38.5in
(94-98cm)
39-41in
(99-104cm)
41-43in
(104-109cm)
43-45in
(109-114cm)
Waist-Tops
29.5-31.5in
(75-80cm)
31-33in
(79-84cm)
33.5-35.5in
(85-90cm)
36-38in
(91.5-96.5cm)
38.5-40in
(98-101.5cm)
Waist-Bottoms
30-32in
(76-81cm)
31.5-33.5in
(80-85cm)
33.5-35.5in
(85-90cm)
35.5-37.5in
(90-95cm)
37.5-39.5in
(95-100cm)
Hips-Bottoms
36.5-38.5in
(93-98cm)
38-40in
(96.5-101.5cm)
40-42in
(101.5-107cm)
42-44in
(107-112cm)
44-46in
(112-117cm)
How to Measure:

For best results, take measurements over your underwear.

Chest:

Measure under your arms, around the fullest part of your chest.

Natural Waist:

Measure around your natural waistline, keeping the tape a bit loose.

Hip:

Measure around the fullest part of your body at the top of your legs.