BMC Team Machine SLR01 $0.00
Item #

BMC0005
Description
When you look at the Team BMC riders, stellar athletes like George Hincapie, Karsten Kroon, Alessandro Ballan, and Marcus Burghardt, they share a common set of traits: They produce wicked power for flat races and sprint finishes. They can punch a hole in the peloton on the cobbles, but at the same time, each can climb like a gravity-immune freak. BMC's goal in designing the most advanced frame they've ever produced, the Team Machine SLR01 was to make it the all-purpose bike for the vastness of these needs: Make the frame ~900g for climbs, to give it a big injection of vertical compliance for the cobbles, and to do this while muscling up its lateral and torsional stiffness.
Lightness and durability; comfort, and stiffness -- When it comes to frame design, aren't they opposites? All too true. Which is why BMC had to re-evaluate their choices in materials and entirely re-think their tubing shapes and configurations. In order to give the frame damping where desired and flex-resistance where required, they applied stepped tube profiles, all-new carbon fiber alignments, and material compositions. High modulus layers of carbon are used where stiffness is desired, high strength layers are used where loads are heaviest, and high elasticity layers were used where compliance was needed. This lengthy project of optimizing the overall ride quality of the Team Machine SLR01 came to be known as their Tuned Compliance Concept (TCC).
Where does BMC's TCC work make the biggest impact on the Team Machine SLR01? It's most evident in 3 areas.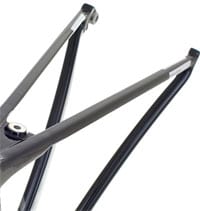 First is the seatstays. Their slender profile from the brake bridge down to the dropouts is reminiscent of the design you'll find on the Cervélo R3 and the Ridley Excalibur, where these stays act as leaf springs to provide vertical compliance. But above the brake bridge the stays are beefy to serve as a solid foundation for vibration-free braking. The seatstays are attached low on the seat tube to simultaneously improve vertical compliance while maintaining lateral stiffness while keeping weight to a minimum.
The second area benefiting from TCC is the fork. Unlike the way in which BMC spec'd a stock Easton fork on the Pro Machine SLC 01, they've designed the Team Machine SLR01 fork from the ground up. The crown has a beefy cross section to reduce vibration and increase braking control. The added benefit is an increase in lateral stiffness that translates into improved steering precision. The lower blades of the fork are slender to save weight and help with shock damping. The uncut fork weighs 315g with paint and decals.
The third area benefiting from TCC is the angle-locking seatpost. It's ovalized with a shape that's wider side-to-side than front-to-back, giving you both increased lateral stiffness under power and more compliance on lousy roads. The reduced cross-section near the top of the post provides a bit more 'give' to further reduce vibration. With paint, decals and all hardware it weighs 230g.
Design details aside, does TCC deliver? For starters, the weight goal was achieved. A 55cm frame with paint, decals, bottom bracket guide and a derailleur hanger weighs 930g. According to BMC testing it offers nearly 60% more vertical compliance than both the Pro Machine and the Race Master SLX 01. In terms of power transmission, it has 28% more lateral stiffness than the Pro Machine, and 13% more than the Race Master. From the standpoint of steering, it has 12% more torsional stiffness at the headtube than the Pro Machine.
Some other points of note: The Team Machine SLR01 uses external cable routing for all the right reasons: It'll save you about 60g of cable housing, and external cables always result in the lowest friction (i.e. crispest) shifting. The frame is built for use with BB30 cranksets in order to enhance drivetrain stiffness. While we'd advise that you use a BB30-specific crankset (available both from SRAM and FSA), this frame is 100% compatible with non-BB30 cranksets provided that you use the correct Campagnolo Ultra-Torque or alternatively, the Shimano 24mm-type Wheels Manufacturing adapters. Please Note: The BB30 bottom bracket bearings do NOT come with the frameset and are sold separately.
The BMC Team Machine SLR 01 passes the strictest CEN testing for frame fatigue. It has no weight limit and comes with a Conditional 5 year manufacturer's warranty from defect. It requires the use of a braze-on front derailleur. It is available in 6 sizes from 47cm-60cm.

sizing chart
Bike size by rider height
|
Geometry chart
BMC
Sizing Chart
Team Machine SLR01

Seat Tube

(c-t)

Effective Top Tube

(eTT)

Stack

(S)

Reach

(R)

Head Tube

(HT)

Head Tube Angle

(HTo)

Seat Tube Angle

(STo)

Bottom Bracket Drop

Chainstay

48
48.0cm
52.0cm
50.6cm
37.0cm
10.8cm
70.5o
73.5 deg
6.9cm
40.2cm
51
51.0cm
53.5cm
53.0cm
37.8cm
12.8cm
72.0o
73.5 deg
6.9cm
40.2cm
54
54.0cm
55.0cm
55.0cm
38.7cm
14.8cm
72.5o
73.5 deg
6.9cm
40.2cm
56
56.0cm
56.0cm
56.5cm
39.2cm
16.3cm
72.5o
73.5 deg
6.9cm
40.2cm
58
58.0cm
57.5cm
58.4cm
40.2cm
18.3cm
72.5o
73.5 deg
6.9cm
40.2cm
61
61.0cm
59.0cm
60.8cm
41.0cm
20.8cm
72.5o
73.5 deg
6.9cm
40.2cm
Avg. ride time:
2h 13m per week
KOM
Familiarity:

I've put it through the wringer
I've logged about 4k miles and so far the only problems I've had with it were a squeaky BB and seatpost. Other than that the frame is feathery yet stout.