Temporarily Out Of Stock
Item # BMC0022
Don't get too bummed. This item is on the way and will be available for purchase as soon as it rolls into the warehouse.
Can't wait? Consider one of the other Custom Road Bikes & Frames we have in stock.
BMC Team Machine SLR01 Electronic - 2012 $0.00
Item # BMC0022
Description
The Team Machine SLR01 Electronic is the same all-purpose bike as the mechanical version of the SLR01. It's designed for the hardmen on the BMC Racing Team and for the vastness of their needs: Make the frame ~900g for climbs, give it a big injection of vertical compliance for the cobbles, and do this while muscling up its lateral and torsional stiffness. That BMC achieved this in one stellar package is a bonus for you, and here you'll get it in a smoother, sleeker electronic specific version.
Lightness and durability; comfort, and stiffness -- When it comes to frame design, aren't they opposites? All too true. Which is why BMC had to re-evaluate their choices in materials and entirely re-think their tubing shapes and configurations. In order to give the frame damping where desired and flex-resistance where required, they applied stepped tube profiles, all-new carbon fiber alignments, and material compositions. High modulus layers of carbon are used where stiffness is desired, high strength layers are used where loads are heaviest, and high elasticity layers were used where compliance was needed. This lengthy project of optimizing the overall ride quality of the Team Machine SLR01 came to be known as their Tuned Compliance Concept (TCC).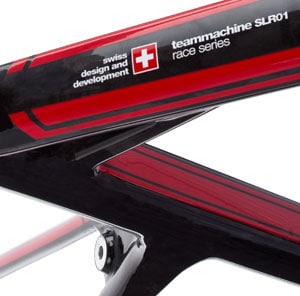 Where does BMC's TCC work make the biggest impact on the Team Machine SLR01? It's most evident in three areas. First is the seatstays. Their slender profile from the brake bridge down to the dropouts is reminiscent of the design you'll find on the Cervélo R3 and the Ridley Excalibur, where these stays act as leaf springs to provide vertical compliance. But above the brake bridge the stays are beefy to serve as a solid foundation for vibration-free braking. The seatstays are attached low on the seat tube to simultaneously improve vertical compliance while maintaining lateral stiffness while keeping weight to a minimum.
The second area benefiting from TCC is the fork. Unlike the way in which BMC spec'd a stock Easton fork on the Pro Machine SLC01, they've designed the Team Machine SLR01 fork from the ground up. The crown has a beefy cross section to reduce vibration and increase braking control. The added benefit is an increase in lateral stiffness that translates into improved steering precision. The lower blades of the fork are slender to save weight and help with shock damping.
The third area benefiting from TCC is the angle-locking seatpost. It's ovalized with a shape that's wider side-to-side than front-to-back, giving you both increased lateral stiffness under power and more compliance on lousy roads. The reduced cross-section near the top of the post provides a bit more 'give' to further reduce vibration.
Design details aside, does TCC deliver? For starters, the weight goal was achieved. A 55cm frame with paint, decals, bottom bracket guide and a derailleur hanger weighs 930g. According to BMC testing it offers nearly 60% more vertical compliance than both the Pro Machine and the Race Master SLX01. In terms of power transmission, it has 28% more lateral stiffness than the Pro Machine, and 13% more than the Race Master. From the standpoint of steering, it has 12% more torsional stiffness at the headtube than the Pro Machine.
Some other points of note: BMC spent plenty of time increasing the ease of running the elecrtronic wires internally. Running the wires outside the frame is unsightly and not PRO. What you are left with is a clean frame with fewer cable stops and clean lines. The frame is now made with the BB86 standard bottom bracket. The BB86 bottom bracket corresponds to Shimano's crank spindle and bearing specifications. The tolerances of BB86 are so precise that the sleeved bearing assemblies press directly into the bottom bracket shell with no need for threads. This design saves 30 grams over traditional, aluminum threaded shell designs and, at the same time, provides additional bottom bracket stiffness. It should be noted that while BB86 is designed specifically for Shimano, we offer adapters and press-fit bottom brackets that allow for the use of Campagnolo's Ultra-Torque, SRAM GXP, and FSA designs.
The BMC Team Machine SLR01 Electronic passes the strictest CEN testing for frame fatigue. It has no weight limit and comes with a Conditional 5 year manufacturer's warranty from defect. It requires the use of a braze-on front derailleur. It is available in 6 sizes from 47cm-60cm.

Geometry chart
BMC
Sizing Chart
Team Machine SLR01

Seat Tube

(c-t)

Effective Top Tube

(eTT)

Stack

(S)

Reach

(R)

Head Tube

(HT)

Head Tube Angle

(HTo)

Seat Tube Angle

(STo)

Bottom Bracket Drop

Chainstay

47
49.0cm
52.0cm
50.6cm
37.0cm
11.3cm
70.5o
73.5 deg
6.9cm
40.2cm
50
52.0cm
53.5cm
53.0cm
37.8cm
13.3cm
72.0o
73.5 deg
6.9cm
40.2cm
53
55.0cm
55.0cm
55.1cm
38.7cm
15.3cm
72.5o
73.5 deg
6.9cm
40.2cm
55
57.0cm
56.0cm
56.5cm
39.2cm
16.8cm
72.5o
73.5 deg
6.9cm
40.2cm
57
59.0cm
57.5cm
58.4cm
40.2cm
18.8cm
72.5o
73.5 deg
6.9cm
40.2cm
60
62.0cm
59.0cm
60.8cm
41.0cm
21.3cm
72.5o
73.5 deg
6.9cm
40.2cm
Compiling options for this bike.
It'll be just a moment...