BMC Speedfox SF29/SRAM X0 Complete Bike - 2012 $0.00
Item #

BMC0013
Description
The 29er's journey to mainstream acceptance has been a rough one. Overly long, truck-like wheelbases, toe overlap, and a lack of parts were just a few negative aspects that plagued the first bikes. Early adopters took a risk, and while enjoying and touting the benefits of larger wheels, they enviously watched as manufacturers and designers ironed out quirks and developed new frame- and fork-enhancing standards. Now, thanks to those early pioneers, bikes like BMC's Speedfox SF29 ride with a nimbleness that rivals smaller-wheeled options. Offered here with a SRAM XO kit, the Speedfox SF29 will not only gobble rough terrain, but it will do so with incredible speed and composure.
BMC didn't rush into the 29er game; instead, it invested heavily in both saddle-time and computer feedback to perfect the Speedfox's geometry and frame structure. The heart of the Speedfox's chassis is BMC's iSC (integrated Skeleton Concept). Using Finite Elements Method (FEM) computer technology, every 6000-series aluminum tube is shaped to exacting standards; what you get is a frame that reacts to rider inputs like power application, steering, and braking with efficiency and precision. Not only does the iSC offer faultless performance, its triple-butted, hydroformed alloy tubeset gives the Speedfox that unmistakeable, envy-provoking BMC silhouette.
While the Speedfox's chassis optimizes weight savings and strength, its geometry is what lets it truly shine on the trail. A 70-degree head angle offers quick turn-in without being too twitchy at speed or negotiating steep descents. A tapered headtube also helps keep the Speedfox pointed by resisting frame or fork deflection. Packaging modern, multi-link suspension systems for 29er application is difficult without ending up with a super-long wheelbase; BMC uses a direct mount front derailleur which allows BMC's designers to package their lauded APS suspension as tightly as possible -- giving the Speedfox a switch-back railing 445mm chainstay length.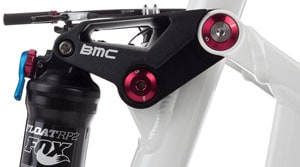 BMC carefully calculated the APS (Advanced Pivot System) pivot-point positions, so the Speedfox SF29 will retain the efficient, plush ride BMC mountain bikes are known for. All pedal power is transformed into forward motion and not into compressing the rear shock; this suspension design also promotes awesome traction when climbing on uneven surfaces. The APS offers 100mm (3.9 inches) of travel, a perfect complement to the larger wheels. Essential to the Speedfox's handling are oversized axles and precision cartridge bearings, which are spec'd at all the pivot locations. These aspects combined with the iSC optimized frame offers a highly flex-resistant chassis that extracts the most performance from its suspension.
Controlling the suspension movement is Fox's venerable Float RP2. The APS suspension system is so efficient there's no need for a complicated rear shock. The Float RP2 offers rebound adjustment and a ProPedal switch for added stiffness when you're mashing the pedals during climbs. BMC equips the Speedfox SF29 with its initial load indicator for simple and straightforward sag setting, ensuring maximum suspension performance. Up front, a 100mm Fox Float RLC with the FIT damper complements the rear suspension. Equipped with rebound, compression, and preload adjustments you'll be able to fine-tune this fork to your personal preferences. A lockout keeps out-of-the-saddle climbing bob-free, and a 15mm quick-release ensures the Speedfox SF29 goes where its pointed.
The Speedfox SF29's command center consists of a BMC Scor MKII stem and handlebar supporting highly adjustable SRAM X0 2X10 shifters and ergonomic Avid Elixir 7 levers with carbon blades. The Elixir 7 calipers grab 180mm rotors for plenty of leverage, cooler operation, and longer pad life. Gear changes are handled by an X0 derailleur out back and an X7 unit in front. The X0 crank sports 36/22 chain rings, offering optimum ratios for trail riding without any excess. Light, stiff, and fast-engaging Easton EA70 XCT wheels are wrapped in Schwalbe Rocket Ron and Racing Ralph 2.25in tires. A Fizik Tundra saddle supported by a BMC Race seatpost finishes this performance-oriented build.
The Speedfox SF29/SRAM X0 Complete Bike comes in White, and is available in three sizes: Small, Medium, and Large.

Tech Specs
Suspension:
full suspension
Pivot Type:
Advanced Pivot System
Fork:
Fox Float 29er (15QR)
Wheelset:
Easton EA70 XCT 29er
Front Derailleur:
Sram X7
Front Derailleur Mount:
34.9 mm
Brake Levers:
Avid Elixir 7
Brake Calipers:
Avid Elixir 7 carbon
Tires:
Schwalbe Rocket Ron, Racing Ralph
Tire Size:
29 in x 2.25 in
Seatpost Diameter:
30.9 mm
Recommended Use:
all mountain riding
Manufacturer Warranty:
3 years
Very Versatile 29er
This is the first good 29er I have ridden. I was really impressed with how versatile this bike was for more of a trail/ all mtn style bike. It definitely excelled on climbs and flats, but handled descents very well too. This bike was optimal for not riding lifts and cruising the traversing single tracks at Deer Valley. If we were doing some serious descents it might not have been optimal, but for some downhills and a lot of cross country, it was great. One thing that was noticeably tougher on this bike was tight turns. I had to slow down more and more carefully maneuver around tight turns where on a 26er I could keep more speed.
Avg. ride time:
27m per week
Could Be One Of The Top 29er Bikes....
I gave this rig a shot through the trails of Deer Valley and it certainly didn't disappoint. The short headtube definitely gave the BMC Speedfox SF29/SRAM X0 Complete Bike a great affinity for climbing and the 4" worth of travel soaked up most of what I rallied on the descents. It also had a great "out of the box" ride to it as I didn't have to change much.



The only things that I would caution on are that the strongest riders would want a few more teeth on the 2nd ring as the weight of the bike slightly overperformed the drivetrain. Also, I didn't bomb any super techy descents so I don't know how it would handle the super rough. A pretty sweet rig all in all though.