BMC Race Machine RM01 - 2012 $0.00
Item #

BMC0023
Description
The Swiss have a well-earned reputation for precision. Attention to detail is often treated as a bloodless drive that is the opposite of passion. We beg to differ. It's the embodiment of passion. That BMC bikes ride so well is testament to the passion with which they attack the problems of bicycle frame design. BMC's Race Machine RM01 is the expression of not only love, but of mastery of geometry as well as material.
The Race Machine is part of BMC's Race Series frames, a designation the RM01 shares with the Team Machine. This means it's designed for racing, so the frame first puts a fit rider in a powerful, efficient aerodynamic position. This also means that the frameset is designed to be stiff and light -- two things serious riders demand.
While it isn't quite as light as the Team Machine, it's still pretty damn svelte. The frame weighs a claimed 1019g in the 55 size, and the fork is 361g with an uncut 300mm steerer tube. The included proprietary seatpost is 180g with hardware. When you put this all together, along with the integrated headset, the Race Machine comes in at 1670g.
A quick look at the naked portions of the finish indicates that BMC uses uni-directional carbon-fiber. It's a mix of high-modulus and high-tensile material to balance strength, durability, and weight. High-modulus is strong and stiff, but relatively brittle. But they mix in the lower modulus, high-tensile fiber to add durability. All together, a carefully designed layup creates a bike frame that possesses all the right characteristics -- light, strong, and stiff where you want it.
As stability is paramount to BMC, they use a tapered steerer tube with a standard 1-1/8" FSA upper bearing and an oversized 1-1/4" FSA lower bearing. The fork is not a relabeled or repurposed component from a fork manufacturer, but a BMC design made to go with the Race Machine. Notice how the crown is a bit chunkier than the legs? This lends it stiffness for stability through high-speed turns and on rough pavement.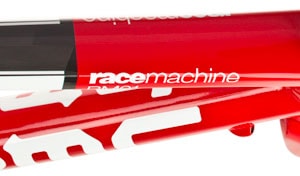 It's still comfortable thanks to BMC's Tuned Compliance Concept (TCC). BMC engineers have created zones in the fork legs where the material and shapes are carefully selected to provide a degree of compliance while maintaining the torsional and lateral stiffness you need for uncompromising performance and steering precision. The Race Machine seatpost also features their Tuned Compliance Concept. It has been designed for maximizing vertical compliance while maintaining lateral and torsional stiffness. In other words, easier on bumps, but still extremely stiff when cranking out the watts.
TCC is a big deal to BMC. That's why they lavish so much attention on tube shapes, something you can see. It's also why they are obsessive over carbon-fiber layup, something that you can't. They're looking to optimize weight along with lateral stiffness and vertical compliance. That way, the bike goes with the flow in terms of how it responds to the road while resisting rider-actuated force, which helps transmit more force to the cranks, thus driving the rear wheel.
The smaller rear triangle, a common feature on BMC frames, is also a smart engineering solution that keeps efficiency high while allowing for comfort. Notice the tall chain stays, almost big enough to call massive. With the chain stays that way, they didn't need to run the seat stays up to the seat tube juncture, so they cut weight and increased compliance by making the triangle tighter.
One feature you can't miss on just about every BMC is their complicated tube juncture by the seat post. While some might see it as a rare aesthetic flourish, the truth is there's a strong practical reason for it. The crosslock seat tube juncture supports the top tube, so it saves weight, and by having the juncture forward of the seat tube cluster, it also adds stiffness. Thanks to advanced computer analysis, they can fine tune both the shapes and the layup to maximize stiffness while minimizing weight.
Continuing this fixation with optimization, all the cables are run externally, which is both lighter and straighter than internal routing. So not only do the carbon-fiber cable stops play a role in reducing weight, they're improving mechanical efficiency at the same time.
The BMC Race Machine is available in Red and comes in six sizes from 47 - 60cm. It's built for use with 24mm spindle cranksets and utilizes pressfit bearings to enhance drivetrain stiffness and reduce weight. The BB86 was designed in part by Shimano for Shimano and the bearing tolerance are machined to match exactly that of a Shimano crankset. If you have another crank you prefer, this frame is 100% compatible provided that you use the correct adapter. Please Note: The BB86 bottom bracket bearings do come with the frameset and are for Shimano only. The Race Machine passes the strictest CEN testing for frame fatigue. It has no weight limit and comes with a Conditional 5 year manufacturer's warranty from defect. It requires the use of a braze-on style front derailleur.

Tech Specs
Fork Material:
carbon fiber
Fork Blade Shape:
straight
Replaceable Rear Derailleur Hanger:
yes
Bottom Bracket Type:
BB86
Bottom Bracket Shell Material:
carbon fiber
Frame-Only Weight:
1019 g
Manufacturer Warranty:
5 years
sizing chart
Bike size by rider height
|
Geometry chart
BMC
Geometry Chart
RaceMachine RM01

Seat Tube

(c-t)

Effective Top Tube

(eTT)

Stack

(S)

Reach

(R)

Head Tube

(HT)

Head Tube Angle

(HTo)

Seat Tube Angle

(STo)

Chainstay

(CS)

47
48.7cm
52cm
50.6cm
37cm
11.3cm
70.5o
73.5o
40.2cm
50
51.7cm
53.5cm
53cm
37.8cm
13.5cm
72o
73.5o
40.2cm
53
54.7cm
55cm
55.1cm
38.7cm
15.5cm
72.5o
73.5o
40.2cm
55
56.7cm
56cm
56.5cm
39.2cm
17cm
72.5o
73.5o
40.2cm
57
58.7cm
57.5cm
58.4cm
40.2cm
18.7cm
72.5o
73.5o
40.2cm
60
61.7cm
59cm
60.8cm
41cm
21.5cm
72.5o
73.5o
40.2cm