Bianchi Oltre $0.00
Item #

BIA0005
Description
Celeste may be an acquired taste; having a bike that goes beyond the norms and redefines paradigms is not. The desire for such a bike is hard-wired into our DNA. Bianchi has been in the business of going beyond for over 100 years, and whether it's the bike underneath Fausto Coppi, Felice Gimondi, Moreno Argentin, or you, they've sought to go farther, faster, better. And that is precisely what the Bianchi Oltre is about.
Oltre roughly translates to "beyond" and it's an apt description of this frameset. It's Bianchi's first use of UMS40, a high-modulus carbon fiber, mixed with IMS50 carbon fiber, which results in a stiff and light structure. The frame is made stronger by using Carbon NanoTube technology, which increases the strength and fracture-resistance by 49% compared to using standard epoxy resin systems. As unlikely as it sounds, these benefits come without adding appreciable weight.
Along with the nanotubes, there are other hidden details that further the performance of the frame. The Oltre uses something Bianchi calls X-Tex technology. The carbon fiber has an X-shaped grid inside the bottom bracket area and behind the head tube. They do this with an internal molding process that eliminates excess resin. The result is added strength and stiffness while barely affecting weight. Bianchi's Wrinkleless Molding Process guarantees that all the composite layers are uniformly compressed to ensure that no voids disturb the laminate. The result is visible on the inside of the frame, with a finish that is smooth like the outside. This uniform production creates a lighter, stronger frame with smoother ride qualities.
Fabrication smarts executed to perfection is nice, but it only matters when it translates into greater performance. Since humans are not machines, and our power output doesn't compare to even the wimpiest motors, we need our bike frames to take as much of our pedaling force as possible and channel it into driving the rear wheel through the chain and crank. This is why frames need to be stiff, of course. But too stiff and ride can be compromised. Bianchi balances these competing needs by having a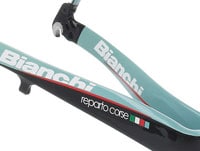 beefy bottom bracket juncture and massive chain stays along with their Ultra-Thin Seat Stays. Since the chain stays are beefy, the super slender seat stays are there merely to balance the load and firmly but lightly connect the dropouts to the rest of the frame. These thin stays are part of what gives the Oltre a degree of compliance over broken pavement, making for a better ride and a lighter frame.
Bianchi fills out the Oltre package with aerodynamic elements borrowed from their Crono time-trial frame. This makes sense when you think about the length of road races. The aerodynamic benefits could perhaps be greater in a road race of significant duration than what you can benefit from in a short time-trial, especially if you like to ride off the front. You see these influences on just about every frame tube, from the straight-blade fork with the elongated, wing-like, aero crown, to the internal cable routing, to the seat post clamp with flush pinch bolt, to the proprietary seat post.
The Bianchi Oltre comes in six sizes from 50 - 61cm and is available in Celeste, Nero, and Red/White. It comes with an Oltre fork with a 1-1/8" and 1-1/2" tapered carbon-fiber steerer tube, and integrated FSA headset, and a matching Oltre seatpost. The BB30 bottom bracket allows the use of lighter and stiffer BB30 cranks, but if you prefer traditional cranks, you can get an adapter for your existing crank. The dropouts are aluminum. It requires a front derailleur with a 34.9mm (or 35mm) clamp. Claimed weight for the 55cm frame is 990g. The other pieces are a 350g fork, 19g seat post clamp, and 190g seat post.