Bianchi Infinito Road Bike Frame $0.00
Item #

BIA0011
Description
We don't know if it's inherent in the culture, or if it's something intrinsic to the language, but Italian speech is rife with hyperbole and colorful idioms. Regardless, we love it. Whether it's the effortless invocation of the Madonna for every possible instance of superlative, or the boundless possibilities of using 'cazzo' as an insult, as praise, or as an ordinary turn of phrase, we're enthralled with the exaggerated, Italian form of rich vulgarity. So, it comes as no surprise that the Bianchi Infinito hails from such a great tradition of linguistic freedom. Translating as 'forever,' the Infinito has been designed to be a more forgiving breed of race bike -- one that outlives your days of carb-counting and five hour roller sessions.
We'll admit that getting our meager minds around the concept of infinity has mystified us since we learned about Zeno in Philosophy 101, but in that hyperbolic Italian way, Bianchi feels no compunctions about summoning eternity to make a point about this frame. As the top model in Bianchi's C2C (Coast 2 Coast) lineup, the Infinito was designed to cover long distances with maximum speed and minimum fatigue. In fact, the entire C2C range represents Bianchi's foray into a category of recent frame design which arguably started with the Cervelo RS and now includes the likes of the Roubaix and GF01. These top-tier framesets rethink traditional assumptions about what it means to be a ' racing' bike by focusing on a less stressed rider position and a more relaxed geometry. For the Infinito, this was done by extending the frame's head tube height by around 1.5cm and then lengthening the wheelbase. Meanwhile, Bianchi maintained the traditional head tube angles and fork rake. Bianchi's goal of creating a comfort-oriented, race machine was clearly achieved as evidenced by the Infinito's use throughout the 2009 Giro d'Italia by Robbie Hunter, who spent the month testing and proving its race-worthiness in every road stage and every conceivable condition.
The comfort factor of the Infinito is astonishing when one realizes that it still fits squarely within Bianchi's competition range of framesets. Certainly, its ride properties benefit from the strategic use of vibration damping Kevlar and an extended wheelbase that smoothes out rough road surfaces.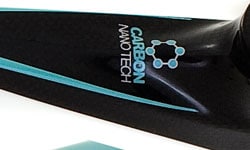 Bianchi also incorporated trickle down technology from its Mother of All Race Bikes, the Oltre XR. Yes, we're talking about its Carbon Nano Technology. This process involves adding nano-scaled particles to the resin. By doing so, the particles reduce the microcopic gaps between the resin and the fibers of the carbon. Ultimately, this increases the strength and fracture-resistance by 49% compared to using standard epoxy resin systems. In whole, Bianchi refers to this process as BAT (Bianchi Active Technology), which means that the combination of materials and shapes maintain the frame's phenomenal torsional stiffness for a full-blown power transfer and Grand Tour style handling characteristics. But, at the same time, it provides enough vertical compliance for you to fully enjoy this bike on a century, gran fondo, or your winter training rides.
If you're wondering why you should consider the Infinito over the Oltre or Sempre, keep in mind that the Infinito is designed to satisfy three key objectives: To reduce rider fatigue, provide greater comfort, and accommodate long distance riding. So, if you only have one bike in your quiver, and your idea of riding is oriented more towards spirited group or individual rides, the Infinito may well be your bike. Moreover, if your core lacks the strength of Cancellara, or your flexibility requires that you add an aesthetically displeasing number of spacers below your stem, the additional head tube height will better accommodate your physiological needs. Believe us, none of the ride enhancing features of the Infinito will prevent your competition from saying 'Che cazzo!' or 'Madonnnnn!'
The Bianchi Infinito Road Bike Frame is available in the color Celeste/white and in six odd sizes from 50 to 61cm. Each frame includes a full carbon, Kevlar-inserted Bianchi HoC1 tapered fork and a FSA Orbit headset. Altogether, the frame weight of a 55cm tips the scales at around 1080 grams. The frame utilizes an English threaded bottom bracket, 31.6mm seatpost and 34.9mm seat clamp.

Tech Specs
Frame Material:
carbon fiber
Fork Material:
carbon fiber
Fork Blade Shape:
straight
Steer Tube Type:
tapered carbon fiber
Replaceable Rear Derailleur Hanger:
yes
Head Tube Diameter:
1 1/2 to 1 1/8in tapered
Bottom Bracket Type:
68 mm English
Front Derailleur Mount:
34.9mm clamp-on
Seat Collar:
34.9 mm Bianchi
Seatpost Diameter:
31.6 mm
Compatible Components:
Shimano, SRAM, Campagnolo
Claimed Weight:
[size 55cm] 1080 g
Recommended Use:
road cycling
Manufacturer Warranty:
5 years on frame
sizing chart
Bike size by rider height
|
Geometry chart
Bianchi
Geometry Chart
Infinito

Seat Tube

(c-t)

Effective Top Tube

(eTT)

Head Tube

(HT)

Head Tube Angle

(HTo)

Seat Tube Angle

(STo)

Bottom Bracket Drop

(BBD)

Chainstay

(CS)

50
47cm
52.5cm
14cm
71.5o
74.5o
6.8cm
40.8cm
53
50cm
53.5cm
15.5cm
71.5o
74o
6.8cm
40.8cm
55
52cm
55cm
17cm
72o
73.5o
6.8cm
41cm
57
54cm
56cm
18.5cm
72.5o
73.5o
6.8cm
41cm
59
56cm
57.5cm
20.5cm
72.5o
73o
6.8cm
41.2cm
61
58cm
58.5cm
22.5cm
72.5o
72.5o
6.8cm
41.2cm
Avg. ride time:
7h 45m per week
the best!
Familiarity:

I've put it through the wringer
I have a 2012 infinito and it is the most comfortable frame I have ever ridden. I've put on 9000 miles on the frame including a bunch of centuries and several 200 milers and didn't have any comfort issues. It absorbs rough road with ease and can even be ridden comfortably on gravel and non single track trails. I can only imagine what the CV is like. As long as this infinito holds up I won't need another frame because nothing compares. The only frame I could see upgrading to would be an infinito CV and I might have to in a year or two just to have one. I would also add I bought this through Comp cyclist in an emergency situation and they were absolutely without question the best to deal with in getting me this frame in a tight time frame.
COMFORT
Familiarity:

I've used it several times
I been using Pinarello all my life, but since I switch to this 5 star Infinito wont move anywhere else. Super smooth and comfortable in all type of rides. Long ones, shorts ones, climbing, flat, you named. I build it up with Campy components. Every where I take it, is a must look bike.