Bianchi Infinito $0.00
Item # BIA0003
Description
We don't know if it's inherent in the culture or something intrinsic to the language, but Italian speech is rife with hyperbole and colorful idioms and we love it. The effortless invocation of the Madonna for every possible instance of superlatives is just one of many examples of exaggerated Italian flourishes; the boundless possibilities of using "cazzo" as an insult, as praise, or as an ordinary turn of phrase is unmatched even by the rich vulgar creativity of English Hooligans and American gangstas. So it should come as no surprise that from this great tradition of linguistic free license we get the Bianchi Infinito, a more forgiving breed of race bike that required two years of research and development and a year's worth of race testing before being unveiled to the public.
We'll admit that getting our meager minds around the concept of infinity has mystified us since we learned about Zeno in Philosophy 101, but in that hyperbolic Italian way Bianchi feels no compunctions about summoning eternity to make a point about this frame: as the top model in Bianchi's C2C (Coast 2 Coast) line-up, the Infinito was designed to cover very long distances with maximum performance and minimum fatigue. The entire C2C range represents Bianchi's foray into a category of recent frame design which arguably started with the Cervelo RS and includes the likes of Scott's latest CR1 and Cannondale's Synapse. These pro-quality framesets rethink traditional assumptions about what it means to be a quote-unquote racing bike by focusing on a less stressed rider position and a more relaxed geometry. This is done by extending the frame's head-tube height (just more than 1.5cm on the Infinito) and lengthening the wheelbase but maintaining traditional head tube angles and fork rake. Bianchi's goal of creating a comfort-oriented, pro-quality race machine was clearly achieved as evidenced by the Infinito's use throughout the 2009 Giro d'Italia by Robbie Hunter (one of the hardmen of the pro peloton and a sprinter extraordinaire), who spent the month testing and proving its race-worthiness in every road stage and every conceivable condition.
The comfort factor of the Infinito is astonishing when one realizes that it still fits squarely within Bianchi's competition range of framesets. Certainly, its ride properties benefit from the strategic use of vibration damping Kevlar and an extended wheelbase which smooths out rough road surfaces.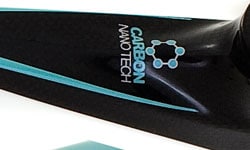 But Bianchi's Nano Power Technology -- identical to that used in the mother of all Bianchi race bikes, the 928 SL--allows them to tune the frame's ride and vibration absorption properties through unique tube shapes and the orientation of carbon fibers. In whole, Bianchi refers to this process as BAT (Bianchi Active Technology) which means the combination of materials and shapes maintain the frame's phenomenal torsional stiffness for full-blown power transfer and Grand Tour style handling characteristics, but at the same time allows for enough vertical compliance to fully enjoy this bike on a century, gran fondo, or your winter training rides. An added plus of Nano Power Technology is a reduction in so-called micro-cracking that can occur in the cohesion of resin and carbon fibers in the carbon matrix. This translates to greater reliability and durability for such a lightweight, high performance frameset.
If you're wondering why you should consider the Infinito over the 928 SL or Mono-Q, keep in mind that the Infinito is designed to satisfy three key objectives: to reduce rider fatigue, provide greater comfort, and accommodate long distance riding. If you have only one high-performance bike in your quiver and your idea of riding is oriented more towards spirited group or individual rides, the Infinito may well be your bike. Moreover, if your core lacks the strength of Fabian Cancellara or your flexibility requires that you add an aesthetically displeasing number of spacers below your stem, the additional head tube height will better accommodate your physiological needs. Believe us, none of the ride enhancing features of the Infinito will prevent your competition from saying "Che cazzo!" or "Madonnnnn!"
The Bianchi Infinito comes in six sizes (50, 53, 55, 57, 59, 61), includes a full carbon, 356g Bianchi fork and FSA headset. It requires the use of a 34.9mm clamp-on front derailleur, 31.6mm seatpost, and an English threaded bottom bracket. Weight for a 55cm frame only is 1100 grams

Geometry chart
Bianchi
Geometry Chart
Infinito

Seat Tube

(c-t)

Effective Top Tube

(eTT)

Head Tube

(HT)

Head Tube Angle

(HTo)

Seat Tube Angle

(STo)

Bottom Bracket Drop

(BBD)

Chainstay

(CS)

50
47cm
52.5cm
14cm
71.5o
74.5o
6.8cm
40.8cm
53
50cm
53.5cm
15.5cm
71.5o
74o
6.8cm
40.8cm
55
52cm
55cm
17cm
72o
73.5o
6.8cm
41cm
57
54cm
56cm
18.5cm
72.5o
73.5o
6.8cm
41cm
59
56cm
57.5cm
20.5cm
72.5o
73o
6.8cm
41.2cm
61
58cm
58.5cm
22.5cm
72.5o
72.5o
6.8cm
41.2cm
Compiling options for this bike.
It'll be just a moment...